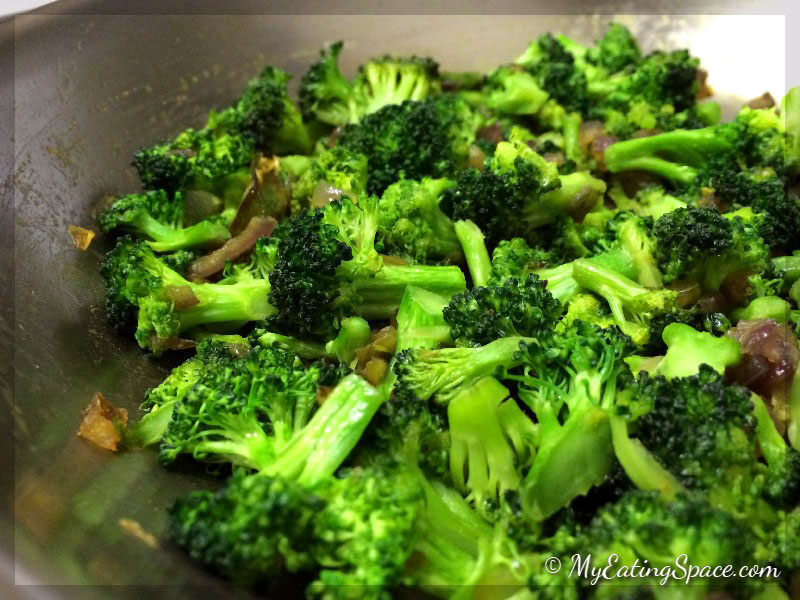 Broccoli had never been among my favorite vegetables. But after discovering about its health benefits, I try to include it in my family's healthy diet whenever possible. Fortunately, my family likes it (exclude me). Even though I hate broccoli, I try eating a few florets when I make it because of the tremendous nutritional and health benefits.
Do you know that steamed broccoli can lower your cholesterol?. It helps to detoxify your body, helps to restore the Vitamin D balance of your body and even reduce the influence of allergic substances on our body. These green vegetable also has anti-inflammatory and antioxidant properties. Researchers say that half a cup of broccoli per day can lower the risk of cancer. Here is the nutrition facts provided on the broccoli pack we bought.
Here I am giving the Kerala style stir-fry recipe, but adapt it to your style by adding herbs or more spices.
Broccoli Stir-fry
Broccoli Stir-fry
A nutritious and easy to make side dish which will improve your health in a without much effort. This half cooked broccoli stir-fry is a nutrient packed food.
Ingredients
1

pound

of broccoli bunch

1/2

cup

onion

chopped

3

garlic cloves

crushed

3

green chilli

A sprig of curry leaves

optional

A pinch of turmeric powder

2

tbsp

cooking oil

Salt to taste
Instructions
Separate the florets from the bunch. Wash in cold water.

Cut it into 1.5 inch pieces and set aside.

Heat oil in a pan. Add the crushed garlic and stir-cook until slightly brown.

Saute the onion until soft. Then add green chilli and mix well. Cook for a few seconds.

Add the curry leaves and turmeric powder. Stir and cook for 30 seconds.

Now add the florets and mix with salt.

Cook uncovered on medium heat for 5 minutes until the broccoli is tender.

Remove from heat and serve hot.
Recipe Notes
1. Over cooking makes the broccoli mushy and will loss its nutrients.
2. Cooking it uncovered helps to retain the green color of the florets.
This is an easy to prepare vegan and vegetarian side dish packed with nutrients. Include these green florets in your meal every day or if like me try including it once a week in your menu.
Happy Cooking