Today we are going to make an easy dish that goes well with rice, bread, chapathi, naan etc. – Okra Tomato Curry with coconut milk. This is a delicious and hearty dish that is perfect for any time of the year. This vegan and gluten-free recipe is easy to prepare and is full of flavor, making it a popular choice for those who love Indian cuisine.
This is a flavorful and delicious vegetarian side dish that is easy to make and perfect for a weeknight dinner or breakfast. This curry combines the fresh and tangy flavor of tomatoes with the earthy taste of okra and the creaminess of coconut milk. It is a great way to add more vegetables to your diet, and it's also a good option for those who follow a vegan or vegetarian lifestyle. It is packed with nutrients and flavor and is a great way to use up fresh veggies in your pantry.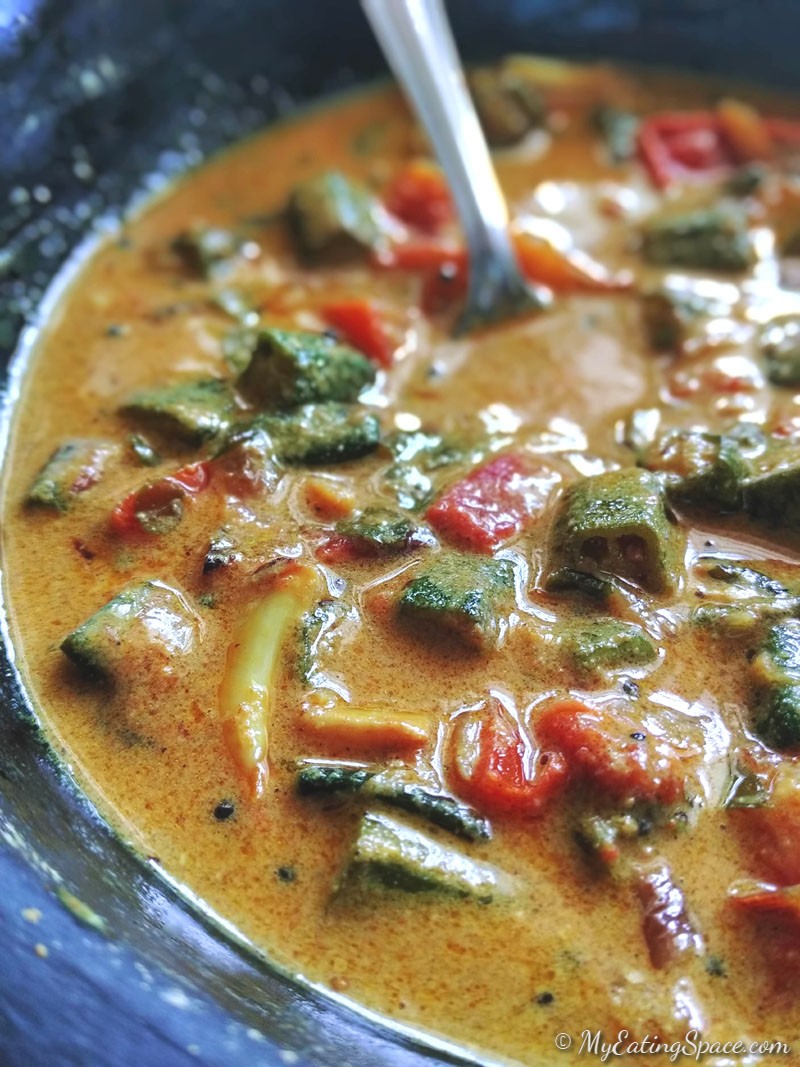 Okra Tomato Curry with Coconut Milk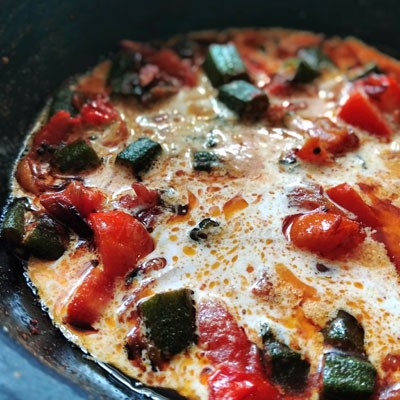 Okra Tomato Curry with Coconut Milk
A vegan and gluten free side dish made with tomato, okra and coconut milk. The spices enhances the flavor and coconut milk adds the creamy texture to the tomato curry.
Ingredients
2

tbsp

Coconut oil

1

tsp

Fennel seed

4

garlic, diced

2

Onions, diced

1

cup

Okra, diced

1

Tomato, diced

½

tsp

Turmeric powder

½

tsp

Red Chili Powder

½

tsp

Chicken masala powder

2

sprigs

of Curry leaves

1

cup

Grated coconut

½

cup

Water

Salt to taste
Instructions
Heat oil in a large pot or pan over medium heat. Add the fennel seeds to the hot oil to pop it.

Now add the diced garlic and onions ad cook until soft and translucent, about 3-5 minutes.

Then add the diced okra and curry leaves and cook until the okra is not slimy. Keep mixing with a spatula to avoid sticking to the pan.

Add turmeric, chili and masala powder ad mix until the spices are well combined.

Add the diced tomato and salt ad mix well. Add a table spoon of water ad mix well. Cover ad cook until the tomato is well cooked.

Meanwhile prepare fresh coconut milk. Add the grated coconut and water into a grinder. Grind well 2-3 minutes to get all the coconut milk. Using a strainer, separate the coconut milk into a bowl.

After the tomatoes are cooked, reduce the flame and add the coconut milk. Stir the curry continuously to avoid the curdling of coconut milk.

When you see fumes appear from curry, switch off the heat and remove from the stove. Keep stirring for a few seconds.

Add salt if needed. Adjust the salt or spice depending on your taste preference.
Recipe Notes
You can use canned coconut milk and tomatoes instead of the fresh ones in the recipe.
Adjust the spices according to your preference.
You can add curry leaves or cilantro to garnish the dish (My favorite is curry leaves).
To serve the tomato curry, spoon it over a bed of cooked rice or pair it with chapathi, appam, puri. Give the recipe a try and enjoy a tasty and satisfying meal.
Happy Cooking

Related Recipes