Paneer, also known as Indian Cottage Cheese, is a popular ingredient in Indian cuisine that is made by curdling milk and then separating the curds from the whey. It has a firm texture and mild flavor, making it a versatile ingredient that can be used in a wide range of dishes. One popular use for paneer is as a filling, which can be added to samosas, parathas, and other Indian snacks. In this blog post, we will explore a simple and delicious paneer recipe that you can use to make a variety of snacks, such as samosas, parathas, or puffs.
This recipe can be served as a side dish as well as a filling with many Indian and non-Indian dishes. For example, it can be added to quesadillas or burritos to create a fusion dish that combines Indian and Mexican flavors. In these dishes, paneer is typically combined with other ingredients such as beans, vegetables, and cheese to create a filling that is flavorful and satisfying.
This paneer recipe is easy to make and requires only a few ingredients that are easily available in any kitchen. With a little creativity, you can customize the recipe to suit your taste and create your own signature dish. Let's jump to the recipe.
Easy Paneer Recipe: Best Filling for Wraps and Rolls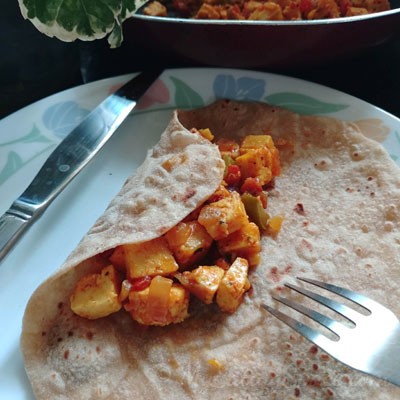 Easy Paneer Recipe: Best Filling for Wraps and Rolls
Looking for a versatile and delicious filling for your Indian dishes? Try our paneer filling recipe! This filling is perfect for samosas, parathas, sandwiches, and more. With easy-to-follow instructions and simple ingredients, you can add a burst of flavor to your meals in no time. Try our paneer recipe and take your cooking skills to the next level!
Course:
Fillings, Side Dish
Ingredients
250

g

Paneer

3

tbsp

Ghee or Olive oil

1

tbsp

Garlic, chopped

2

Onion, diced

medium size

½

cup

Bell Pepper (Capsicum), diced

1

tsp

Turmeric powder

1

tsp

Red Chili powder

2

Tomatoes, diced

medium size

½

cup

Hot water

1

tbsp

Tomato sauce

(optional)

1

tsp

Pasta seasoning mix

Salt to taste

Spring onion to garnish

(optional)
Instructions
Dice the paneer into small cubes.

Heat 1 tbsp ghee (or oil) in a pan. Add the paneer into it and mix well. Cook over low-medium heat until all the water content is evaporated. Remove the semi fried paneer from the pan and keep aside.

Add the remaining ghee (or oil) to the same pan. When the oil is hot, add the garlic and onion into the pan. Sauté until soft.

Then add the capsicum and stir cook for 1-2 minutes.

Add turmeric and chili powder and stir cook for another 30 seconds.

Add the tomatoes and salt. Mix well and cook until the tomatoes are well cooked.

Pour the hot water into the pan and mix well. Bring it to a boil.

Add the tomato sauce and pasta seasoning. Mix well. Cook until the mixture is a little thick.

Add salt to taste. Finally add the fried paneer into the gravy. Stir until all paneer cubes are well mixed in the tomato gravy.

Check for the salt. Add more if needed.

Garnish with spring onions.

Remove from heat. Serve hot as side dish or as a filling in Frankie rolls or wraps. Enjoy.
Recipe Notes
Capsicum (bell pepper), spring onion are just optional, We can prepare it with basic ingredients like onion, garlic, tomato, paneer and some seasoning.
Use any seasoning of your choice like rosemary, oregano, basil leaves.
You can add other vegetables to the filling to make it more nutritious and flavorful. For example, you can add finely chopped capsicum, carrot, or peas.
If you don't have fresh paneer, you can use frozen paneer. Just make sure to thaw it before using it in the recipe.
If you want to make the filling spicier, you can add more green chili or red chili powder to the recipe.
You can also add some lemon juice or amchur powder to the filling to give it a tangy flavor.
If you're making samosas or parathas, you can shape the filling into small triangles or balls and stuff them in the dough. If you're making puffs, you can use the filling as a stuffing for the pastry.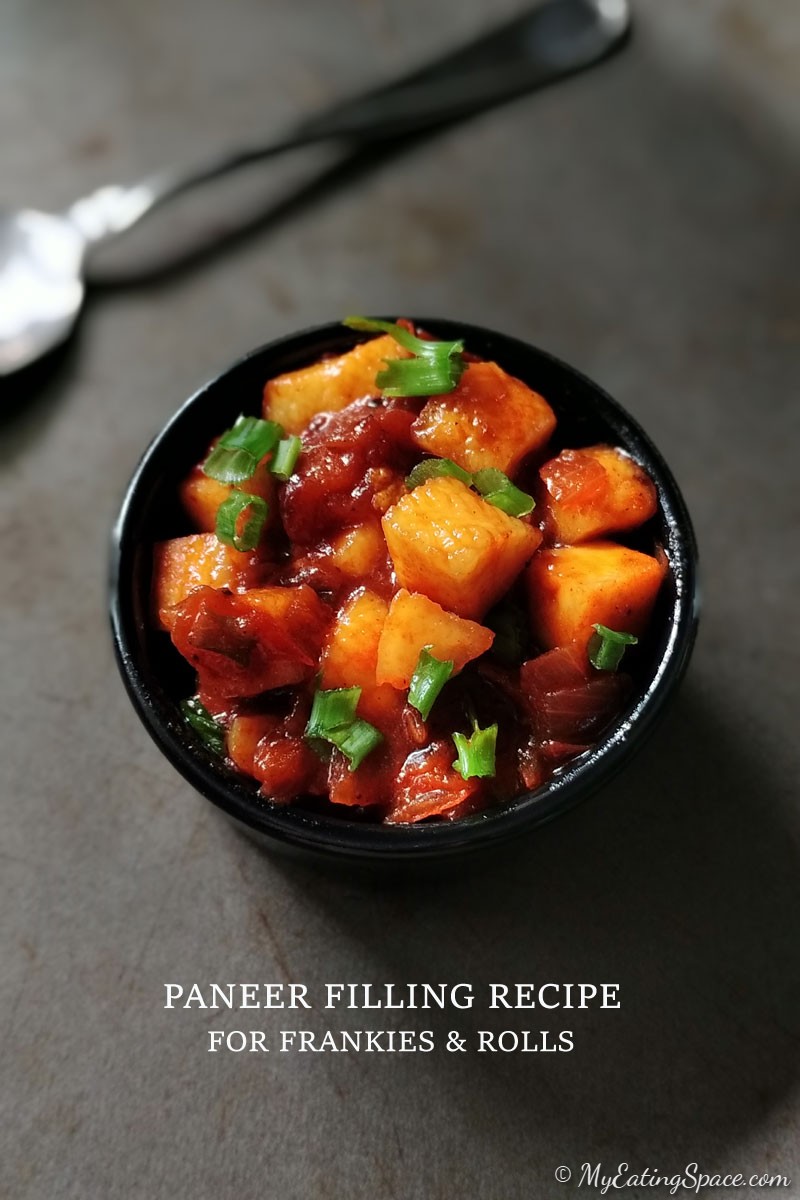 Watch the video and try making the paneer recipe.

This paneer recipe will make the kids lunch special and delicious and makes a effortless lunchbox recipe.
You can easily make paneer at home. If you are interested, here is the recipe for homemade paneer.
For making Chapati, you can try this recipe.
Next time, when you are looking for a delicious vegetarian filling for your chapati rolls, Frankie rolls, spring rolls, burritos or just a fusion side dish, make this amazing paneer recipe.
Happy Cooking

Related Recipes