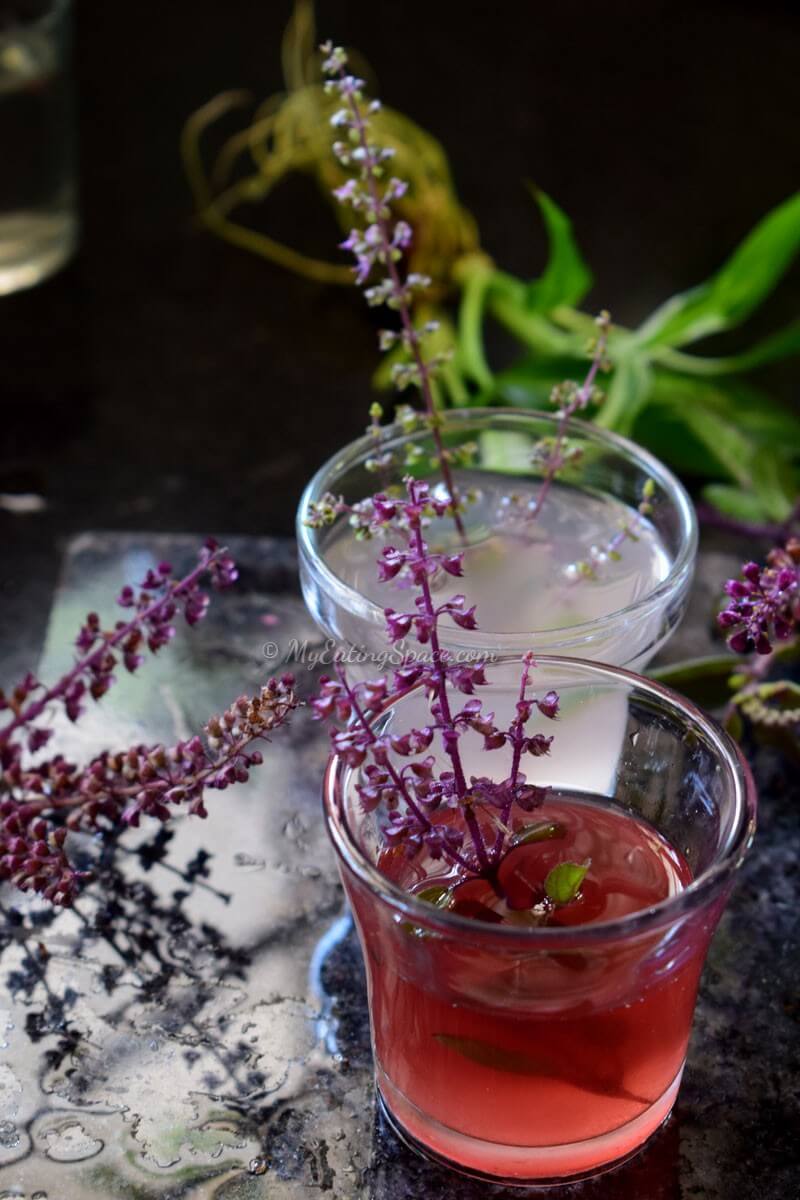 Today's recipe is very special. We are going to make a herbal wine with less ingredients and in less days. This wine is made with holy basil leaves and its flowers. The recipe is from my aunt. And I have been eagerly waiting to test and share this recipe with all.
Holy basil is also known by the name Tulasi or Tulsi. This aromatic plant is widely used in Ayurvedic medicines and also as a herbal tea. The leaves can also be eaten raw. There are many varieties of Basil plant depending on it's color, flavor, shape etc. Usually 3 types of the tulsi plant is widely seen and cultivated in Indian homes.
Krishna Tulsi (Purple Leaf Basil)
Rama Tulsi (Green Leaf Basil)
Vana Tulsi (Wild Basil)
I used Purple leaf tulsi and Green leaf tulsi to make the herbal wine. The red color wine is made from purple leaf. The wine had sharp and crispy tulsi smell and flavor. The whitish pink color wine is made with green leaf basil. The smell and taste were sharp in the beginning, but as it fermented the it started to decrease. But The wine still tastes great. But my favorite is the purple leaf wine.
So the color and aroma of the wine depends on the color and type of the leaf. When my aunt made the wine, it had a light pink shade and that is what first attracted me to try this. And I got 2 different shades of wine as you can see in the pictures.
The more interesting fact is unlike the other wines, the fermenting time for this herbal wine is a maximum of 1 week or before, to be precise 3-5 days. Yes, you can have your homemade herbal wine in a week starting from today.
Herbal Wine/ Tulsi Wine / Holy Basil Wine
Herbal Wine / Tulsi Wine
An easy Herbal wine recipe made with Holy basil leaves and flowers with less fermentation period and less ingredients. No yeast or wheat kernels used for fermentation.
Course:
Wine, Winter Drinks
Ingredients
1 cup

Basil Leaves (Tulsi Leaves) and flowers

1/4

cup

Sugar

Enough Water to cover the leaves
Instructions
Wash the leaves and flowers to remove any dust and small insects. Strain well.

Boil the water. Let it cool down completely at room temperature.

Take a clean glass jar or bottle. Add a little of the leaves into the jar. Then add a little sugar on top of the leaves. Again add the leaves. Repeat the process of layering.

Now pour the water just until to cover and immerse the leaves. Cover with a lid loosely

Let it sit undisturbed and ferment. You can see that after 1 or 2 days, all the leaves will float in the water. Using a wooden spoon, stir the wine daily. The color change is also visible during these days.

In 3-5 days, test how strong your wine tastes. If you are ok with the taste, strain the liquid from the leaves. Or else let it ferment for 2 more days.

After straining, keep the wine in a clean glass bottle, enjoy.
Recipe Notes
Color of the wine changes depending on the type of tulsi leaf.
Make sure you stir the mix daily so that no fungal growth occurs.
Always use a clean glass bottle to make wine.
You can add more sugar if needed after straining.
It is better to layer the leaf and sugar little by little. This makes the fermentation easier.
Have you ever tried a homemade herbal wine? If yes I would like to try that too… And try the holy basil wine recipe for sure. Will be back with a new recipe soon.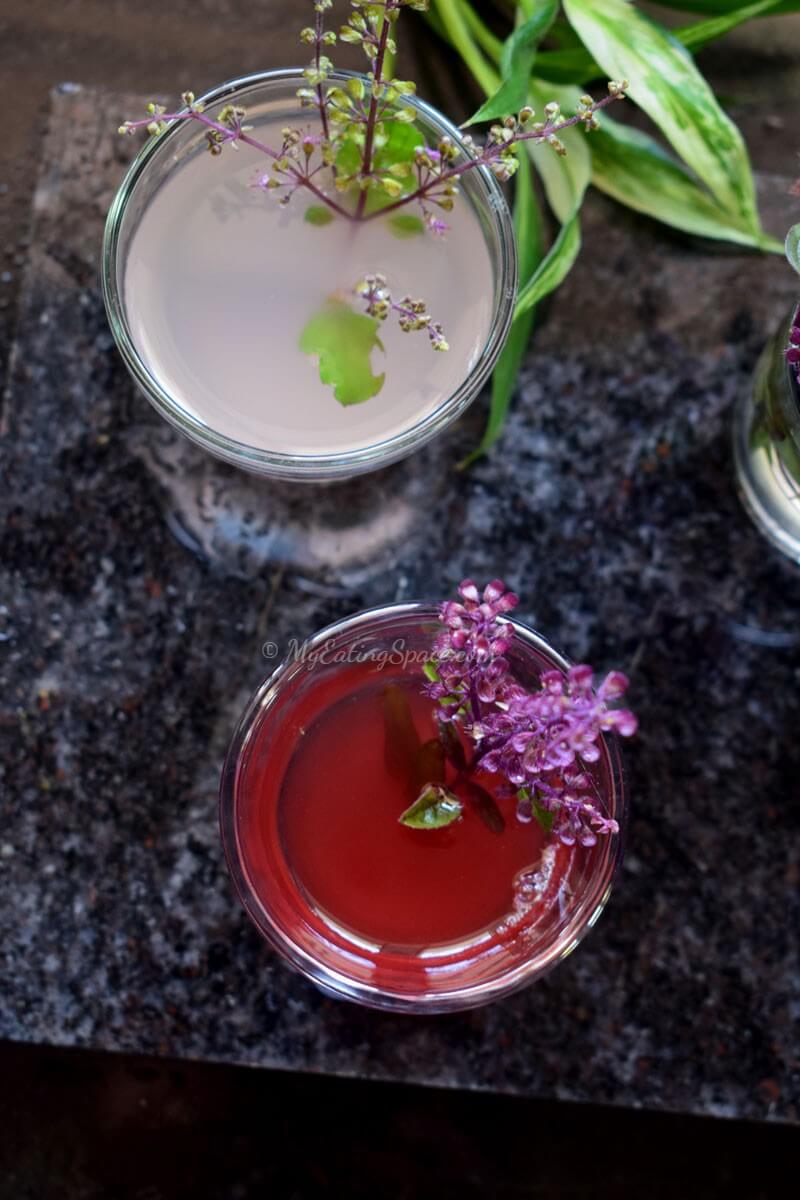 Happy Cooking

 More Wine and Drinks Recipes