Any vegetable stir-fry mixed with coconut is named thoran, that is what we call it in Malayalam. Thoran is a dry dish served as a side for rice in Kerala. Today, in Onam recipes special category, I'm going to share the delicious Cabbage Thoran recipe.
Cabbage Thoran is a easy to make dish like the ivy gourd stir-fry (recipe here) I shared in the last post. For large Sadyas, cabbage is chosen often for making thoran. Maybe because even with a single small cabbage, we can serve a large group. More than that, it is very simple to make.
When it comes to pairing dishes with cabbage thoran, my personal favorite is cabbage thoran and spicy buttermilk drink with hot steamed matta rice. I also like it with mango and lemon pickles. While in college, one of my friends used to bring chappathi rolls filled with cabbage thoran. We used to get a bite sometimes and that combo was really delicious. Another great pair is the Kerala style fish curry and cabbage thoran with matta rice.
Cabbage thoran goes well with Sambar, kaalan and parippu curry in Sadya. Keralites add lots of coconut in Cabbage thoran. But I'm using a little less coconut here since we like it that way. Also, don't fear about that yucky smell of shredded cabbage. That will go away when cooked with coconut. You don't have to add water in cabbage thoran as the leaf itself holds enough water to get it cooked. So let's get started with the recipe.
Cabbage Thoran – Cabbage Coconut Stir-fry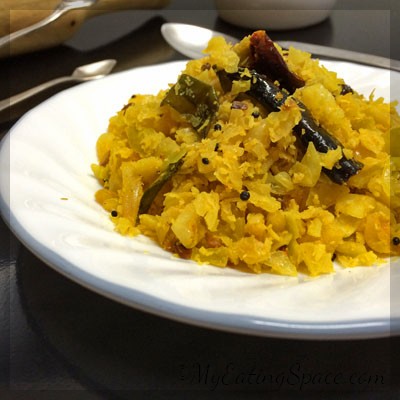 Cabbage Thoran - Cabbage Coconut Stir-fry
This cabbage thoran is a traditional recipe usually made in sadya. This is a no-hassle preparation and tastes delicious. A thoran made with single cabbage will serve a large group.
Ingredients
2

cups

of cabbage

washed and finely shredded

1/2

cup

coconut

finely shredded

2-3

green chilli

chopped

1/4

tsp

turmeric powder

1/2

tsp

red chilli powder

ground cayenne pepper

Salt to taste

1

tbsp

coconut oil

or canola oil

1/4

cup

onion

or shallots, chopped

1/2

tsp

mustard seed

2

dry red chilli

dry cayenne pepper, teared

1

sprig of curry leaf
Instructions
In a large bowl, mix together the shredded cabbage, coconut, green chilli, turmeric powder, red chilli powder and salt. Mix with your hands by applying a gentle pressure (not too much force to smash it) so that the flavors will be well incorporated.

Cover and let it sit for 5 minutes.

Heat oil in a pan. Crackle the mustard seeds.

Then add the teared dry cayenne pepper and stir cook for 10 seconds (this may get burned quickly).

Saute the chopped onion until it starts to golden brown.

Add the curry leaves and let it fry for a few seconds.

Now add the cabbage-coconut mix into it.Stir and mix with a spoon.

Cook on medium heat with occasional stirring for 10 minutes or until cabbage is soft.

Remove from heat.

Serve with rice or chappathi.
Recipe Notes
It will be better to cook the cabbage uncovered to prevent it from getting mushy. If you prefer to cook it covered, make sure all the water is evaporated or it will be easily spoiled.
In some places, cumin seeds are also added in cabbage thoran. If you wish you can add that too. I have heard that cabbage is not good for those who suffer from thyroid problems. For them, you can use finely grated unripe pappaya is a great choice. They taste exactly like cabbage thoran.
Happy Cooking