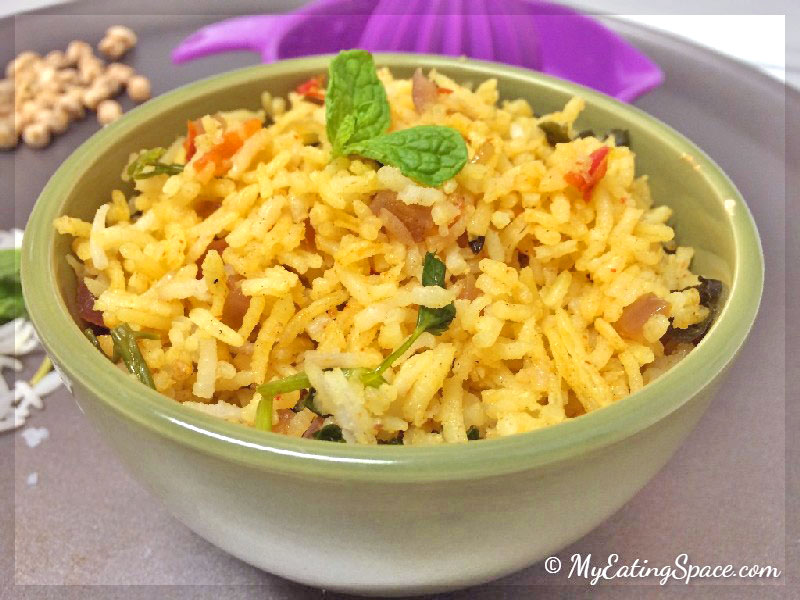 Tomato rice is a famous south Indian dish. The dish can be prepared in a variety of ways. Either you can first cook the rice and mix it with the tomato gravy or cook it all together. I follow the second one. It just requires only one pot or vessel. 🙂 Washing made easy 🙂
This tomato rice will definitely make you wish you had double the taste buds. My version of tomato rice is a little different from the famous South Indian tomato rice. I just made it to my family's taste. The basic ingredients are very less. You can the spices you wish like cinnamon sticks, anise seed etc.
This is one of my easy-to-make meal, for lunch or dinner, when I feel so exhausted to make something. They don't even need a side dish or curry. The tomato rice itself is a mouth-watering feast. So here is the recipe for my One-pot Tomato rice or thakkali (tomato) sadam, as we call in South India.
One-pot Tomato Rice – Thakkali Sadam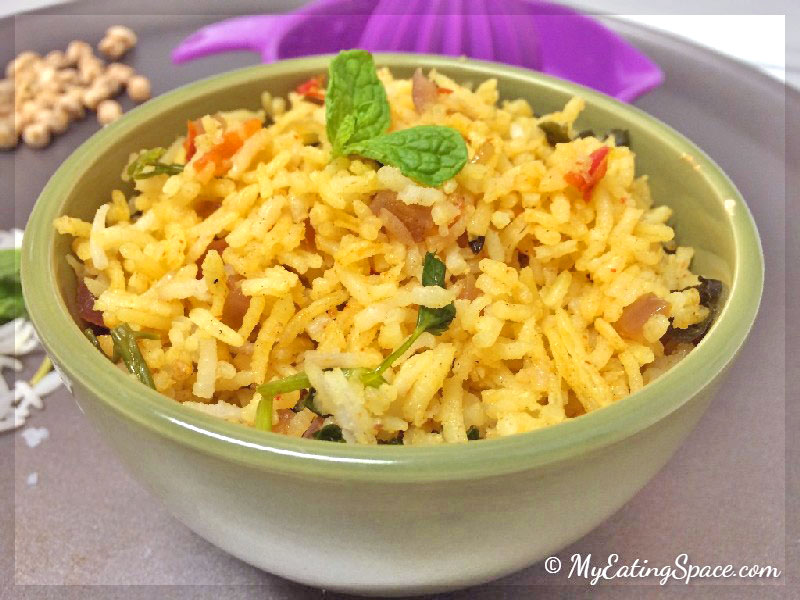 One-pot Tomato Rice - Thakkali Sadam
One-pot Tomato Rice, also called thakkali sadam, is a mouth-watering, taste bud tingling,easy-to-prepare treat for lunch or dinner. The versatility of the recipe is with few basic ingredients and different herbs and spice combo, you can make the flavor to adapt your taste.
Ingredients
1

cup

rice

white or basmati

1.75 - 2

cups

of water

1

onion

finely chopped

3

tomatoes

finely chopped

3

tbsp

butter

3

bay leaves

optional

1

green chilli

sliced lengthwise

2

tsp

garlic paste

1/4

tsp

fennel seeds

1/4

tsp

cloves

1-

inch

cinnamon stick

Curry leaves

1 sprig

1/8

tsp

turmeric powder

1

tsp

red chilli powder

ground cayenne pepper

1/8

tsp

nutmeg powder

1/2

cup

chopped cilantro

tightly packed

1/4

cup

mint leaves

Salt to taste
Instructions
Wash the rice 2 to 3 times in cold water. Soak the rice in water for 15 minutes.

Heat butter in a pan. when completely melted, pop the fennel seeds and then cloves followed by cinnamon stick.

Add the bay leaves and garlic paste and stir well for a few seconds.

Saute the onion, green chilli and curry leaves until the onion is soft and translucent.

Now add the turmeric powder, chilli powder (ground cayenne pepper) and nutmeg powder. Stir-cook for a few seconds (20 seconds) until you get a spicy aroma. Make sure not to burn the spices.

Then add the finely chopped tomatoes into it. Cook until soft and mushy.

Add the soaked rice, stir and saute for a minute.

Add water and salt to the tomato-rice mixture. Mix well to combine.

Cover with a lid and cook until the rice is soft and well cooked.

Remove from heat. Add the chopped cilantro and mint leaves. Mix by fluffing with a fork. Again cover with the lid and let it sit for 2 minutes for the flavors to incorporate.

Serve hot.
Recipe Notes
1: For a vegan version, use any cooking oil instead of butter.
2: The amount of water may vary depending on the type of rice. So adjust accordingly.
3: Bay leaves are optional. You can avoid that if not available.
4: Additionally you can add any herbs you wish like mild flavoring parsley, basil etc.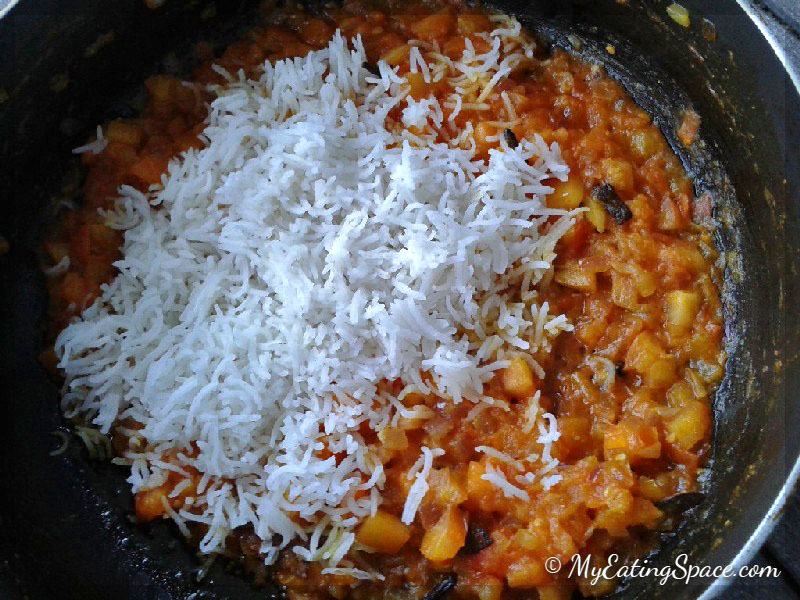 You can also have yogurt or raita as a side. I even use some spicy lemon or mango pickle as side 🙂
As George. W. Carver wrote, "Tomatoes can be prepared in so many delicious ways that one can eat them every day and not get tired of them." This is true about me… What about you?
As I said in the beginning, tomato rice can be prepared in different ways with different combinations. Do you have a different version of tomato rice to share…. Although this one-pot tomato rice is my favorite, I would like experimenting others also 🙂
Happy Cooking