Wheat pudding / pradhaman (payasam, kheer, pudding) is a sweet dessert served on any special occasions like birthdays or our festivals like Onam. But, don't think we only make it on special occasions. We make it whenever we are happy, feels like celebrating, when guests are there.
The actual reason to make it is…… mmmm…… I think, we don't really need a reason to make it. We simply love payasam/pradhaman because of the tempting aroma of crushed cardamom and the rich flavor of ghee.
We make pradhaman/payasam with grains like wheat, rice, oats, lentils, green gram and fruits. The main ingredients in every pradhaman will be jaggery and coconut milk. Payasam is mainly made with milk and sugar.Today, I am going to share the recipe of the broken wheat pudding (pradhaman), the recipe from my mother.
During the last vacation, we celebrated our grandmother's 85th birthday. Of course, cake cutting was there, that too, yummy black forest cake. But everyone was roaming around in the kitchen to have a second serving of the broken wheat payasam my amma (mother) made. I just copied her recipe and made it for my son, who loved it so much. Now, broken wheat pudding is his main food.
So here is the recipe of our favorite payasam
Wheat Pudding – Gothambu Payasam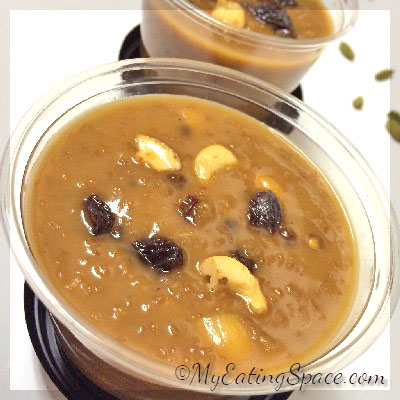 Wheat Pudding - Gothambu Pradhaman
Wheat Pudding is a healthy dessert from Kerala. This is made with broken or cracked wheat, jaggery and coconut milk flavored with cardamom and dry ginger.
Ingredients
Broken wheat / cracked wheat – 1 cup

Tapioca balls – 1/4 cup

Coconut milk – 1.5 cup

Jaggery – 2 cups

Water – 4 cups

Ghee/ clarified butter – 3 tbsp

Cardamom Powder – 1/2 tsp

Dry ginger powder – 1/4 tsp

Raisins

Cashew nut
Instructions
Mix jaggery with 1 cup water in a bowl. Boil until the jaggery melts and becomes a thick syrup. Keep aside.

Heat 1 tbsp ghee in a pressure cooker. Add the broken wheat and tapioca balls into the ghee. Fry on medium heat for 3 minutes.

Add half of the jaggery syrup and 3 cups of water into the cooker. Mix well and pressure cook for 2 whistles or until the wheat becomes soft.

Remove from heat and let it sit until the pressure drops.

Meantime, heat 1 tbsp ghee in a pan. Fry the nuts and raisins in the ghee. Keep aside.

Now open the cooker and transfer the cooked wheat with jaggery syrup to a heavy bottom vessel.

Add the remaining jaggery syrup into the cooked wheat. Cook for a few minutes over medium heat.

Add coconut milk and stir well. Heat over low to medium heat until it just starts to boil.

Remove from heat. Add the remaining ghee, ghee roasted nuts and raisin, dry ginger powder and cardamom powder into the pudding. Mix well.

Let it cool. Serve or refrigerate.
Recipe Notes
1;Do not boil after adding coconut milk or it will look separated. The taste will be same but it won't look nice.
I like to have the refrigerated version than the warm one. Taste it while warm and cold, then make a choice.
Happy Cooking