Burnt dishes known as Theeyal is one of the popular dish from Kerala made with burnt (fried) coconut and tamarind paste with spices. Burnt eggplant curry is my favourite. We can also use other vegetables instead of eggplant to make this burnt dish The fried coconut and spices give a tempting aroma to the curry. The gravy will be thick and makes a good combination with steaming rice.
You may think, why I am using coconut in almost everything I make…
Yes I know, I do, not just because I love coconut……….
We do have lots of coconut trees in my Kerala.
Actually I come from the 'Land of Coconut Trees'. We, Keralites, use lots of coconut in almost all the dish we make.
Here is the recipe,
Burnt Eggplant Curry – Theeyal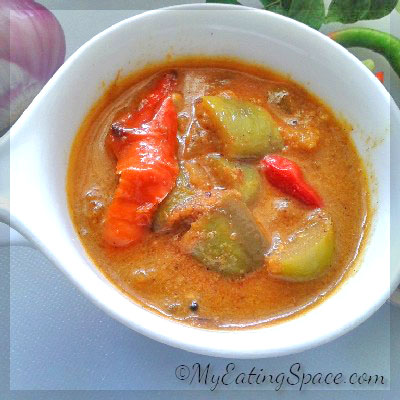 Burnt Eggplant Curry – Eggplant Theeyal
Burnt Eggplant is a spicy delicious curry made with burnt coconut-spice mix, eggplant (brinjal) and tamarind paste.
Ingredients
2

eggplants

1

onion

2

green chilli

5

shallots / pearl onion

1

tsp

coriander powder

1

tsp

chilli powder

1/4

tsp

turmeric powder

1/4

cup

grated coconut

1/4

tsp

tamarind paste

3

tbsp

coconut oil

1/8

cup

water

Curry leaves

Salt to taste
Instructions
Wash and cut the eggplant into medium sized pieces. Chop the onion, shallot and green chilli.

Heat 1 tbsp oil in a pan. Add the grated coconut and shallot into the oil. Fry until the color of coconut changes to light brown. Simmer the heat.

Add the turmeric powder, coriander powder and chilli powder. Stir well and fry until it gives a nice aroma. Keep the flame low to prevent the spices from burning.

Remove from heat and keep aside to cool down.

When cool grind the fried coconut – spice mix along with water to form a fine thick paste.

Now heat the remaining oil in a deep bottom pan. Pop the mustard seeds.

Add the chopped onion and green chilly into the oil. Saute until the onion turns golden brown.

Add curry leaves and eggplant pieces into it and cook for 5 minutes on medium heat.

When the eggplant is well cooked, add the coconut paste, tamarind paste and salt. Mix well and cook for 5 minutes in low to medium flame.Then remove from heat.
Serve hot with rice.
Happy cooking