Caramelized rice pudding, the porridge-like puddings known as payasam or pradhaman in Malayalam (my regional language) is an assured dessert of South India. In North India, this dish is called kheer but prepared in a different style . This can be made in many ways and all of them are equally delicious and yummy. We make these puddings with wheat, split green grams, rice, ripe plantains etc. Usually, they are made during some festive occasions or on our dear one's birthday.But I make it even as a replacement for evening bites.
Normally, we use sweeteners like jaggery syrup or sugar for making the payasam. But this one, the caramelized rice pudding, is sweetened with caramel as the name suggests. Preparing the rice with sweetener will take a long time for the rice to get cooked. So while making the caramelized rice puddings, cooking the rice first and then adding the sweetener will be the better option. The rice is being cooked in milk and flavored with cardamom.
Caramelized Rice Pudding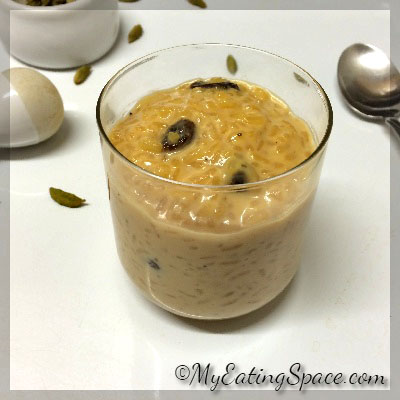 Caramelized Rice Pudding
Caramelized rice pudding make a unique flavored treat on any occasions or as a simple evening bite replacement. This gluten-free dessert will soon become your favorite.
Ingredients
1

cup

raw white rice

washed and drained

8

cups

of whole milk

1.75

cup

sugar

4

tbsp

butter or ghee

clarified butter

8

cardamom

crushed

1

tbsp

raisins

2

tbsp

cashew

or almond
Instructions
Take a large, deep and thick bottomed vessel. Pour the milk into the vessel.

Add the washed rice into the milk and stir well.

Bring it to a boil on medium-high heat with occasional stirring.

Then reduce the flame to medium-low. Cover and let it simmer until the rice is cooked to a soft consistency. Stir occasionally.

While the rice is cooking, Melt the butter in a saucepan.

Fry the raisins and cashews. Strain and transfer to a plate.

Add sugar to the same butter. Cook on medium heat until the sugar is completely dissolved and change the color to light brown. Stir continuously. Remove from heat. The caramel is ready.

Add this caramel to the cooked rice. Be careful with this step as it will splash.

Mix well. Don't get tensed if the caramel is solid. It will melt while heated.

Cook on medium high heat until the pudding is thick like a porridge but still in a pouring consistency.

Switch off the heat. Add the ghee-roasted raisins and nuts.

Add the crushed cardamom and mix well.

Let it cool a while before serving.
Recipe Notes
Use almonds or cashews.
Upon sitting, the pudding will become thick as the rice will absorb the milk. Add warm milk and mix well to make it to a pouring consistency.
Adjust the amount of sugar to your choice.
I hope you will all try this Kerala-style rice pudding with caramel. Onam is coming up. Try out this variety payasam for this festive season.
You want more puddings, here it is:
Happy Cooking