An eggless pretzel recipe is worth sharing when you fall in love with eating hot and warm breads made in the comfort of your kitchen. This German salted bread is just amazing and they are very easy to prepare and make your home smell like a German bakery. Don't get confused  just because of the shape. That is the traditional shape of German pretzel.
The shape, color and texture of pretzel had amazed me at first sight. Initially pretzels seemed like a fantasy bread that cannot be made at home. To be honest, it didn't taste as fascinating as it's look. But since I was very hungry and had nothing else to do other than waiting for the U-Bahn in a remote station in Stuttgart and we only had pretzels in our hand, I ate it. As it had too many salt crystals, I removed some. I kept on eating and never knew when I fell in love with this tough looking soft pretzels.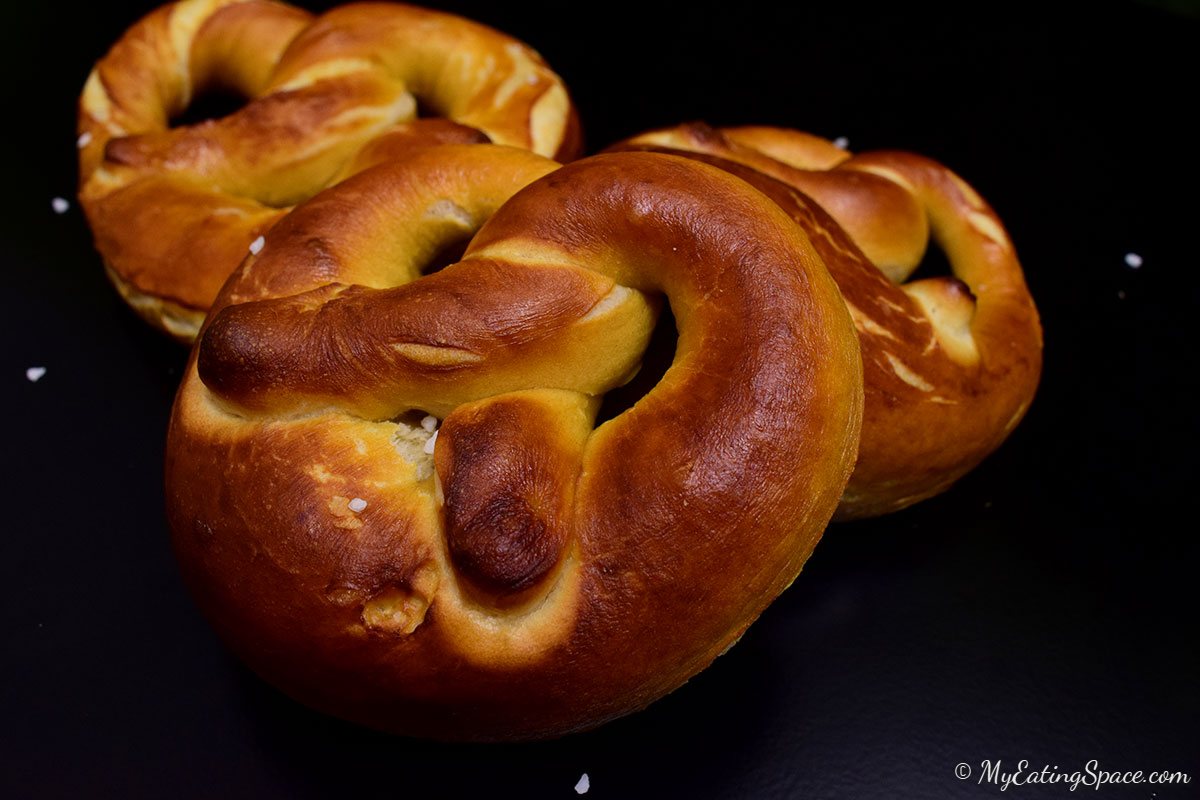 Other than making the knots, the whole recipe is easy. The traditional way of making pretzels is with the knots. But if you find it tricky, forget the shape and make the pretzels in whatever shape you like. That is not going to change the taste of this famous German bread. Also we are going to do it with the baking soda bath. So let's see the recipe.
Homemade Pretzel Recipe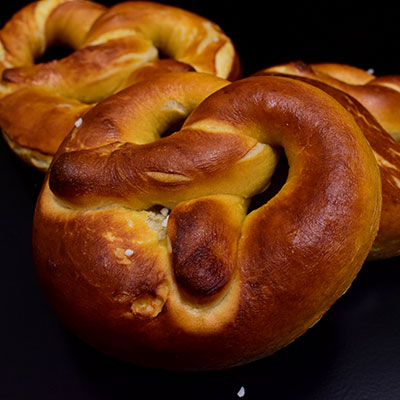 Easy Homemade Pretzel Recipe
Ingredients
1½

cups

Lukewarm Water

2 ¼

tsp

Yeast (1 packet)

1

tbsp

Sugar

2

tbsp

Melted butter (unsalted) or any Refined Oil

4-5

cups

All Purpose Flour (Maida)

1½

tsp

Salt (or as needed)

Coarse Sea Salt / Kosher Salt for sprinkling (optional)
Baking Soda Bath
6

cups

Water

⅓

cup

Baking Soda
Instructions
In a large bowl mix warm water, yeast and sugar. Let it foam and proof for 10 minutes.

Add the melted butter (or oil), flour and salt to this and mix well until combined. Then knead well to make a smooth dough.

Brush the bowl and dough with a little oil. Cover the dough and let it rise for 1 hour.

After 1 hour, prepare the baking soda bath. For this, mix the baking soda in 6 cups of water in a large vessel. Bring this to boil.

Preheat the oven to 425°F (220°C). Line the baking sheet or pan with parchment paper. Brush the parchment paper with oil. Keep near to the soda bath.

Now transfer the dough to a working surface. Using a knife or pizza cutter, divide the dough into 12 pieces.

To make the traditional pretzel shape, take one piece and using your hands, roll to both sides to make a rope. The center part of the rope must be a little thicker than the ends. Place the rope in a 'U' shape. Twist both the ends. Bring it down and press the ends to the thick center of the rope. Repeat with all the pieces.

Now, add 1 pretzel at a time to the boiling baking soda bath. Cook for just 20-30 seconds. Not more than that. Remove the pretzel from the bath using a slotted flat spatula and place it on the baking sheets. Repeat the process with remaining pretzels.

Sprinkle each pretzel with some coarse sea salt.

Bake the pretzels in the pre-heated oven for 10-15 minutes or until deep golden brown.

Enjoy the warm salty German pretzel.
Recipe Notes
You don't have to knead the dough after it had doubled in size. Just cut them into pieces.
You can skip the baking soda bath if wanted, But that is the one step that gives pretzel it's traditional taste. Cooking the pretzels in soda bath for more than 30 seconds will give it a metal like flavor which will not be that good.
Always keep the baking soda bath boiling when you add the pretzels. Do not lower the flame.
If skipping the soda bath, your pretzels will taste like a normal bread with some extra salt on top.
If you find it difficult to make the traditional pretzel shape, make it in any shape you want.
For a glazing texture, you can brush the pretzels with egg wash or simply brush with some milk after the soda bath but before sprinkling the salt. For egg wash beat 1 egg with 1 tbsp water.
You can even add some scores for a more fancy look which will expand on baking. The pretzel don't have to be exactly this shape. What matters is the alkaline flavor with a hard crust and soft chewy texture inside just like a white bread. Chances are you may not like the alkaline taste at first since our palates are not used to that taste. I too was there. But here I am making and sharing my favorite German Breze (baked pastry in with a knot), pretzel recipe. So do make a try.
Happy Cooking

More Bread Recipes