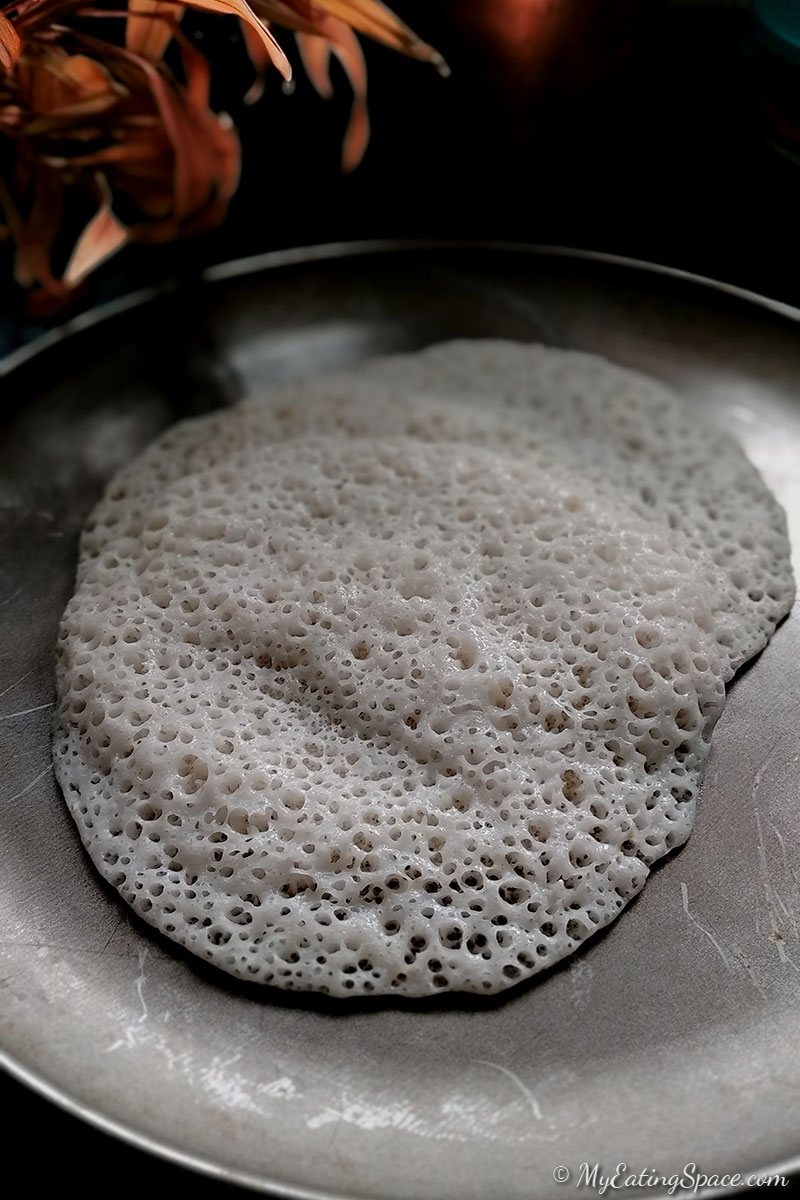 Appam (vellayappam) is one of the popular breakfast dish in Kerala. It is a Kerala version of  pancake made with a fermented batter of raw rice, coconut, yeast and a little of the spices. These flatbreads are gluten free and vegan. Different versions of appam are made in Kerala like paalappam, vellappam, vattayappam and a lots more.
The main ingredient in appam is the raw white rice (pachari). We can also use rice flour to make the pancakes. All other ingredients can vary depending on it's availability. Usually the appam batter is traditionally fermented by adding toddy (kallu,tadi), an alcoholic drink from palm trees. But since it is not available very easily, we use yeast for fermentation. But I must say, if you can get toddy that will make the best appam. Again once you make appam batter, you can store a quarter cup of it and use instead of yeast for the next batch fermentation.
Then coconut is another ingredient which adds to the taste. Fresh coconut is the best for appam. But dried coconut will also work. If coconut is not available also, we can make vellayappam for which I will share the recipe soon. We add  some cooked matta rice to make a soft pancake. But if you don't have matta rice, we can cook a little of the appam batter and mix it with the rest of the batter. This will also give a soft pancake.
The spices are used in mild quantities for flavor. But avoid it if you don't like the spicy flavor. The vellayappam is also known as kallappam in many parts of Kerala, since it is made with toddy (kallu). When cooked this pancake will get lots of small holes similar to polka dots.
Appam / Fermented Rice Pancake / Vellayappam
Kerala Appam made with raw rice, coconut, and yeast. This fermented rice pancakes are one of the popular dishes from Kerala. They are gluten free and vegan
Course:
Breads, Breakfast, Brunch
Cuisine:
Indian, Kerala Recipes
Ingredients
2

cups

Raw rice (pachari)

1.5

cups

Fresh Grated Coconut

¼

cup

cooked Matta rice (Kerala Red rice)

1

small

Garlic clove,

peeled

2

tsp

Cumin seed

Water as needed

½

tsp

Active Dry Yeast

1

tbsp

Sugar (optional)

Salt to taste
Instructions
Wash the raw rice and soak for 6-8 hours.

Grind the rice with all other ingredients to make a smooth batter. The batter should be free flowing but not too much watery.

Transfer the batter to a large bowl, cover with a lid and ferment for 8 hours or overnight.

The fermented batter will rise. Give it a mix. Check for the salt before cooking. Add more if needed.

Now heat a non stick flat pan or tawa. Keep the heat on medium-low. Once the pan is hot, pour a ladle of batter into the pan. Spread the batter slightly to make a small circular shape. Don't spread too much. You can see small holes starting to appear.

Cover it with a lid and cook for 1 minute. In between check whether the appam is cooked.

When cooked, take it from the pan using a spatula and place it on a plate. Repeat to make more appam with the rest of the batter.

Serve and enjoy with your favorite side dish.
Recipe Notes
You can grind the yeast along with other ingredients. No need for proofing. But you must be sure that the yeast will work.
The process will take 6-8  hours of soaking time and 8 hours of fermentation. So better soak the rice during day time and ferment overnight.
Don't add too much water while grinding. Add water just to grind the rice and add rest of the water later to make a free flowing batter. The batter must not be very thick.
If the batter is very thick, appam will be a little hard. For soft appam, the batter should be thin but not watery.
Keep the batter in a large bowl for fermentation as the batter will rise and there is a chance of over flow of the batter.
The fermentation time depends on the weather in which you are living. Hot climate makes the fermentation faster and cold weather makes it slow.
Sugar is an optional ingredient.  Avoid or adjust it according to taste.
In some places, the appam is flipped to other side while cooking. But since we cook it covered, both sides will be perfectly cooked. So it's not important to flip. But if you want, you can do that.
You can serve chicken stew, vegetable stew, tomato curry, paneer curry or any side dish you like with appam. Spicy side dish is more preferrable.
Some suggestions for side dish:
Happy Cooking

More Bread Recipes