Ginger sauce (called as  inji curry or puli inji in Kerala) is one of the most satisfying and tempting side dishes of Onam Sadya (vegetable feast). This sauce is a perfect balance of sweet and sour combo that will please your taste buds. The added advantage of this dish is they can be kept refrigerated for a week for your lazy or otherwise busy days.
I can finish off a plate full of rice with this ginger sauce. But the irony is I hate ginger. I can't take it raw or as a candy. But I can have this spicy, tangy and sweet ginger sauce. I had shared a ginger curry recipe earlier which is easy to make.See the recipe here. But i guess this one is better to enjoy as a dip or sauce.
Ginger curry is prepared in many ways in different parts of Kerala. It can be prepared with or without coconut, a sauce like this or like a curry with small ginger pieces to bite on. In any way, they are delicious. So lets move on to the recipe..
Ginger Sauce/ Ginger curry
Ginger Sauce
Ginger Sauce is one of the most satisfying and tempting side dishes of Sadya. This sauce is a perfect balance of sweet-sour combo that pleases any taste buds.

Course:
Sauces and Condiments, Side Dish
Ingredients
Tamarind,

a small lemon sized ball or(1 tsp tamarind paste)

¾

cup

Water

3

tbsp

Coconut oil

¼

cup

Ginger,

peeled and finely chopped

2

tbsp

Garlic,

finely chopped

1½

tbsp

Onion,

finely chopped

3

Green Chili,

finely chopped

½

tsp

Mustard seed

¼

tsp

Fenugreek seed

3

sprigs

of Curry leaves

½

tsp

Red Chili Powder

½

tsp

Turmeric Powder

½

tsp

Coriander Powder

⅛

tsp

Asafoetida Powder

Salt to taste

2

tsp

Jaggery,

powdered
Instructions
Soak tamarind ball in water for 5 minutes. Squeeze to make a tangy water. Strain and keep the water aside. Discard any residue. If using paste, mix it with water.

Heat 2 tbsp oil in a pan. Fry ginger, garlic and onion until a light brown color. Remove from heat and set aside to cool.

Once cool, grind it into a fine paste in a mixer. Keep the paste aside.

Heat the remaining coconut oil in the same pan. Crackle the fenugreek seed and then the mustard seeds.

Fry the curry leaves. Add chili powder, turmeric powder and coriander powder. Stir cook for a few seconds.

Add the ginger paste, tamarind water and salt. Mix well and bring to a boil on medium-high heat.

Reduce the heat to medium. Add asafoetida powder and simmer for 5-10 minutes. or until the sauce is thick. It will become thick when cooled. So adjust time accordingly.

Add the jaggery powder and mix well. Remove from heat.

You can have it hot or store it in an air-tight container once cooled. Keep refrigerated for longer shelf life.
Recipe Notes
Some like it more sour and some like it sweeter. Adjust the tamarind and jaggerry as per your tatse.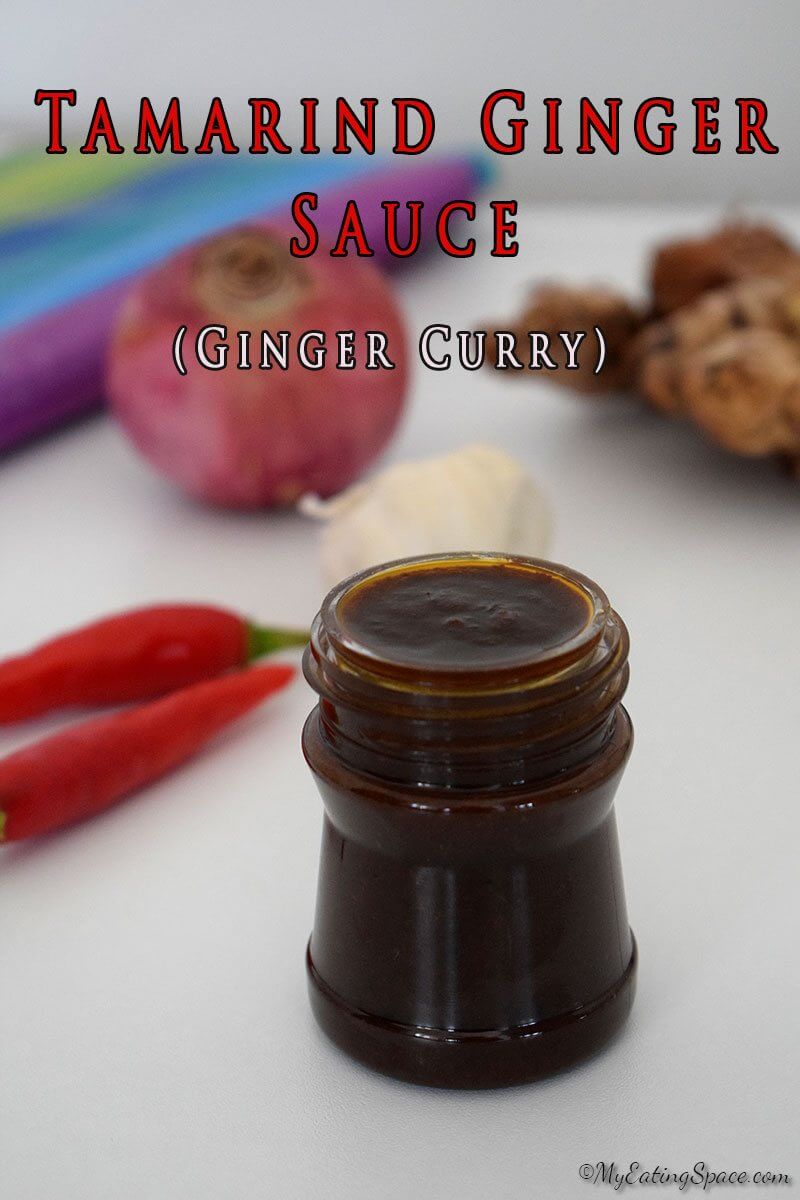 Happy Cooking

Related Posts