How about drinking an orange candy ? This caramelized orange syrup taste exactly like an orange candy in a glass. This candied orange syrup calls for just 3 ingredients and is very easy to make. They are vegan and gluten-free also.
I first tried the recipe 1 month back for a plantain dessert(coming soon). They were so good that we finished it in minutes. The left over was some caramelized orange syrup. I don't like to waste anything. I always try to find some ways to use the left-over's. I made it with such effort and don't want to throw away, whatever it be.
Coming back to the orange syrup, I added some water to it to reduce the sweetness and took a sip. And wow!!! That tasted exactly like the orange candy we used to buy in our childhood. Ohhh… So this is how they make those candies? May be I figured out the recipe for my sweet little candies.
But at that moment I was thinking something else….What an amazing drink this can be!! This is great for the cocktails that need an orange flavor boost. More simply, this orange syrup will make an amazing, light and refreshing summer drink. They can be used in any desserts that need a little orange love. You can drizzle it over a pancake or waffle.
Sugar, orange juice and orange zest is the three ingredients you need to make the caramelized orange syrup. No butter or cornstarch to make the syrup thick. And the final result is delicious and so tempting that you keep on tasting.
While making the syrup, keep the following things in mind.
You need the orange syrup to be sweet. Not a bitter sweet marmalade syrup. Remove the white pith (portion between the fruit and skin) from the orange zest as much as possible. This white pith is the thing that makes your orange jam, jellies, marmalade or syrup bitter. So remove it. But if you like that bitter-sweet flavor, you are very good to keep it. My family don't like that taste. So I removed the pith completely.
Orange zest is the main ingredient that gives the syrup, the refreshing and the most loved bright orange flavor. And why not, zest is full of aromatic oils. So for a more strong flavor, I always try to use as much of the zest possible. And this is what I do to take the most of the zest. Wash the orange in cold running water. Then peel the orange. Using a knife remove the white pith from the zest. You can also use a vegetable peeler to separate the zest part. Discard the pith. You can always grate the zest as it is the easiest method.
The more finely grated the zest, more flavor will be absorbed. So if you are going to peel the zest instead of grating, make sure to finely chop them.
If you have got lots of orange zest, don't throw away. They will keep fresh in the freezer for 3-4 months, if sealed properly. You can also dry the zest and preserve it in an air-tight container.
The orange syrup can be made ahead and can be stored in the refrigerator for months. Now let's see the recipe for the 3 ingredient caramelized orange syrup.
Caramelized Orange Syrup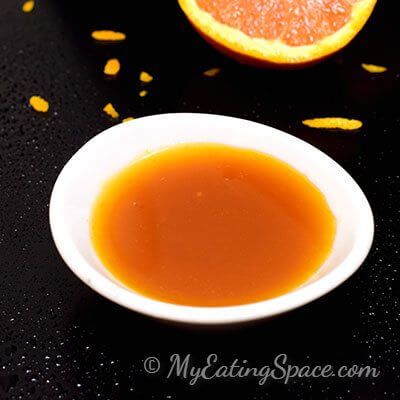 3 Ingredient Caramelized Orange Syrup
Caramelized Orange syrup is purely vegan made with 3 ingredients. Mix with water to enjoy a refreshing drink, drizzle over desserts, pancakes,waffles and enjoy
Ingredients
⅓

cup

Granulated Sugar

(or any sugar)

1

cup

Orange Juice,

freshly squeezed

1

tsp

Orange Zest
Instructions
In a saucepan, cook the sugar on medium flame until it becomes golden brown color syrup. Stir occasionally to ensure even coloring.

Remove from heat and let it cool completely. This will take some 5-10 minutes. When the sugar syrup is cooled, it will become solid like a glazing transparent glass. You will here some crackling sound when the sugar syrup is solidified which is normal.

Add the orange juice and zest to this.

Again cook on medium flame stirring occasionally. Bring to a boil until the solid sugar dissolves.

Reduce the flame and simmer for 10-12 minutes.

Remove from heat. Let it cool completely.

Strain and store in an air-tight container.
Recipe Notes
Caramelization (or caramelisation) happens fast. The sugar will change the color from white to light golden brown and then to dark burnt very fast. So don't leave the pan unattended.
Since we are not adding any water to caramelize the sugar, it will melt unevenly and appear lumpy in some parts and liquid in other parts. If this happens, reduce the heat to low and stir until the lumps melt.
If you see dark brown patches developing while cooking the sugar, gently swirl the pan to distribute the color evenly.
Don't try to touch or taste the sugar syrup while cooking. While in liquid syrup consistency, it's temperature will be high enough to burn your skin.
As soon as the caramel reaches the desired color, remove from heat or you will have a burnt caramel that is not edible.
Add orange juice only after the caramelized sugar syrup is cooled completely. Otherwise it will splatter.
You can use any orange to make the orange syrup. I have tried with navel orange, mandarins and cara caras. If using cara caras, you may reduce the sugar as the orange itself is sweeter.
Happy Cooking

Related Posts