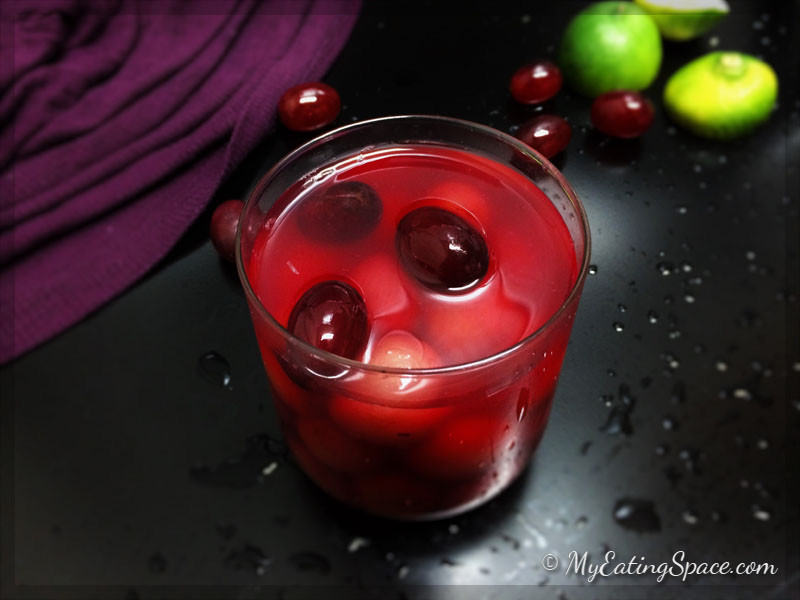 Let me tell you first, this grape limeade is a non alcoholic drink. Limeade is made from pure and fresh limes. If you can't think of a term like limeade, the answer is very simple. The sweet flavored drink made with lime is the limeade and will be a little more tangy than lemonade. You all know that lemonade is made from lemons. There is not much difference between lemonade and limeade.
Usually, the lemonade and limeade we get from the stores are artificially flavored. If you want to get the real taste of lime or lemon, you have to make it at home. They are very easy and tastes real compared to the store bought bottles. And if you are tired with the same flavor of simple limeades, you can add any flavor you wish to the homemade limeades. Today, let's make a delicious red grape limeade.
Halloween is coming up. And everyone is going to celebrate it with spooky colorful drinks, colored candies etc. Treat your wild guests with a healthy Halloween beverage with our blood colored, non alcoholic grape limeade this year. More over it is a kid-friendly drink, made from real grapes and lime. Call it a 'Dragon Blood Limeade' with dragon eyes in it. You can definitely celebrate Halloween without a boozy drink. It's time you think beyond booze. Our grape limeade will help you do that with a spooky looking Halloween drink.
Not only Halloween, we can serve the grape limeade during Thanksgiving gatherings as well. You can give your thanksgiving table a royal look with this intense flavored grape limeade. Make sure you have included some non alcoholic beverages on any special occasions so that you can satisfy all type of guests. If you have 15 minutes, let's have a special homemade drink with this grape limeade to serve with appetizers or to accompany a lunch.
I used red seedless grapes to make the grape limeade. For making a Halloween drink, you can use seedless concord grapes. But red grapes will be perfect for thanksgiving parties. Let's see the recipe now.
Grape Limeade – Non Alcoholic Beverage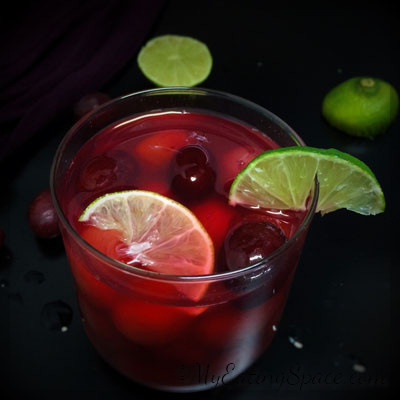 Grape Limeade
A colorful and healthy homemade drink for hosting fun parties. The drink is non alcoholic and kid-friendly.
Ingredients
For Cooking Grapes
1

cup

fresh Red Grapes

seedless

1

cup

Water

1

tbsp

Sugar
For Simple Lime Syrup
1.5

cup

Water

5

tbsp

Sugar

¼

cup

fresh Lime Juice

3-4

Red Grapes to garnish

Lime slices to garnish
Instructions
To Cook the Grapes
In a saucepan over medium heat, combine water, grapes and sugar. Stir to dissolve the sugar.

Bring to a boil. Now cook simmering until the the water becomes red color and the grapes are white colored.

Remove from heat. Keep aside to cool completely.
Prepare the simple Lime Syrup
In another sauce pan, combine sugar and water. Cook over medium heat, stirring to dissolve the sugar.

Bring to a boil. Then simmer for 5 minutes to get a clear syrup.

Remove from heat and stir in the lime juice.

Let it cool and then pour into a pitcher and refrigerate until chilled (only if you like it chilled).

Stir the grape juice along with the cooked grapes into the lime juice syrup.

Pour the limeade to glasses.

Garnish with some red grapes and lime slices.

The drink is ready. Now you can serve the healthy grape limeade.

You can add ice cubes to each glass, if you want it more chilled.
Recipe Notes
Use seedless concord grapes for an intense purple color.
Wash the grapes in cold salt water before using as it contains lots of pesticides.
For an intense lime flavor,you can add the grated lime zest also.
Use sugar as per the sweetness you want.
Whether you are hosting a Halloween or Thanksgiving party, make sure to focus less on perfection and more on simplicity. If your food is genuine, everyone will have a memorable time. Cook what you love and serve with joy, and you will give your family and friends a celebration to remember.
Fun filled scary Halloween wishes and Happy Thanksgiving.
Happy Cooking