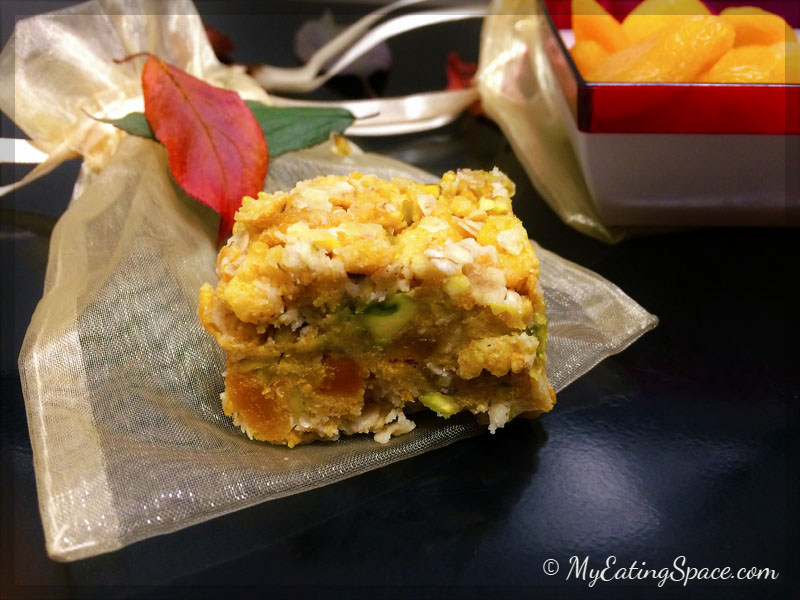 The sun is showing up finally after 3 days of rain. To celebrate the sun, today we made some sweet same time healthy snack. After all we are celebrating almost anything on earth now-a-days. Everyday is some national day it seems, especially for food. The fall has already started. So we are also going to celebrate the beauty of colors nature has bestowed upon us. And every celebration should start with something sweet rather healthy. But we are combining both in the form of a savory snack, No-bake oats apricot squares.
A Good Dessert Substitute!!
Actually I should name it, no-bake oats apricot squares with white chocolate and pistachios. But that will be very difficult for you to read and i don't want to look spammy. They are very simple to make and can be prepared in 20 minutes. The only problem is you have a 30 minute waiting time for the squares to set. The good thing is that you can easily replace the evening snack or even dessert with these sweet squares.
How I made it and what you can try
I am using oats as it is to make the sweet. You can of-course try it baked which will definitely add to its crunchiness. But I vow, the oats as it is is never going to taste raw in these squares. Also dried apricot and pistachios are used here. You may use any nuts like cashew, almond, walnut instead of pistachios or a combination of many nuts.You can also replace apricots with any fruit you like. Since we are not cooking it, try using dried fruits. Otherwise it could be damaged.
No-bake Oats Apricot Squares Can be a good Gift
As they can be refrigerated for upto 5 days, you can always make it ahead. My family and friends really liked it and gave me a thumps up when I first made it. Now who don't like a crunchy, sweet and healthy snack. No-bake oats apricot squares make a good gift for the ones you love and care. You don't have to bake or fry the oats as well. Diwali, Halloween and Thanksgiving are coming up. Grab the ingredients and make a healthy treat for your family and friends.
Watch our video recipe on how to make No-Bake Oats Apricot Squares below and the recipe follows.
No-Bake Oats Apricot Squares
No-Bake Oats Apricot Squares
No-Bake Oats Apricot Squares
A sweet snack with all things good.This squares can me made easily with no mess. The no-bake oats apricot squares make a perfect gift on any special occasion like Diwali or Thanksgiving.
Ingredients
10

Dried Apricots

20

Pistachios

shelled

2

cups

of cornflakes

¾

cup

Rolled Oats

5

tbsp

Butter

¼

cup

white Chocolate Chips

3

tbsp

Maple syrup
Instructions
Chop the dried apricots and pistachios into small pieces.

Put the cornflakes in a zip-lock bag. Seal the bag and crush the flakes by gently pressing.

In a medium bowl, mix together the chopped apricots, pistachios, crushed cornflakes and rolled oats. Keep aside.

Melt the butter in a saucepan. Add the chocolate chips and mix well until it melts and is well incorporated.

Remove from heat. Add the maple syrup and mix well.

Add this butter mix to the dry ingredients in the bowl.

Mix with a spoon until the dry ingredients are coated with butter mixture.

Line a bread pan (or square pan) with wax paper.

Transfer the whole mix into the wax paper. Spread the mixture into an even layer, using a spatula.

Let it cool for 10 minutes. Cover and refrigerate for 30 minutes.

Cut into squares or any desired shapes.

The no-bake oats apricot squares can be refrigerated for up to 5 days.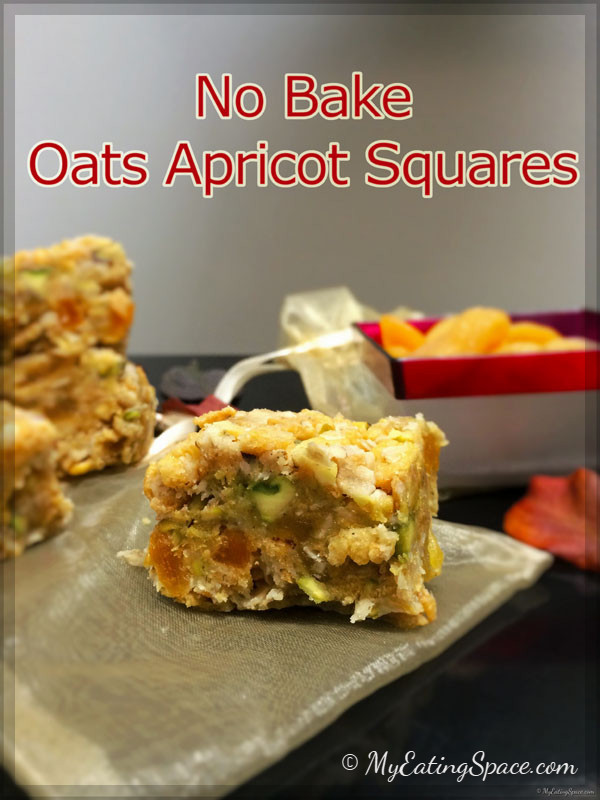 Enjoy a delicious and colorful sweet snack this Diwali and Thanksgiving. I used Maple syrup for sugar. You may use any sweetener you wish like sugar, molasses, honey etc. Wish you all a color filled and gorgeous Thanksgiving along with a wonderful and happy Diwali- the festival of lights.
Happy Cooking