Let's cook something spicy today.  Spicy means very very 'hot', Green Chili Sauce. We don't use this in our daily cooking though. But this is the best method to preserve the chili's when you have many of them. Chili Sauce is also an important ingredient in most of our Indo-Chinese recipes.
I used the chili plucked fresh from our vegetable garden to make the sauce. And unfortunately I don't know the name of the chili I used. But I guess green chili sauce can be made with any chili. Anyway in the below picture you can see the chili I used.
Some chilies are super hot and spicy and this chili is one of those. Even though not much, you can reduce the hot by removing the seeds from the chili. But make sure you are using a hand glove while working on chilies. So here is the green chili sauce recipe.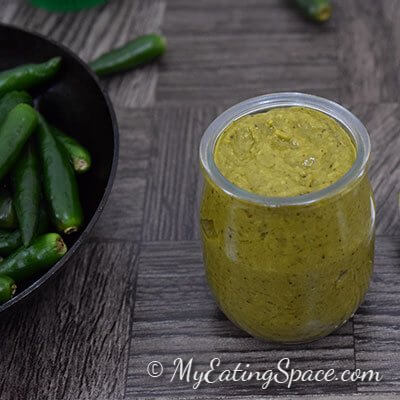 Homemade Green Chili Sauce
Course:
Sauces and Condiments
Ingredients
2

cups

of Green Chili

2

tbsp

Olive oil

(or any cooking oil)

1

tsp

Mustard seed

1

tbsp

Garlic,

chopped

3

tbsp

Ginger,

chopped

¼

cup

Water

¼

cup

Vinegar

Salt to taste
Instructions
Wash the green chili thoroughly in cold water. Remove the stems.

Cut the chilies into two halves, lengthwise. Remove the seeds using a spoon or knife. You can skip this step if the chilies are not very hot.

Heat olive oil (or any cooking oil) in a pan. Splutter the mustard seeds.

Saute ginger and garlic for 1 minute.

Now add the deseeded green chilies,water and salt. Cover the pan with a lidand cook on low heat until the chilies are soft (~ 15 minutes).

Remove the lid and cook on medium heat until all the water is evaporated.

Switch off the heat. Let the chilies cool completely.

Once cooled, grind the cooked chilies along with vinegar to make a smooth paste.

Transfer the fresh homemade green chili sauce to an air-tight glass container. This will keep in fridge for almost 2 months.
Recipe Notes
You don't have to deseed the chili if not very hot.
Always use gloves while working with chilies, especially when you deseed.
Vinegar helps to keep the sauce preserved.
You can use any type of vinegar like apple cider vinegar, rice vinegar or anyone of your choice.
The color of the green chili sauce depends on factors like the type of chili used, the ingredients used to make the sauce and so on. If you add onion or small onions, you will get a light green colored sauce. You can use the sauce in a variety of recipes like gobi manjurian, chow mein, chilli chicken. This sauce can also be used as a dip for pakoras and bajis. Enjoy a hot and spicy treat with homemade chili sauce.
Happy cooking

Related Posts