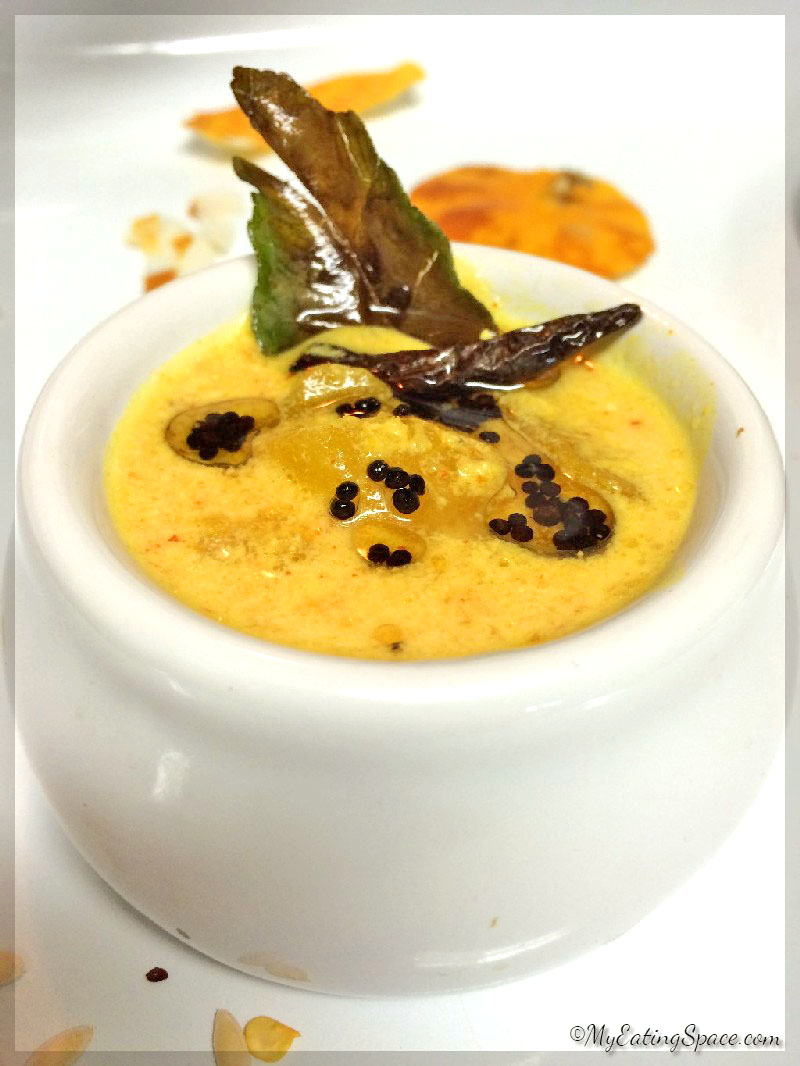 A sadhya (festive vegetarian meal) without pulissery, no way……..
Lemon cucumber – yogurt curry / Pulissery is an authentic at the same time versatile dish from Kerala, God's own country. Pulissery is usually made with yogurt, vegetables (cucumber, raw plantain, yam (turnip), pumpkin, ash gourd, papaya, mango) and grinded coconut. Sour yogurt is used to make this soup. Greek yogurt also works. The aroma of the seasoning makes it a mouth-watering dish. This is usually taken with rice.My favorite combination is red rice with pulissery and stir fried beef.
The recipe is very easy to make and is simple. Here I am using lemon cucumber for making the yummy pulissery.
Pulissery with vellarikka – Lemon Cucumber-Yogurt Curry
Lemon Cucumber-Yogurt Curry / Vellarikka Pulissery
A delicious buttermilk soup made with sour yogurt, lemon cucumber (vellarikka) and ground coconut paste. The soup has a unique taste of cumin seed and is seasoned with shallots and curry leaves.
Ingredients
1

lemon cucumber

medium size

3/4

cup

coconut

grated

1/2

cup

beaten yogurt/ Buttermilk

1

cup

water

3

green chilly

sliced lengthwise

1/4

tsp

cumin seed

1/2

tsp

turmeric powder

1/4

tsp

chilly powder

1/2

tsp

mustard seed

1/4

tsp

fenugreek seed

2

dry red chilly

1

tbsp

coconut oil

Curry leaves

Salt to taste
Instructions
Wash and peel the cucumber skin. Remove the seeds of the cucumber. Cut it into small square pieces.

In a deep bottomed pan, add the cucumber pieces, turmeric powder, chilly powder, salt and water. Cook until the cucumber is tender.

While the cucumber is being cooked, grind together grated coconut, chilly and cumin seed to make a smooth paste.

When the cucumber is cooked well, add the coconut paste into it. Again cook for 3 to 4 minutes with stirring.

Now switch off the flame and the beaten yogurt/ buttermilk into it. Stir well to mix. Transfer to a bowl.

Heat oil in a pan. Once the oil is hot, pop the fenugreek seeds and then mustard seeds. Then add the dry red chilly. Stir for few seconds and add the curry leaves.

Switch off the flame. Add the seasoning on top of the pulissery in the bowl.
The yummy, colorful, Lemon Cucumber – Yogurt curry is ready.
My favorite combo is lemon cucumber – yogurt curry with rice and beef fry. Try and you will get addicted. Kerala style fish curry also makes a great combination.
Happy cooking……