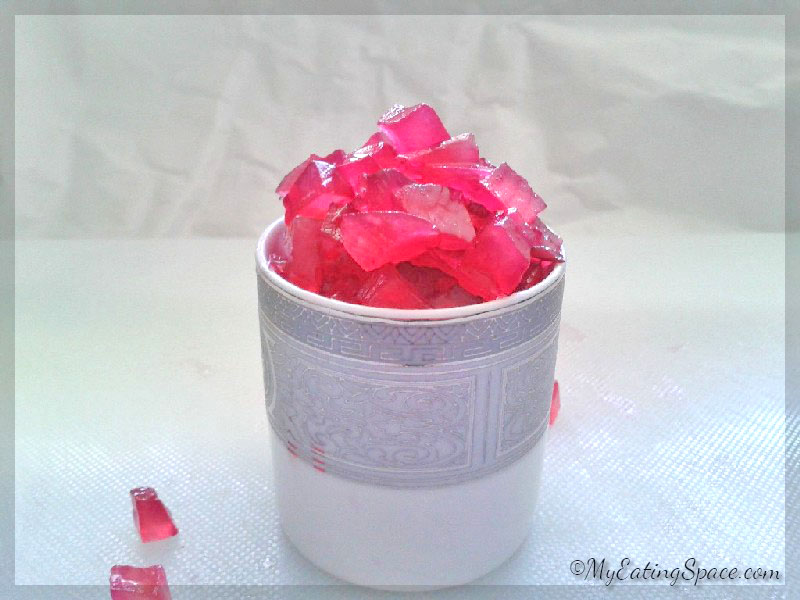 We will get lots of fruit cake during Christmas. Actually, we call it plum cake in Kerala. Now it is like a tradition that whenever we visit someone during the Christmas season, we will surely buy a plum-cake for them. And all the houses will be loaded with plum cakes.
Though it is called plum-cake, you can't find a single piece of plum in the cake. I don't know why we call it plum-cake. Dry fruits like raisins, dates and TUTTI-FRUTTI are the only fruits I have seen in Kerala plum cakes.Tutti frutti………..
Tutti frutti……….. Papaya Tutti-frutti…….papaya candy… that's it….but how to make it?
When I was small, I thought tutti frutti is actually the name of the fruit in different colors. I never asked anyone about it. I just thought it as a mystery fruit and let it go. After marriage, one day my husband asked me, "Do you know how to make Tutti frutti? "
I was like…Making TUTTI FRUTTI!!!!!!!!!!!!!!!?
But didn't ask him that question since I don't want to look like a fool…
He then googled and told me…….
It's the candied papaya, just the RAW GREEN PAPAYA!!!!!
My mystery fruit just vanished away. All these years, it was here, right in front of me………
Then I started searching how to make it. All of the recipes used the food color. I don't like to use artificial colors in my food. First I tried to make it with a papaya which just started to change color but still raw. The orange-colored tutti frutti was finished, before I could take a picture.
Again I tried with unripened papaya and used beets to get it colored. You can see the result in the photos….
I used this recipe. Thank you Indian Kitchen for a great and simple recipe.
Now to the recipe,
Papaya Tutti frutti – Candied Papaya
Papaya Tutti- frutti - Papaya Candy
Tutti-frutti is papaya candy made by soaking cooked raw , green papaya in sugar syrup . It is available in different colors in shop. In this recipe the candy is colored naturally.
Ingredients
2

cups

raw papaya

chopped

1.5

cup

sugar

7

cups

of water

2

tsp

grated beets
Instructions
Peel off the papaya skin. Cut it into 4 pieces. Remove the seeds and the white portion. Cut it into small cubes.

Boil 4 cups of water. When it starts boiling, add the papaya cubes into it. Cook for 3 minutes over medium heat.

Remove from heat and let it be in hot water for another 5 minutes.

Take the remaining water in another bowl. Add sugar and cook until the sugar dissolves.

Strain the cooked papaya and add to the sugar syrup.

Cook over medium flame until the sugar syrup becomes thick and sticky, but before reaching the one thread consistency.

Remove from heat.

Add the grated beets and mix well. Let the papaya cubes soak in syrup for 24 hours.

After that strain and spread the papaya candy on a wire mesh until dried.

Store in an air-tight container.
Papaya tutti-frutti is ready…Simple and sweet………
Happy Cooking