Plantain stir-fry is the most common dry dish made for Onam Sadya since it is the easiest preparation, Also plantains are available in plenty during the Onam season, if the weather is not harsh to farmers and land. We usually get the unripe plantains from our own plantain trees in the backyard. Most of the houses in Kerala will have at least one plantain tree since they are very easy to plant and nurture.
Plantains are very healthy with lots of nutrients. Almost every part of the tree can be used as food. The plantain (or banana) leaves are used instead of plates to serve the Onam Sadya.The stem, flowers and fruits are used as food. The unripe green plantains are used to make side dishes and curry like these unripe plantain stir-fry. They are a good source of starch and energy. Fresh plantains are said to be a good source of Vitamin A, Vitamin C and potassium than bananas. The plantain fruits are used as breakfast, snacks and in desserts.
Unripe plantain stir-fry can be made in many ways. In some parts of Kerala, they are cooked separately in water and will stir-fry in oil just to coat. I make it different. I'm sharing the recipe my amma usually makes which is very delicious and easy. The most nutritious and fiber-rich part of plantain is the skin. So we don't peel the skin. They will get cooked very easily and gives an additional crunch and taste upgrade to the dish.
Plantain Stir-fry
Plantain Stir-fry
Green unripe banana is used to make the stir-fry. Only a few ingredients are used to prepare the dish. They make a very tasty side dish in 15-20 minutes.
Ingredients
1

unripe green banana

chopped

2

garlic cloves

crushed

¼

cup

chopped onion

2

green chilli

sliced lengthwise

¼

tsp

turmeric powder

3

curry leaves

1.5

tbsp

coconut oil

Salt to taste
Instructions
Keep the chopped plantains immersed in water to prevent it from changing the color to brown.

Heat oil in a pan. Add the crushed garlic and cook until golden brown.

Saute onion and green chilli until translucent.

Add the curry leaves and turmeric powder. Stir-cook for a few seconds.

Now strain the chopped plantain and add it to the pan. Add salt and mix well. Cover and cook until the plantain is soft.

Remove from heat.

Serve hot with rice.
Recipe Notes
You can cut the plantains into thin strips or into small pieces.
Always keep the chopped plantains immersed in water until ready to use.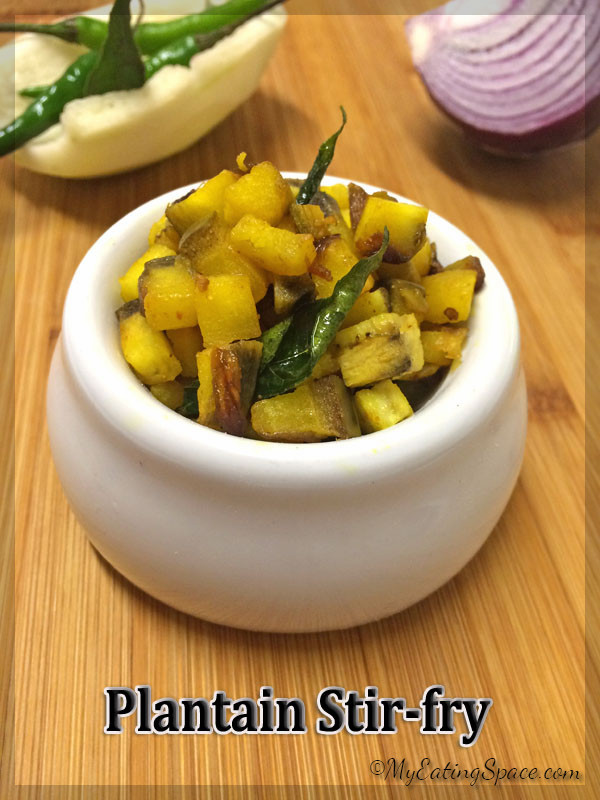 Over-cooking will mash the plantains. Tempering made with coconut oil is the real flavor factor in the recipe. But you can also use any cooking oil. This will be like a comfort food when served with kanji (congee rice porridge).
Some other recipes made with unripe plantain if you like this:
Happy Cooking