Rasam is a spicy soup made with tomato and tamarind extract. They are seasoned up with garlic and black pepper. They are usually served at the begining of Sadya to give you a good appetite or towards the end of the meal for a good digestion. After all, we will definitely need something like rasam to help us digest a grand Onam feast ;). The soup has different names in the South Indian states. Keralites and Tamils call it rasam, Telugu people call it charu and in Kannada, it is saaru (if i am right). In Tamil, rasam means juice.
People will either mix rasam with plain rice or drink it separately at the end or beginning of Sadya. The garlic and black pepper in the soup help digestion to a great extent. We usually make it with rasam powder (ground spice mix) which is available in the Indian grocery stores. I always thought we add the spice mix to give the soup that unique flavor. Only when I started cooking, I realized that you can get the flavor without using any of those branded spice mixes. And that was how it was made by our grandmothers before the advent of the brands. Sometimes cooked dal (pigeon pea) is also used to make this soup.
I am sharing a simple tomato rasam famous in Kerala. They need a minimal cooking time. This side dish is believed to be a healthy drink with lots of medicinal benefits. Drinking a cup of the warm soup will make you sweat because of all the spices added. Rasam,as a drink, is considered to be good for constipation. Since tamarind is rich in dietary fiber, soup made with its extract make your bowel movement easy.
Rasam without Rasam Powder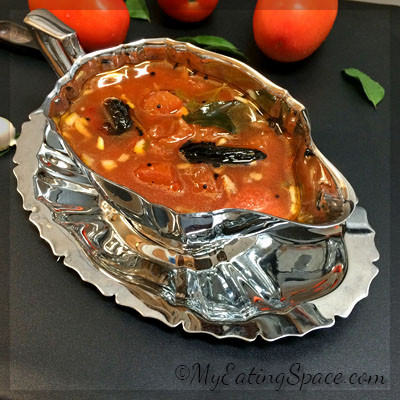 Rasam without Rasam Powder
A spicy healthy side dish also consumed as a healthy drink because of its medicinal benefits. All the ingredients in this soup will help you improve your appetite.
Ingredients
Small lime sized tamarind or 1.5 tsp tamarind paste

3

cups

of water

3

tomatoes

chopped

2

tsp

red chilli powder

2

tsp

coriander powder

1/2

tsp

cumin powder

1

tsp

ground black pepper

1/4

tsp

asafoetida

Salt to taste

1/8

cup

cilantro leaves

chopped

1

tbsp

cooking oil

1

tsp

mustard seed

4

dry red chilli

2

sprigs of curry leaf

4

garlic cloves

crushed
Instructions
Soak the tamarind ball in water for 5 minutes. Squeeze to release all the juice. Strain to clear the debris. If using tamarind paste, just mix it with water until dissolved.

In a saucepan, add chopped tomatoes, red chilli powder, coriander powder, cumin powder, black pepper, asafoetida and salt.

Add the tamarind-water mix into the saucepan. Bring to the boil on medium-high.

When the tomatoes are well cooked, add the cilantro leaves and mix well.

Remove from heat.

For tempering, heat oil in a pan. Add the mustard seeds till they crackle.

Add the dry red chilli to the hot oil. Stir and cook for 10 seconds.

Add the crushed garlic and saute until golden color. Add the curry leaves.

Remove from the heat.

Add the tempering into the soup and mix well.

The rasam or tomato tamarind soup is ready. They are usually consumed lukewarm as a drink.
Recipe Notes
Adjust the tamarind, and chilli to your taste.
All the ingredients in the soup are good to improve your appetite. Tomatoes, tamarind, garlic, spices, cilantro- all the ingredients are easily available in any grocery stores. So next time when you feel any intestinal problems or constipation make rasam, grab a cup of the soup and be ready for sweating (for good). This healthy drink is purely vegan and gluten-free also.
Happy Cooking