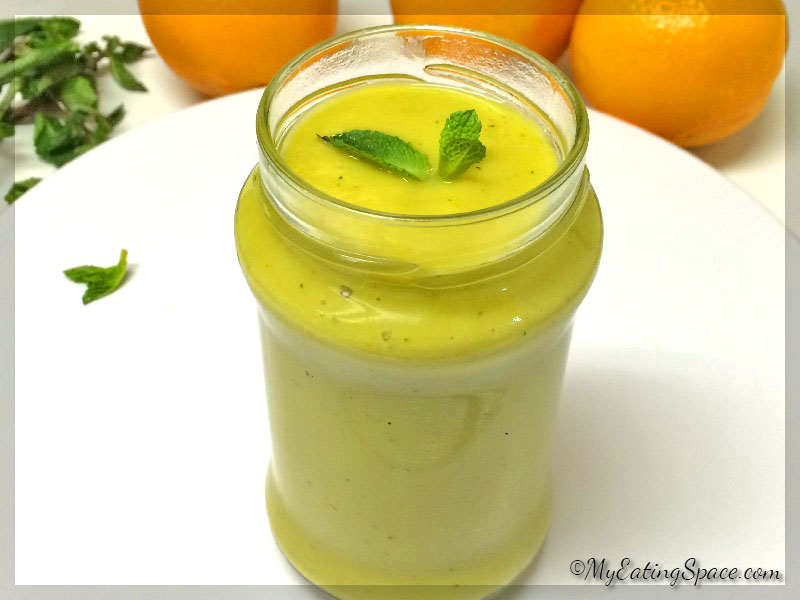 Smoothie has gained importance worldwide during the recent years. Smoothies are rich in dietary fiber than just fruit juices as the whole fruit pulp is used. They are the new health shakes now available any time of the day in our home.
As we are heading over to summer in the US, it is always good to have some refreshing and filling smoothie recipes in hand. This citrus mint with avocado combo makes the perfect sense. Citrus and mint make it refreshing while avocado makes it satisfying. Also, sugar is replaced with maple syrup. This makes it purely healthy and vegan.
Citrus Mint Avocado – Summer Smoothie
Citrus Mint Avocado - Summer Smoothie
A healthy vegan smoothie for this summer. Citrus and mint makes it refreshing while avocado makes it healthy and satisfying.
Ingredients
4

navel oranges

6

mint leaves

1/2

avocado

pitted and peeled

1

tbsp

orange zest

3

tbsp

maple syrup
Instructions
Wash and zest the oranges.

Then peel off the skin. Remove the white rind and segment the oranges.

Remove the white skin covering the pulp, as possible as you can.

Then place the orange pulp, avocado meat, mint leaves, orange zest and maple syrup in a blender.

Blend well to make a smooth and thick smoothie.

Serve immediately.
Recipe Notes
1. The white rind or skin can make the smoothies taste bitter. So serve immediately after making.
2. You can also add grapefruit or any citrus fruit into this drink.
3. Maple syrup can be replaced by honey or sugar to your choice.
Smoothies are always easy to make. The only difficulty is in segmenting the oranges and removing the white skin part. Other than that, the recipe makes a simple and healthy choice for this summer. Substitute your choice of citrus fruit to make it your own.
Happy Cooking