Spicy cabbage fritters are my new addiction….I have a love-hate relation with cabbage. I love the stir fried cabbage but hate the powerful offending smell of those green leaves when grated. Only for that reason, I always hesitated to cook cabbage.
Yesterday while thinking about making snacks and having some cabbage leaves left over in my refrigerator, I remembered one of the local cooking channels in my native featuring a spicy cabbage fritters recipe. Unfortunately, I had forgotten most of the ingredients they listed. But that will not be a problem…… I can make my own ingredients and this is what I came up with….
Spicy Cabbage Fritters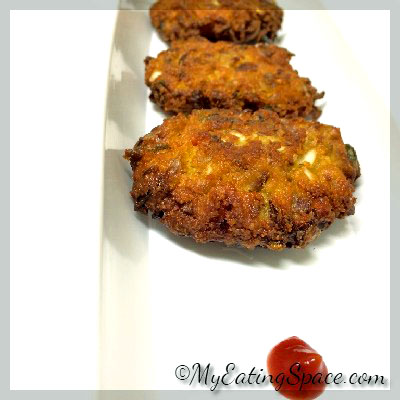 Spicy Cabbage Fritters
An easy evening snack made with cabbage and spices.They are also great as appetizers.
Ingredients
3/4

cup

grated cabbage

1/2

onion

chopped

2

tsp

ginger paste

1-2

green chilli

chopped

3-4

tbsp

chickpea flour

1

tsp

asafoetida

1/4

tsp

chilli powder

Curry leaves

Salt to taste

1

tbsp

water

Oil for frying
Instructions
Mix together the chopped onion, cabbage, green chilli ginger paste and curry leaves in a bowl.

Add the chickpea flour, chilli powder, asafoetida and salt to the cabbage mix.

Mix everything well. Let it sit for 5 minutes.

Now add water to bind everything together. Mix again to make thick dough like batter.

Heat oil in a pan. Always keep the flame on medium.

Now apply a little water to both hands to avoid the batter from sticking.

Take a spoonful of batter in one palm. Make it into a small round shape.

Add this into the hot oil. Continue with the remaining batter.

Fry on medium heat until both sides are golden brown.

Remove from oil.

Serve hot with your favorite sauce.
Recipe Notes
1: Cabbage has water content. So add water little by little just to bring everything together.
2: Transfer the fried fritters to a tissue paper to remove any excess oil.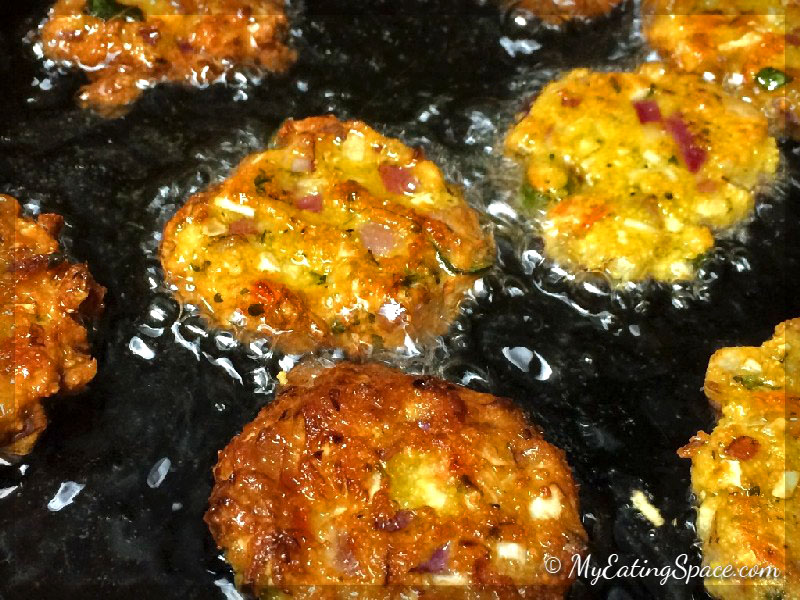 Although grating cabbage is still a process, I am going to make it often…
Why?….Why…
I told ya…. I am now addicted to this healthy, Spicy Cabbage Fritters….
Happy Cooking