Sweet Pineapple Bar glazed with honey, this is the recipe I am going to share with you today. Usually, the store bought halwas (sweets) are made with artificial extracts or essence. They are delicious for sure. But I like to have the sweets made with real fruits which gives it that fruit flavour bounty.
Last week, while on grocery shopping, we got pineapples for some cheap price from Aldi. So we decided to make the pineapple bars with the REAL fruit itself…. And glazed the bar with some wild honey, topped with cashews.
They were really delicious, liberally flavored melt-in-mouth bars. The recipe for the Sweet Pineapple Bar glazed with honey is below.
Sweet Pineapple Bar – Honey Glazed Pineapple Halwa
Sweet Pineapple Bar – Honey Glazed Pineapple Halwa
A delicious melt-in-mouth fruit bar made with pineapple pulp, flavored with cardamom and glazed with honey. This makes a healthy homemade sweet.
Ingredients
1

ripe Pineapple

peeled and chopped

1/2

cup

corn flour

3/4

cup

water

1/4

cup

sugar

1

tbsp

ghee

clarified butter

1/2

tsp

cardamom powder

1

tbsp

cashew

chopped

2

tbsp

honey for glazing
Instructions
Grease a pan or plate with ghee and set aside.

Mix together corn flour and 1/2 cup water and keep aside.

Grind the chopped pineapple in a blender to make a smooth paste.

Boil the remaining water in a big non-stick or ceramic coated pan.

Now reduce the heat. Add the pineapple paste and corn flour mix into the hot water.

Mix well and cook on medium heat until all the water evaporates, 5-10 minutes.

Now add sugar and mix well.

Cook on medium heat, stirring continuously, until the mixture is semi thick.

Now add ghee and cashew into it and cook until the ghee starts to separate.

Switch off the flame and remove the pan from heat.

Now add cardamom powder and mix well. The mixture must be of pouring consistency.

Pour the halwa into the greased pan.

Let it cool and become a little hard.

Cut it into small pieces.

Glaze the fruit bars with honey before serving.
Recipe Notes
1; Apply a little ghee or butter on the knife, so that the halwa will not stick.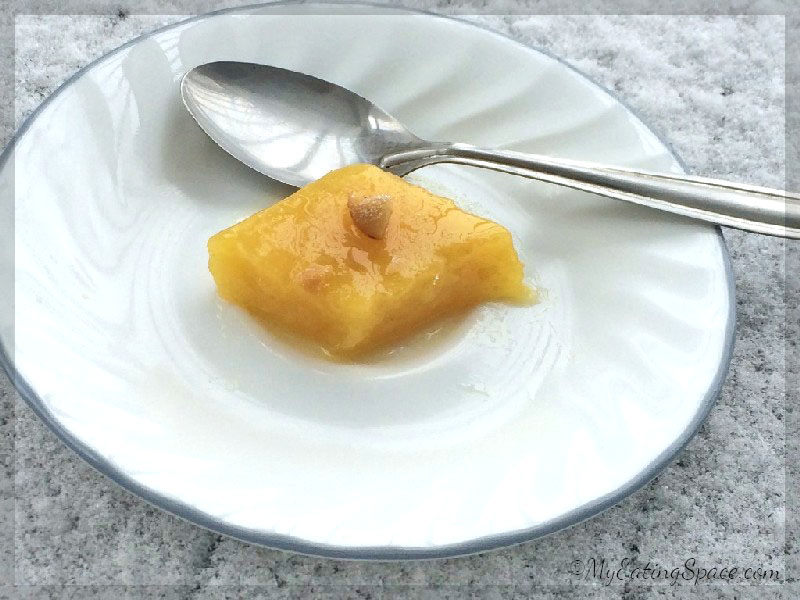 Try this homemade delicious sweet and let me know…..
Happy Cooking