I never thought that a spicy chicken stir-fry is this much easy to make. Usually, we use lots of ingredients in non-veg recipes,especially the spices. But this one was simple and happened accidently. The recipe has been a part of the burger patties recipe, which in half-way itself became my family's favorite side dish. I was so happy that my cooking with chicken trouble is now reduced. My son had been running around the table, shouting…." want more, want more….".
The accidently happened spicy chicken stir-fry takes just 30 minutes to cook. The most delicious flavoring in the chicken stir-fry is the Italian seasoning. The spicy ginger and garlic make it more appetizing. Although most of our non-veg recipes are colorful with lots of turmeric and ground cayenne pepper (red chilli) this time, we avoided it and still enjoyed it. I think our palates are evolving. Watch the video recipe to know how simple it is to make the Italian seasoned spicy chicken stir-fry. The printable recipe is below.
Spicy Chicken Stir-fry with Italian Seasoning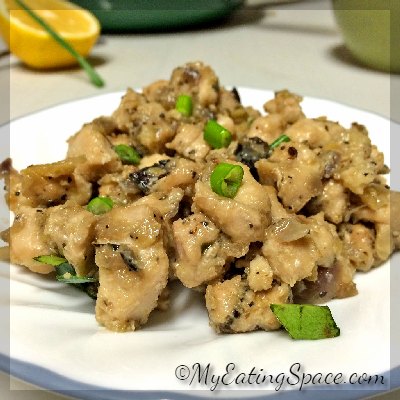 Spicy Chicken Stir-fry with Italian Seasoning
A healthy and mouth-watering spicy chicken stir-fry with Italian seasoning. This side dish makes your meals more appetizing.
Ingredients
1.5

lb

boneless chicken

700g, diced

1

onion

chopped

2

tbsp

ginger

finely chopped

2

tbsp

garlic

finely chopped

3

green chilli

sliced

2

tbsp

olive oil

2

tsp

fennel seed

1

star anise

4

curry leaves

optional

1/2

tsp

Italian seasoning

1

tsp

black pepper

grounded

Salt to taste
Instructions
Heat oil in a pan. Crackle the fennel seed and then the cloves. When the crackling stops, add the star anise and stir for a few seconds.

Then add the chopped garlic, green chilli and ginger into the pan. Stir-fry for 30 seconds.

Add the chopped onion into the pan. Saute until soft and translucent.

Add curry leaves and stir-cook for a minute.

Now add the diced chicken, salt and the ground black pepper. Mix well to combine.

Cover and cook for 20 minutes with occasional stirring.

Add the Italian seasoning and stir well to combine.

Again cook uncovered on medium-high heat, stirring occasionally until all the water evaporates.

Remove from heat. Transfer to a serving plate.

Garnish with chopped green onions (scallion).

Serve hot.
Recipe Notes
1. No need to add water. The meat itself has lots of water to cook it.
The recipe is easily flexible. You can also use mushrooms or shrimp instead of chicken and still tastes great. Pair with a bowl of white or brown rice. Make your own variations to the dish and enjoy.
Happy Cooking