Simple Jaggery Syrup is one of the most used sweeteners in Kerala, a South Indian State. We use the jaggery syrup to make tea-time snacks like Coconut stuffed dumplings, pancakes, sweet flattened rice etc. They give a unique and special taste like the maple syrup.
Jaggery is a solid form of unrefined and non-distilled sugar. It is usually prepared by boiling sugarcane juice or may be from the sap of any plants with a substantial amount of sugar. It comes in a variety of colors from dark brown to off-white depending upon the type of plant from which it is made. They are very sweet with a small hint of salt. They taste good and has lots of health benefits. You can get the jaggery as solid blocks or as powdered from the local Indian or Asian grocery stores. This dark colored syrup is considered better than refined white sugar.
We use a lot of jaggery in many sweet dishes. So my mother used to make the simple jaggery syrup in batches and store in the refrigerator. This makes her cooking very easy. I simply followed her and make the syrup so that I can simply pour it out in busy times. Although many of the impurities and plant residues are removed during the production of jaggery, it may still contain small amount of impurities. Making them to syrup helps to remove those impurities by straining the resulting liquid. This could be one main reason (which I am not sure)to make jaggery syrup from ancient times.
The simple jaggery syrup can be stored in a glass jar and can be refrigerated up to 4 months. Beyond 4 months..? I don't know. I haven't tried and never got a chance to try. So here is the recipe video for the Simple Jaggery Syrup.
How to Make Simple Jaggery Syrup
Simple Jaggery Syrup
Simple Jaggery Syrup
Simple jaggery syrup can save you a lots of time in cooking. They are the best sugar alternatives I had ever known with lots of health benefits.
Ingredients
1

cup

powdered Jaggey

3/4

cup

water
Instructions
Combine jaggery and water in a sauce pan.

Cook on medium high heat until the jaggery is completely dissolved and the liquid starts to boil.

Lower the flame and simmer until a thick syrup with one-thread consistency is reached.

Remove from heat.

Strain the syrup through a strainer to remove any impurities. Let it cool.

Transfer to a glass jar. Close with the lid.

Store in the refrigerator and use accordingly.

The simple jaggery syrup will keep good in the refrigerator for upto 4 months.
Recipe Notes
You can use jaggery blocks instead of powder. The cooking time and water may vary while using the blocks.
Whether you use blocks or powder, make sure the syrup reaches the one thread consistency and is thick to pour.
If you over cook the syrup, it will again reach a solid state when cooled. If so, add a little water and just bring it to a boil. Then repeat the remaining steps as stated above.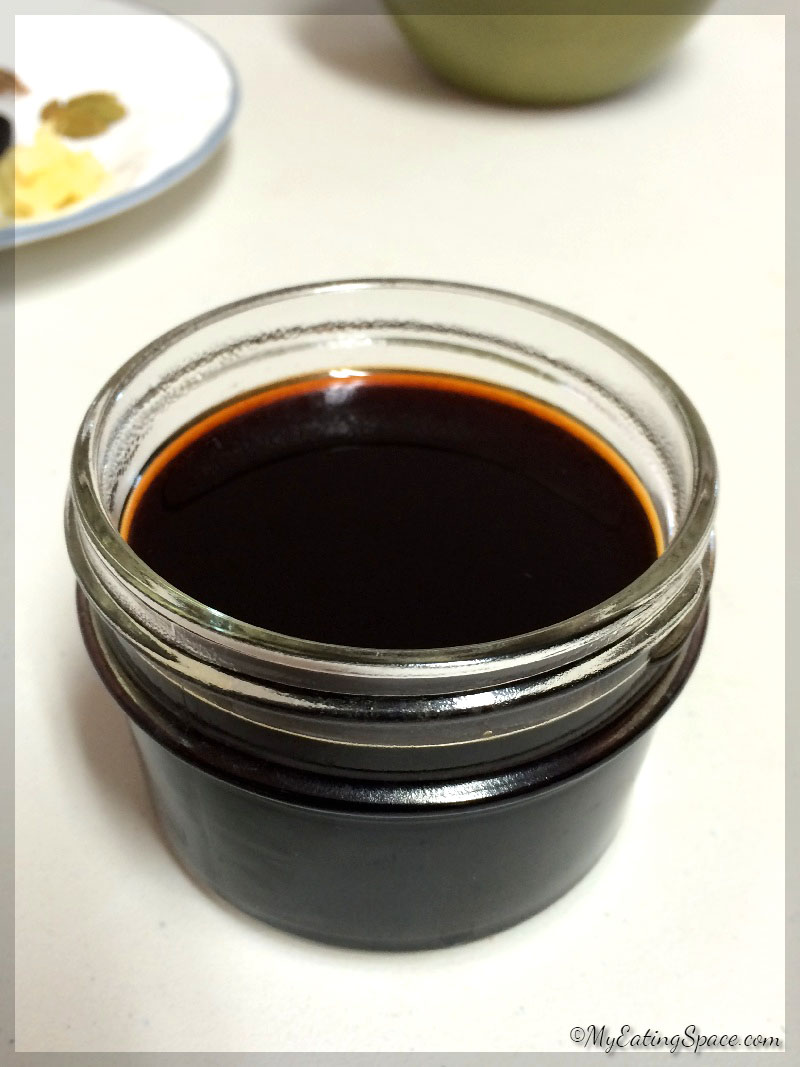 With just two ingredients, the simple jaggery syrup is ready. This could be better than the store-bought molasses syrup. Jaggery is believed to be a good blood purifier and is used in Indian Ayurvedic medicines. In ancient times, jaggery was used as a sweetener in black coffee instead of sugar. I remember my grandmother doing that for long years, just because she liked it that way.
So now you know how to make jaggery syrup. Want to make some delicious and healthy sweets with jaggery ? Here are a few to try;
Happy Cooking