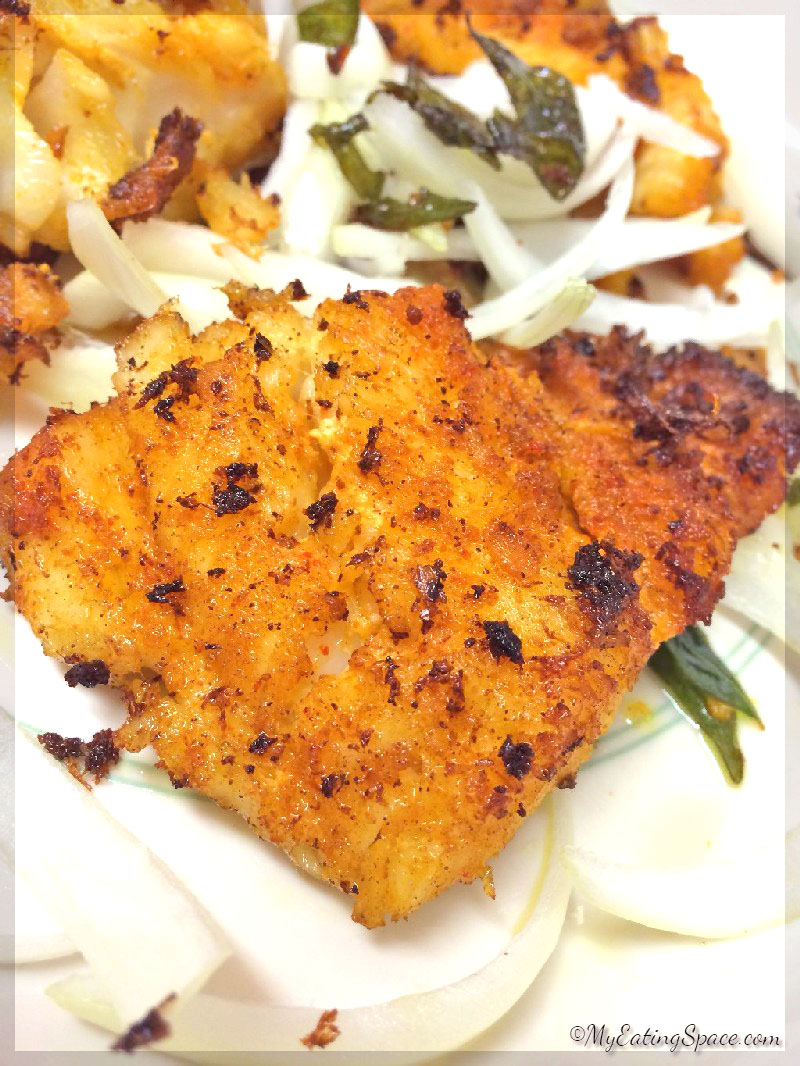 Spicy Fish Fry with ginger and garlic…. A delicious, mouth drooling non-vegetarian dish……
Now this is my son's favorite dish. If the spicy fish fry is there in the plate, then he is ready to take the food.
This is a very easy to prepare fish fry. Most of the houses in Kerala will usually have a fish related dish almost every day. The non-veg meals in Kerala are never complete without fish fry or curry. We can prepare fish fry in many ways with different ingredients. This can be served with rice or makes a great starter.
Here goes the recipe of the pan fried spicy fish…..
Spicy Ginger Garlic Fish Fry
Spicy Ginger Garlic Fish Fry
Spicy fish fry with ginger and garlic , a Kerala style version of fish fry. This is a pan fried tilapia fish which tastes delicious. The fried curry leaves gives it a totally different flavor.
Ingredients
Any fish

or fillets, 5 numbers

1

tbsp

ginger-garlic paste

1

tsp

lime juice

3/4

tsp

turmeric powder

1.5

tsp

chilli powder

Salt as required

Curry leaves

Oil for frying

Sliced onion for garnishing
Instructions
Wash the fish pieces in salt and turmeric water. Then wash it with fresh cold water. Keep aside to drain water.

Make a fine paste by mixing together ginger-garlic paste, chilli powder, turmeric powder, lime juice and salt in a bowl.

Marinate each fish piece with the paste and keep aside for 30 minutes.

Heat oil in a pan.

First fry the curry leaves. This makes the fish fry tastier.

To this add the fish pieces one by one. Shallow fry the fish over medium flame until both sides are golden brown.

Switch off the flame and remove the fish from oil.

Garnish with the sliced onion. Serve hot.
Frying the curry leaves first gives the fish fry a different flavor and makes it more delicious. yum…yum….
Happy Cooking