Beef biryani, to be honest, takes a long time to be set on the table. But every single minute you spend making a beef biriyani is totally worth it. You can trust me. I have been making it for years now and never get bored with this fragrant smelling spicy meat rice. In fact, this is one of the most cooked main dish in my family.
Whatever be the story behind the origin of biryani, it had experienced a lot of changes since then. Everyone has a different outlook on how to make the biryani. A wide variety of biriyani is available now. Even if we work with the same recipe, the biryani tastes different every time, maybe because of the type of rice, meat or spices used.
To make this beef biryani I cooked the beef first and then mixed with rice so that I don't have to worry about the beef being under-cooked and rice getting over-cooked. I use lots of spices in my every biryani recipes which makes it splendidly fascinating every time and tempting me to make it every week. Here is the video of making spicy beef biryani and detailed recipe follows.
How to Make Beef Biryani
Beef Biryani
Beef Biryani
Beef biryani - If you love the spicy rice mixed with meat, you are going to love this main entree dish.
Ingredients
For beef
1

lb

beef

1/2 kg, diced

3

tbsp

olive oil

4

cinnamon sticks

1-inch

4

cardamom

crushed and pods included

2

small onion

thinly sliced

5

green chilli

2

tbsp

ginger

crushed

5

garlic cloves

crushed

1

tsp

ground cayenne pepper

red chilli powder

1

tsp

coriander powder

1/2

tsp

turmeric powder

1

large tomato

chopped

2

tsp

lemon juice

Salt to taste
For Rice
1.5

cup

basmati rice

2

tbsp

ghee

2

cinnamon sticks

1-inch

4

cardamom

1

onion

thinly sliced

2

cups

of boiled water

1/4

cup

cilantro

chopped

5

mint leaves

chopped

Salt to taste
Instructions
Preparation of Beef
Wash and drain the beef. Keep aside.

Heat the oil in a pressure cooker.

Add cinnamon, cloves and cardamom. Stir until you feel a spicy aroma.

Saute onion until it is soft and starts to brown.

Add green chilli, ginger and garlic. Stir well and saute for a minute.

Then add cayenne pepper, coriander powder and turmeric. Stir and cook for 20 seconds.

Add tomato, beef, lemon juice and salt. Mix well.

Pressure cook for 25 minutes on medium heat.

Switch off the heat and let it sit until the pressure drops.

Now open the cooker and again cook on medium-high heat until all the water evaporates.

Remove from heat and keep aside.
For Beef Biryani
Wash the rice 2-3 times in cold water. Drain and keep aside.

Heat ghee in a large pan.

Add cinnamon, cloves and cardamom. cook until a spicy aroma comes.

Saute onion until golden brown. Add rice and stir-cook for 2 minutes.

Now add the cooked beef from the cooker and mix well.

Add boiled water and salt. Mix well.

Cover with a lid and cook on low heat until all the water is absorbed and the rice is cooked (~20 minutes).

Now add the chopped cilantro and mint leaves.

Mix gently with a wooden spoon. Again let it sit covered for a few minutes before serving.

Enjoy the spicy beef biryani.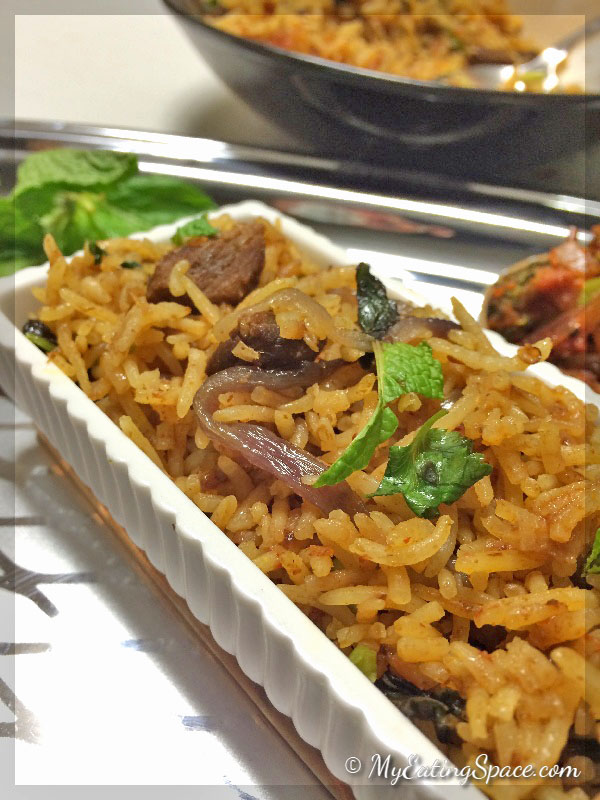 The spicy and compelling aroma of this traditional cuisine works wonders in my kitchen and dining table. The royalty of beef biryani never seems to fade here. Thanks to whoever invented this dish. With a mixture of fluffy aromatic rice, tender meat, spices and refreshing herbs, the beef biryani makes a unique dish.
Try other rice recipes from 'My Eating Space':
Happy Cooking

I hope you will share, if you like this.