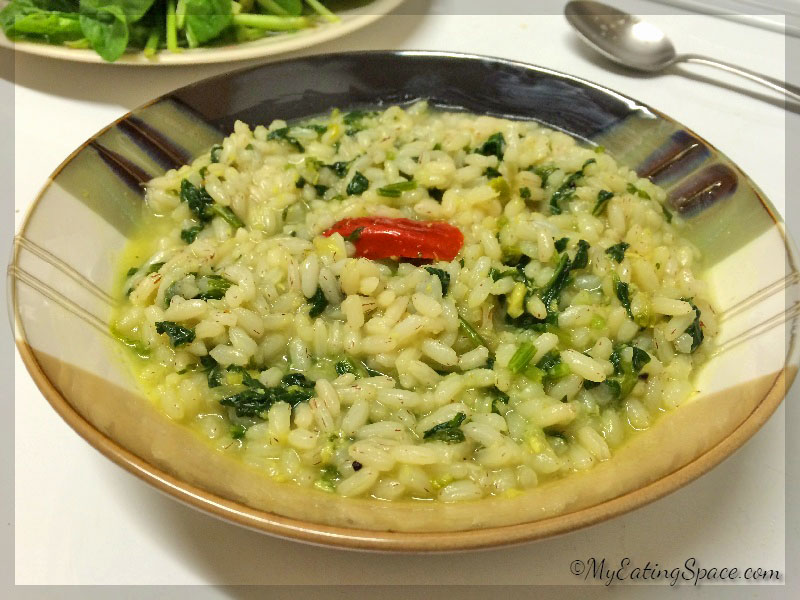 Congee Rice porridge is a rice gruel from Kerala like the Italian risotto. The ultimate comfort food of Keralites. So I cannot do a rice theme this month without posting our favorite food, congee rice porridge. If someone from Kerala read this post, they are definitely going to ask me what is congee. Actually, we write it as "Kanji" ;). I have read somewhere, Kanji originates from the Tamil word for boiling, but not sure about this.
In the earlier days, people used to enjoy the rice porridge with a natural spoon in a cone shape made with the leaf of the jackfruit tree. Even after long travelling or on lazy days, we are happy if we could get a bowl of congee rice porridge with pickled mango or any side dish. Usually, green gram stir fry is our common side dish for the rice porridge, but as I said, anything will go with the comforting rice porridge.
I made it with spinach and it is equally tasty and delicious as green gram when mixed with congee rice porridge. Lots of variations are possible for the rice porridge like the broken rice porridge, milk-rice porridge etc. Today I am sharing the gluten-free, vegan porridge recipe made with parboiled red rice- the traditional Rose Matta Rice from Kerala. In the US, you can get the rice from a local Indian grocery store if you can find one. Then you will need a pressure cooker to cook it. Although it can be cooked in a large vessel, that will be time-consuming. If you have a pressure cooker, the congee rice porridge will be ready in 30 minutes. The cooking time depends on the quality and type of rice used and of course, how you like the porridge to be– thick, mashy or perfectly cooked rice in water.
Here is the recipe for our perfect comfort food served with spinach.
Congee Rice Porridge with Spinach
Congee Rice Porridge with Spinach
Congee rice porridge is the perfect comfort food as breakfast, lunch, dinner or after long hours of fasting. They are easily digestible and gives you instant energy even when you are not well.
Ingredients
For rice porridge
1

cup

parboiled red rice

Rose matta rice

6-8

cups

of water

Salt to taste
For spinach
3

cups

of spinach

washed and chopped

1/2

onion

chopped

2

garlic cloves

crushed

3

green chilli

sliced

1/4

cup

shredded coconut

1/2

tsp

turmeric powder

2

tsp

oil

3-4

curry leaves

optional

Salt to taste
Instructions
For rice porridge
Bring the water to a boil in the pressure cooker.

Wash the rice 3-4 times or until the water becomes clear. Drain.

Add the rice into the pressure cooker. Cover with the lid and let it cook.

When the steam starts to come, put on the weight and cook on medium heat until 3-4 whistles (depends upon the rice type and quality).

Remove from heat. Let it sit until the pressure drops down completely (~10 minutes).

Open the lid. The rice must be cooked to a soft and mashable consistency. If not done, cook again for some more time, adding more water if necessary.
For spinach
Heat oil in a pan. Saute the onion and garlic until onion is soft and translucent.

Add the green chilli, curry leaves and turmeric powder. Stir-cook for 1 minute.

Now add the coconut and salt. Again stir and cook for 1 minute until the raw taste of coconut is gone.

Now add the chopped spinach into the pan. Mix well and cook on medium heat for 2 minutes with occasional stirring.

Remove from heat.

Now mix the congee rice porridge with 2-3 tbsp of spinach in a serving bowl.

Add some pickle, sprinkle salt and enjoy the steaming hot porridge.
Recipe Notes
The cooking time depends on the type of rice used. So while making it first time, you have to experiment with the time and adjust accordingly.
Any stir-fry can be used instead of spinach.
You can mix any stir-fry with congee rice porridge. Even a slice of pickled lemon or mango is enough to enjoy a bowl of rice porridge. The most delicious congee rice porridge we have is from the church after the long fasting and service on Good Friday, every year. We can feel the energy rush after having the steaming hot congee. We Keralites enjoy this rice porridge so much that we would love it as breakfast, lunch or dinner.
Other delicious recipes to try with Congee rice porridge:
Happy Cooking