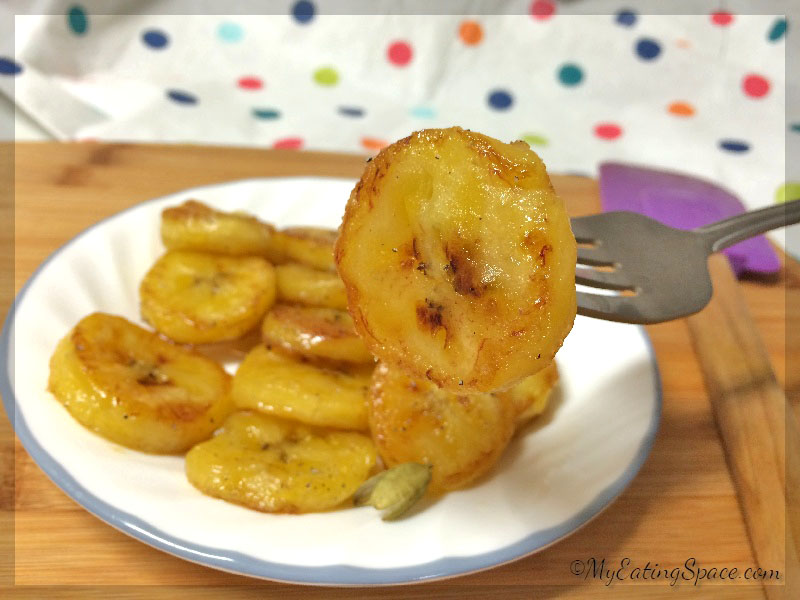 Caramelized plantain bites (Pazham nurukku) are completely new to me. Although I have heard a lot about it, i never got a chance to try it out or even taste it. And when I thought of doing the Onam recipes, especially traditional Onam breakfast dishes, I came across the pazham nurukku reccipe. I tried it two times, one with jaggery syrup (recipe for jaggery syrup here) and then with sugar. Both were delicious, but I decided to go with sugar version of caramelized plantain bites.
My amma used to make this in a much simpler way. She will steam-cook the plantains, peel the skin and divide the plantain into two halves lengthwise. Then brush the inside portion of the plantain with homemade ghee. Finally, sprinkle some sugar on top. That's it. The mouth-watering dish and my favorite sweet will be ready in minutes. This had been the most craved sweet dish when I was pregnant. The caramelized plantain bites made with jaggery called pazham nurukku in Kerala is somewhat similar to this in taste. But the sugar is caramelized and the plantains are fried in ghee here.
Caramelized plantain bites are very simple to make with very few ingredients. I think that will be the one main reason why it is served as breakfast during Onam. During Thiruvonam, the ladies will be busy preparing for the Sadya. Also, the Sadya will be a great feast. So they thought of preparing a light and easy breakfast like pazham nurukku which then became the traditional Onam breakfast. This is my view. I don't know the real myth (if there is any). The recipe may hardly take 10 minutes. Apart from Onam breakfast, caramelized plantain bites offer a healthy snack on the go when you are busy. Watch the video recipe to make these easy bites.
How to make caramelized Plantain bites
Caramelized Plantain Bites
Caramelized Plantain Bites - Pazham Nurukku
Caramelized plantains make a healthy and sweet breakfast on busy days and a fast snack when you are tired. This pazham nurukku is a traditional breakfast recipe in Kerala on Thiruvonam day.
Ingredients
1

ripe plantain

2

tsp

ghee

1

tbsp

sugar

2

cardamom
Instructions
Crush the cardamom into a fine powder. Keep aside.

Peel the plantain. Slice it into 1/4-inch thick discs.

Heat the ghee in a frying pan.

Cook the plantain slices in ghee until it starts to brown.

Flip to other side and fry until it starts to brown.

Now sprinkle the sugar on top of the slices. Mix well.

Finally, sprinkle the cardamom powder and mix well.

The easy and delicious sweet is ready.

Let it cool a little before serving.
Recipe Notes
Plantains are the best choice for making this. Banana will get mushy when cooked.
Adjust the sugar according to your choice.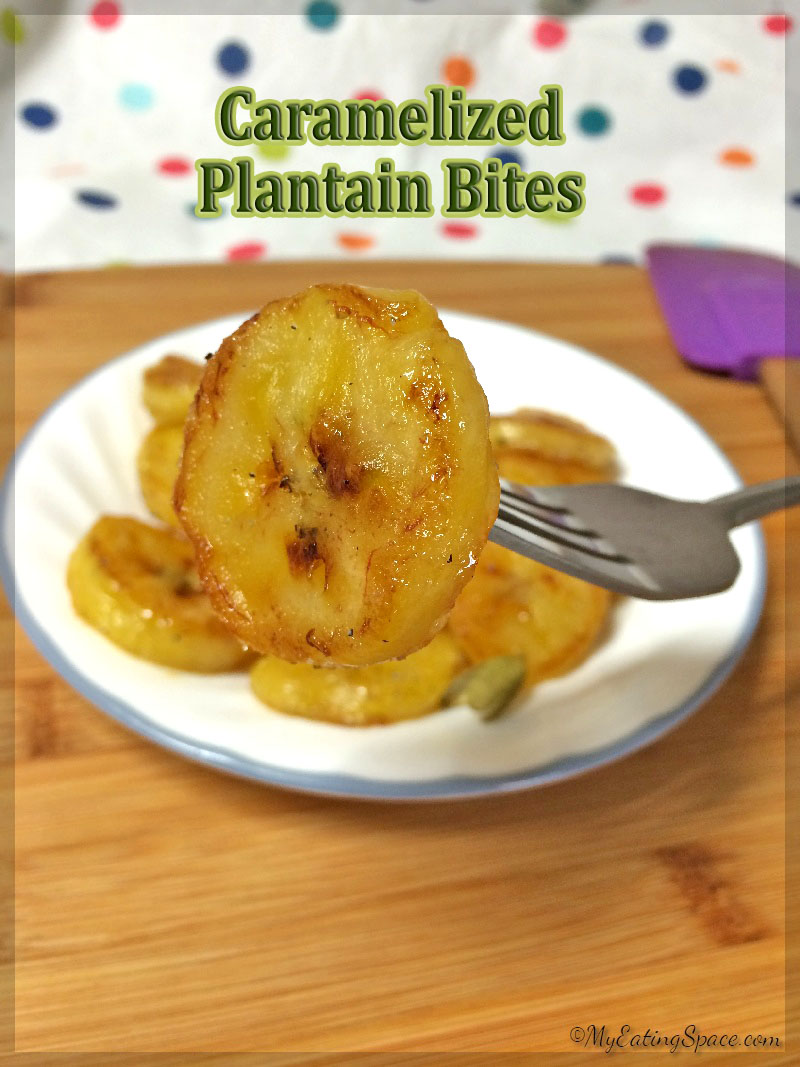 The traditional pazham nurukku recipe calls for jaggery. You can use both sugar and jaggery. Use very ripe plantains to make the delicious bites sweeter. I had made it with banana but that was a little mushy. Although they were tasty, I will suggest using plantains.
So that's it for today. Do you know any traditional breakfast recipes served on Thiruvonam day. Please do let me know.
Happy Cooking