Every country, every religion even every group have some sort of unique tradition or cultures to celebrate the festivals. Today, I am going to tell you all about a delicious sweet made as a tradition and being followed by the generations in our family, the Palm Sunday eve sweet (previous day of Palm Sunday), kozhukatta also called modak in Tamil Nadu. We call it Kozhukatta (Coconut stuffed dumplings) Saturday.
Every year, we make this coconut stuffed sweet dumplings on the Palm Sunday eve as a snack. Although I don't know the real reason behind the tradition, I recently read two beautiful interpretations of making the gluten-free dumplings (kozhukatta) on those Saturdays.
One is, Kozhukatta (Malayalam word for the coconut stuffed dumplings) means large stone. We make these dumplings in memory of all the huge hardships experienced by Jesus – of all those large stones hurled on him.
The second version which I liked more is,
"That was the day Lazarus was brought back to life by Lord Jesus. He asked the men to move the stone from the cave entrance and called out to Lazarus and he came alive.
Kozhukatta is believed to represent the stone when opened reveals the sweet life God gave us."
Now to the recipe of this traditional Gluten-free Coconut Stuffed Dumplings- Kozhukatta with a small twist from the traditional flavor. Yes, I added an additional flavoring to this sweet, the orange peel which is so refreshing. You may know how this flavors your sweet, if you have made my Carrot Orange Halwa.
Gluten-free Coconut Stuffed Dumplings – Kozhukatta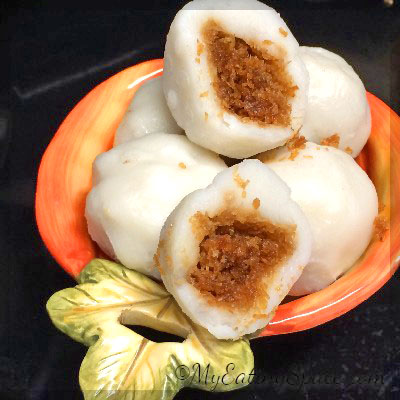 Gluten-free Coconut Stuffed Dumplings - Kozhukatta
This rice dumplings stuffed with sweet coconut filling is known as kozhukatta in Kerala and Modak in Tamil Nadu. They make a healthy gluten-free snack which does not contain any oil.
Ingredients
For the dumpling base
2

cups

of rice flour

3

cups

of water

Salt to taste
For the coconut filling
1/2

cup

jaggery powder

1/4

cup

water

3/4

cup

coconut

shredded

1/2

tsp

cardamom

powdered

1

tsp

orange zest

grated
Instructions
Preparation of coconut filling
Mix jaggery and water in a bowl. Boil to form a thick syrup, just before the one thread consistency.

Remove from heat. Strain the syrup to remove any impurities.

Mix the jaggery syrup and coconut in a pan. Add the orange zest, mix well and cook for 2 - 3 minutes on medium heat until the coconut absorbs the syrup. Switch off the flame.

Add the cardamom powder into it and mix well. Keep aside.
Preparation of dumpling base
Take 3 cups of water in a bowl. Add salt and bring to a boil.

Meantime, dry fry the rice flour in a pan on medium-low heat for 5 minutes with stirring.

Remove the flour from heat and add the boiled water to it with stirring. A crumbly sticky dough is formed.

Cover and let it cool a little.

When it is warm enough to handle, knead with hands to form soft dough ball. The right consistency is when the dough is not sticking to hands.

Wet your palms to avoid sticking. Make medium size balls from the dough. Then holding the ball in one hand, press the center of ball inward out to form a cup shape.

Fill the cup with a spoon of the prepared coconut filling.

Close and seal the cup to form a ball, again. Repeat with the rest of the dough.

Steam the dumplings in a steamer for 10- 12 minutes. Then switch off the flame.

Remove from the steamer and let it cool.

Serve and enjoy.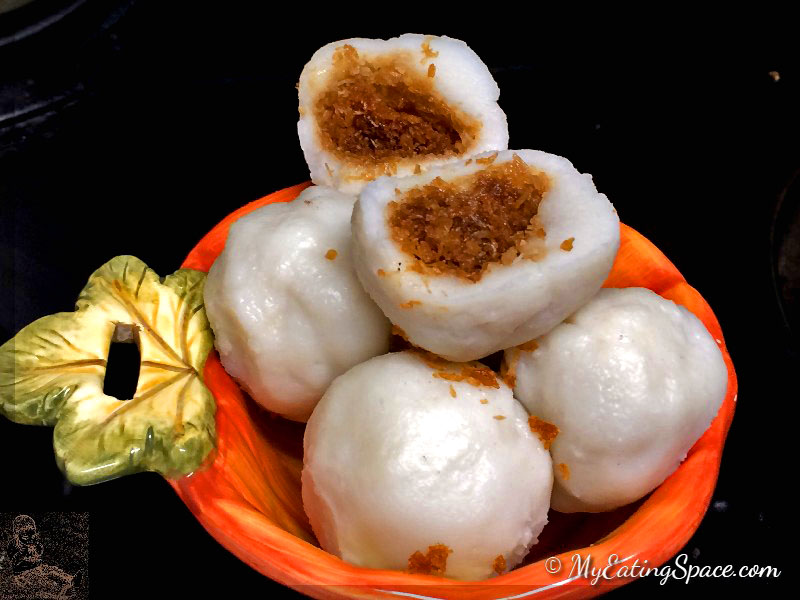 With this traditional sweet starts our holy week…
Do you have a traditional holy week recipe to share…. I would like to hear 🙂
Happy Cooking