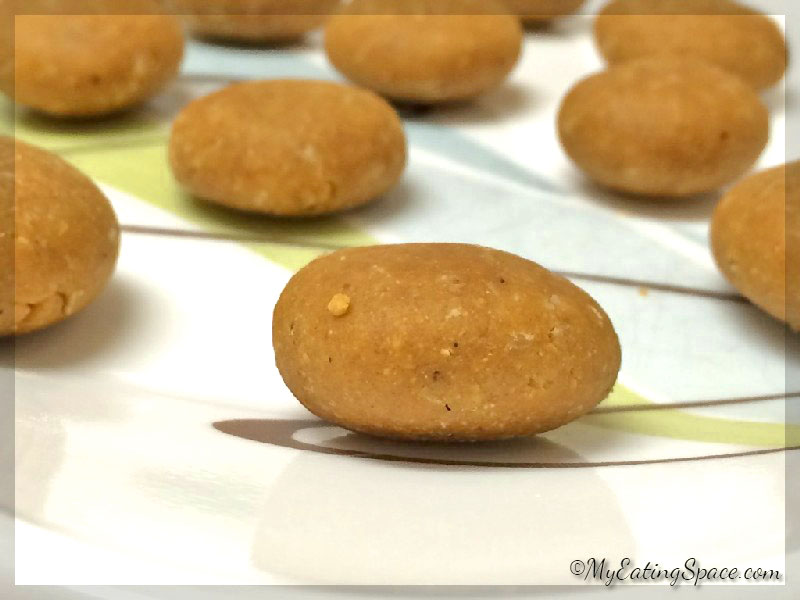 Raw banana powder honey balls makes a healthy and easy snacks for everyone. Raw banana powder (ethakka podi) is actually a conventional baby food used in Kerala. It is one of the first solid food we give to the infants other than finger millet (ragi). We make porridge with finger millet or raw banana powder to introduce them to a completely new world of tastes and food.They start their foodie journey with this healthy foods.
Raw banana, I am talking about the raw plantain here, is of great health benefits. They help in weight gaining in babies. They are a rich source of dietary fiber, minerals and vitamins. This is also found to be effective for indigestion problems.The recipe I share today can be used for toddlers as well as adults.
The recipe I share today, raw banana powder honey balls is a healthy sweet snack and can be used for toddlers as well as adults 🙂 I used homemade raw banana powder. Now it is available in stores also. I have found it in many local Indian stores in the US. I bought some fresh raw banana from Walmart, washed, peeled, sliced and dried it. You can sun dry it or use a dehydrator. Then make into a fine powder using a power grinder.
So here goes the recipe for the Raw banana powder honey balls,
Raw Banana Powder Honey Balls
Raw Banana Powder Honey Balls
A sweet raw snack made from raw banana powder. This healthy food is considered good for indigestion and is a complete natural food.
Ingredients
Homemade Banana powder
6

raw fresh bananas

plantain
To make the banana balls
1

cup

raw banana powder

1

tbsp

honey

3

tbsp

shredded coconut

1/4

cup

jaggery powder

1/4

cup

water

1/4

tsp

cardamom powder

1/4

tsp

nutmeg powder

Hot water only if needed.
Instructions
To make banana powder
Wash the raw banana well in cold water.

Peel and slice it into thin pieces.

Sun-dry or use a dehydrator to dry the slices.

Make into a fine powder in a grinder.

Store in an air-tight container.
To make the sweet banana balls
First make the jaggery syrup. Mix together jaggery powder and water in a bowl. Bring to a boil. Now simmer for 2 minutes and remove from heat. Strain to remove any impurities and keep aside.

In another bowl, mix together the banana powder, coconut, cardamom and nutmeg powder.

Then add honey and jaggery syrup into it and mix well. You don't have to add the whole jaggery syrup. Add a little at a time and mix until everything comes together. you can add hot water if needed to mix.

Combine until all ingredients are together and make a dough-like ball.

Now make small lemon size balls rolling the dough between the palms.

This will stay fresh in an air-tight container for up to 5 days in the refrigerator.
Recipe Notes
1. Increase or decrease the amount of sweetness as needed. You can either add more honey or jaggery to increase the sweetness.
This is a raw food and must not be kept for long. This is also gluten-free, zero oil, dairy free, vegan and a paleo sweet. Try this and let me know in the comments.
Happy Cooking