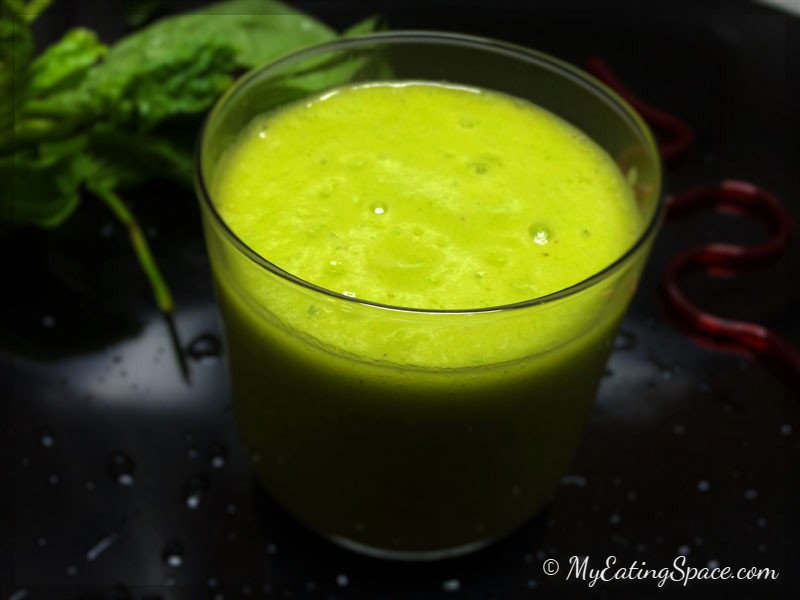 Long time vacation…….. It's been nearly 2 months I haven't posted a recipe here. So when we start again, it must be something very refreshing. Why not make a healthy and vibrant colored smoothie? Yes, today we are talking about Pineapple Spinach Smoothie.
Green smoothies were never my favorite until this one. Pineapple spinach smoothie really changed my attitude to greens in smoothie. They were damn delicious with attractive color. As everyone knows, smoothies are the most easy yummy drink you can prepare. Just blend everything together and you are done. Ready is your healthy drink in a cup…. Also if you have kids or anyone who don't eat leaves…. Give them the pineapple spinach smoothie…..(just don't tell them it's loaded with phytonutrients, antioxidants, fiber etc etc…. 😉 ).
Spinach, the superfood
Spinach is a nutrient-dense superfood you must include in your daily diet. They are low in calories and rich in good-for-you nutrients and minerals. How can anyone forget Popeye- the cartoon character who squeezed those cans of spinach whenever he needed some extra energy? Spinach is such a flexible ingredient… we can have it raw in salads, they are good in soups or can be cooked as a dish or make great green smoothies. The fiber in spinach makes it good for digestion. They are cholesterol-free and is mainly water filled. Spinach is a heart-friendly, anti-cancerous food. So never hold you back from eating spinach.
Pineapple- A nutritional fruit
Who don't love pineapples? Pineapples are the nutrient house with no fats and lots of fiber- both soluble and insoluble. Bromelain, the protein digesting enzyme, is the most appreciated compound in pineapple in addition to antioxidants. This is a cancer fighting compound which also improves your gut health. Researchers say bromelain in pineapple have a wound healing property as well. If I start counting the benefits of this miracle fruit, it's not going to end.
Now we are going to make a healthy, yummy and frothy pineapple spinach smoothie.
Pineapple Spinach Smoothie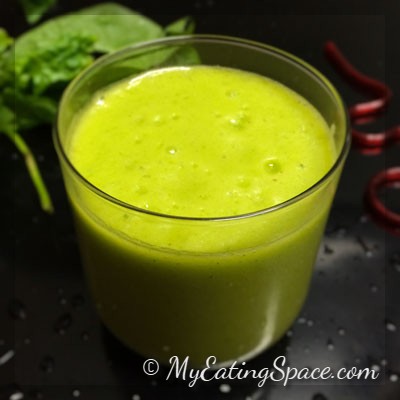 Pineapple Spinach Smoothie
A healthy mix of pineapple and spinach makes a delicious frothy smoothie for your breakfast. The vibrant colored smoothie will definitely make you feel better.
Ingredients
3

cups

of Pineapple chunks

2

cup

fresh baby Spinach

tightly packed

1

tbsp

Lime juice

1

cups

of Water

1/4

cup

Sugar

if needed
Instructions
Wash the spinach in cold water before use. Peel and core the pineapple and make into small pieces.

Put all ingredients together in a blender.

Blend well until smooth and frothy without any pineapple pieces.

Serve immediately.
Recipe Notes
Sugar is added as per choice. If the pineapple is extra sweet, then add sugar accordingly.
You can also use sugar alternatives like maple syrup.
You can also avoid lime juice, if you don't like a little tangy taste.
Add ice cubes before serving, if you like your smoothie chilled.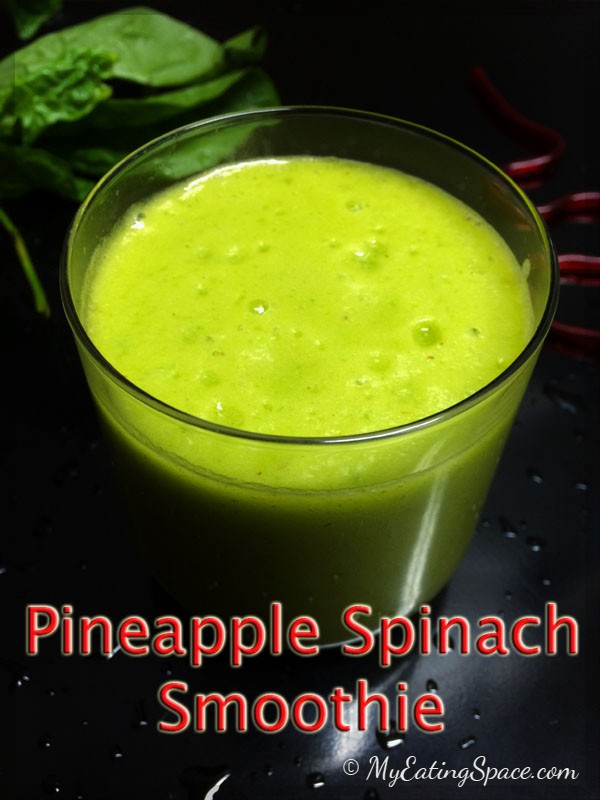 You can add more or less of any ingredients to make it your way of smoothie. Ultimately, it must satisfy you regarding health and taste. You can use organic maple syrup instead of sugar for added sweetness. The only thing to take care is always use organic baby spinach as spinach is highly prone to pesticides. Also make sure the folks you are serving the smoothie is not allergic to any of the ingredients.
Happy Cooking