Pulissery can be made in many ways. I had shared a pulissery recipe with cucumber some time back. That was made with lemon cucumber. But today I am sharing an easy recipe for the same. Pulissery is also an inevitable part of Onam Sadya. This is my run to recipe when I am very busy.
This is a simple to make dish. Like every Keralite, I will always have yogurt and coconut ready in my refrigerator. So whenever I run out of time that I can't prepare a curry dish, pulissery comes to the rescue. I had always thought this as a simple dish with all known ingredients. But when I first prepared it, that had been a complete flop. It didn't savor much like the one I had tasted. Also, the buttermilk looked curdled. It failed maybe because of my over-confidence that this can be easily prepared.
You are making Pulissery for the first time; Consider these issues
For a first-time maker, pulissery may seem a little difficult to get along with. No problem. I was like you. In fact, I do make all the mistakes now also, either in a hurry or by the lack of attention. If you have a 5-minute of patience, you can make the best savory pulissery.
Choice of Yogurt for Pulissery
Use sour yogurt to make pulissery. The store-bought yogurt is not so sour to make your dish great. Work with homemade yogurt which is better in taste and probiotic benefits than the store ones. You don't need an expensive yogurt maker or high-quality yogurt cultures to start with. If you have never tried making yogurt at home or not sure about the results, I suggest you read the post below.
Temperature Caution
While making pulissery, reduce the heat to very low before adding buttermilk. If you add buttermilk at high heat or to a high-temperature coconut paste, the buttermilk will curdle immediately. Ever wondered why on earth this happens? This is the reason. Buttermilk has low fat and high protein content. So when added to something at high temperatures or boiled to high temperature, it will curdle.
Whenever you are cooking with buttermilk, always add buttermilk towards the end of the preparation. Also keep the temperature very low while adding the buttermilk and continue cooking at low temperature. Stir the mixture gently and continuously after adding buttermilk. This is to distribute the heat uniformly in the mixture. Again, no simmering or boiling after adding buttermilk. When you start seeing some steam developing from the buttermilk-coconut mix remove the pan from heat. You are done.
Salt and Buttermilk in Pulissery
The other important point to take care in pulissery making is about seasoning with salt. Always, Always add salt after the pulissery has cooled a little or at least lukewarm. Adding salt to buttermilk while heating will also curdle it. This is because of the low pH (more acidic) of buttermilk. I never thought chemistry has this much to do with cooking 😉
Enough chemistry and onto the recipe of spicy pulissery.
Pulissery / Spiced Buttermilk Coconut Curry
Pulissery / Spiced Buttermilk Coconut Curry
A savory seasoned buttermilk curry made with ground coconut as base. They are great curry dish to serve with rice.
Ingredients
2

cups

of Plain Yogurt

¾

cup

Shredded Coconut

½

cup

Water

3

Green chilli

3

Garlic cloves

peeled

1

tsp

Cumin seed

½

tsp

Turmeric powder

2

tbsp

Coconut oil or canola oil

1

tsp

Fenugreek seed

1

tsp

Mustard seed

2

Dry red chilli

dried Cayenne pepper

1

sprig of Curry leaves

Salt to taste
Instructions
Mix the coconut, water, green chilli, garlic cloves, cumin seed and turmeric powder in a blender. Blend well to make a smooth ground coconut mix. Transfer to a bowl.

In the same blender, add the yogurt and blend for 15 seconds to make buttermilk.

Heat oil in a saucepan.

Crackle the fenugreek seed and mustard seed.

Add dry red chilli and curry leaves. Saute for a minute on medium heat.

Add the ground coconut mix into the saucepan.

Cook on medium heat for 3 minutes on medium-low heat until the raw taste of coconut is gone. Stir continuously.

Now reduce the heat to very low. Add the buttermilk into the pan.

Keeping the flame on low, cook the buttermilk with continuous stirring for 5 minutes or until you see some fumes start to appear. Stop before it boils or the buttermilk will curdle.

Remove from heat and stir for 2 more minutes.

Once the curry is lukewarm, add salt and mix well.

Pulissery is ready. Serve with hot rice.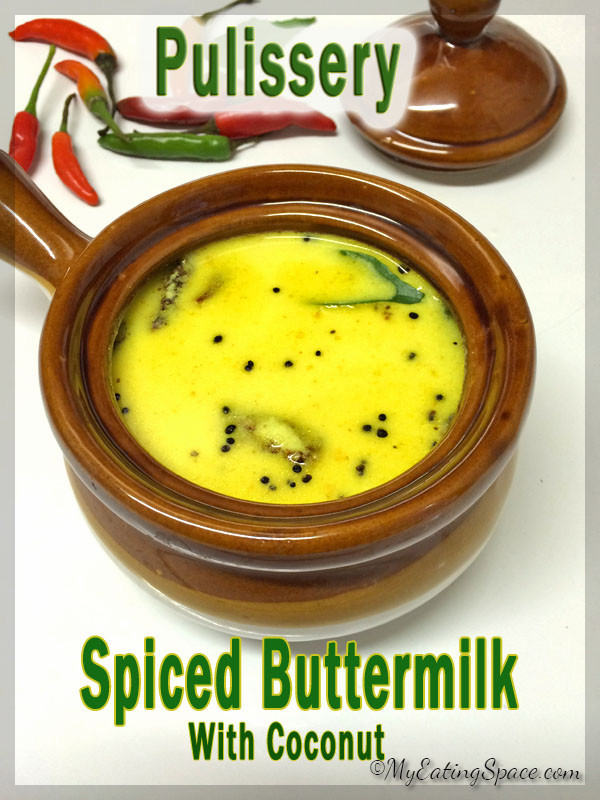 Once you master the steps it will take you only 15 minutes to make a delicious pulissery. As I said, patience has a lot to do with cooking. Cooking is a fabulous talent but it surely has some relation to science as well. Good luck with your cooking talents.
Another pulissery recipe with cucumber,
Happy Cooking