Mango pudding is my Onam special dessert this year. The main attraction of any grant feast is the dessert, I think. I will be celebrating Onam at my home with my family, after a long time. And I am eagerly waiting for that. If I can get enough mangoes in Kerala at that time, I will definitely make mango pudding (mambazham pradhaman) for my family. I have been practicing making it perfect for a while. Almost three times I made it now. The third time, it came out excellent and I am sharing it today with you all.
I will share what all things I have done each time making the pudding perfect,all those changes I have made in the recipe and the flops I had. Mango pudding is a delicious sweet made like the pradhaman we serve as one of the desserts. This will be of a thick flowing fluid consistency. They are made with coconut milk and jaggery. I also added rice ada (dehydrated rice flakes) so that we will have something to bite in between. (Mangoes will get mashed while cooking). But adding rice flakes is optional. If you want to add it, it is available in the Indian grocery store.
Mango Pudding- The failures and finally Success 🙂
I got the recipe from one of the cooking programs in the local channel from my native. So first I made it exactly like how they made it. It was good, but I felt like something is missing. And I couldn't point out what it was exactly. And I guess the reason is this. They gave the ingredient measurements for serving a large group. Because of my mathematical skills, I could have messed up the ingredient quantity while making it small.
Then I just noted it down. I made it again. But this time everything different, even the ingredients. In the first trial, I used a mix of both coconut milk and (cow's) milk. In the second trial, I made it with only (cow's) milk. Also, the mango was a little more acidic than the former one (in addition to sweetness). This time, it was not that good like the first time. The main reason I figured out; the pudding had a tangy taste along with the sweetness. And the milk is suppressing the mango flavor. So consider it a complete failure.
The fighter in me will never give up and so I prepared it again. This time,the first thing I made sure is the mango is really, really sweet. I don't want my mango pudding to taste sour. Nobody wants that. The other change I made is to use coconut milk. No mixing with any other milk. Again, I reduced the ingredients very carefully. And the final outcome tasted….. like heaven!!!. This is it… This is what I wanted to make.
What if you don't have a fresh coconut?
I used one medium size coconut to extract the first, second and third extract. You will find fresh coconut in the produce section of any grocery stores. I have seen them in Walmart and Kroger here. You will also get coconut from any Indian grocery store. But if you can't find it in any of the grocery stores, then what? (Although I'm not a supporter of canned food), you can get organic coconut milk in the freezer section of Walmart or a can of unsweetened coconut milk in the Asian foods section.
So how to make thin and thick milk from canned or processed coconut milk?
The canned milk will be usually thick. You can add water to make it thin. You can use the following proportion of water and coconut milk for that.
Thick milk (first extract) – ½ cup canned coconut milk (no water is added)
Medium thick milk (second extract) – ½ cup of canned coconut milk + ½ cup water
Very thin milk (third extract) – ½ cup of canned coconut milk + 1 cup water
Why add thin and medium thick coconut milk to make mango Pudding?
Now that's a question. If I have thick coconut milk, why can't I add that directly instead of all these additional steps?
The answer: If You overcook the thick coconut milk, the coconut oil will separate from the milk. The oil will outdo the taste of pudding which you may not like.But if you cook the mangoes in coconut milk, the pudding will taste better.
But if you cook the mangoes in coconut milk, the pudding will taste better. What we do is we will make thin coconut milk which contains very less fat (oil) content. So the mangoes can be cooked in thin coconut milk without the taste of any oil and your pudding will be tastier.
That's it. This is what I know and learned while making the delicious yummy mango pudding. Now here is the video recipe for a yummy mango pudding made with coconut milk. And the recipe continues.
Make Delicious Mango Pudding/ Mambazha Pradhaman
Mango Pudding with Coconut Milk/ Mambazham Pradhaman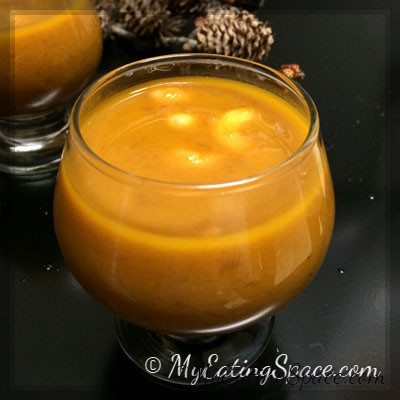 Mango Pudding with Coconut Milk and Jaggery
Mango Pudding known as pradhaman is a delectable dessert of South Indian Cuisine. This creamy and fruitful sweet makes all the time spend in the kitchen worthwhile.
Ingredients
1

big ripe Mango

~2 cup in pieces, peeled and cubed

¾

cup

Jaggery syrup

1

tbsp

Ghee

½

cup

Rice flakes

Rice Ada, optional

From 1 Coconut

- 1½ cup thin coconut milk

third extract

- 1 cup medium thick coconut milk

second extract

- ½ cup thick coconut milk

first extract

6

Cardamom

½

cup

roasted Cashew

1½

tbsp

Honey
Instructions
Remove the cardamom pods and make into a fine powder. Keep aside.

Cook the mango pieces in a thick bottom saucepan on medium heat for 4 minutes or until juicy and can be mashed.

Then add jaggery syrup and rice flakes (ada). Mix with mashed mangoes.

Cook on medium heat for 8-10 minutes stirring continuously. The mixture will start to thicken as the water evaporates.

Add ghee and and mix well. Cook for some 2-3 minutes.

Now add the thin coconut milk into this. Mix well and cook on medium heat for 10 minutes stirring occasionally (in every 3 minutes).

Add the medium thick (second extract) coconut milk and again cook for 10 minutes on medium heat, stirring occasionally.

Reduce the heat to low. Wait for a few seconds (~30 seconds).

Then add the thick and creamy coconut milk (first extract) into the mixture. Mix well

Cook on low flame for just 1 minute. Do not boil.

Add the roasted cashew and cardamom powder into the pudding. Stir and mix well.

Remove from heat. Let it cool for 5 minutes.

Add honey and let it sit undisturbed for 2 minutes. Now mix well.

Let it cool completely before serving.

They taste more delicious when refrigerated.
Recipe Notes
Rice flakes is an optional ingredient.
Do not boil the pudding after adding thick coconut milk. The pudding will taste coconut oil in it.
Make sure to use sweet mangoes or the pudding will have a slight tangy flavor.
If anyone confused with the words pradhaman and payasam? Both are desserts prepared almost in the same way. The difference is pradhaman is made with coconut milk and payasam is prepared with (cow's) milk.
When you get lots of mangoes, make it…make it….make it…:). The other important tip to remember. Serve it cold. This year's pradhaman dish is confirmed for me, Have you planned yet? No idea… then make the yummy mango pudding. If you have already planned, no worries. You can add mambazha pradhaman as an extra sweet. No one will have objection 😉
If you like this, then do check other puddings to make this Onam:
Happy Cooking