Spicy vegetable samosa is a popular street food in India and a local tea shop snacks in Kerala. We usually don't try making it at home as it will never taste similar to the chaayakkada (tea shop) samosa. Since away from my homeland and craving for hot and spicy vegetable samosas finally forced me to make it at home. I can't say it taste exactly similar to the tea shop samosa, but it is good, much better and less oily.
Snacks, appetizer, starter – whatever way you serve it, these spicy vegetable samosas are amazingly good and healthy. The filling can be of our choice. I used corn oil to fry the pastry as it is good for deep frying and samosas will be less oily, mine was not at all oily. You can also bake the samosas instead of frying.
The pastry sheets are available in stores but here I am using homemade pastry dough. Usually the samosas we get from the tea shops and bakery are triangle in shape. Since my triangle never becomes a triangle, I made it round in a flower shape, somewhat….
Spicy Vegetable Samosa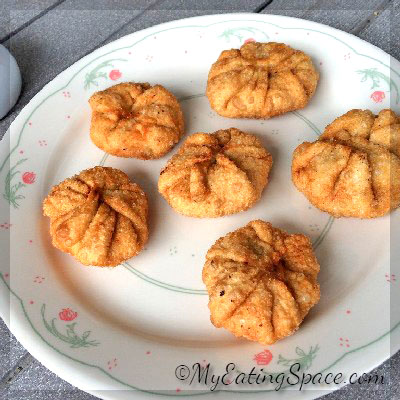 Spicy Vegetable Samosa - Vegetable filled pastry fry
Samosa is a great snacks or appetizer which can be made with any filling of your choice. They are an iconic snack in India, a delicious crunchy fried pastry with potato and green peas filling.
Ingredients
For the dough pastry
1/2

cup

plain flour

1.5

tbsp

oil

1/4

cup

lukewarm water

Salt to taste
For the filling
2

potatoes

1/2

cup

green peas cooked

1/2

cup

onion chopped

1/4

cup

capsicum chopped

1/2

tsp

black pepper powder

1/8

tsp

cinnamon powder

1

tsp

fennel seed

1

tbsp

oil

Salt to taste
Instructions
Prepare the pastry dough
Mix together the flour, salt, oil and water in a bowl. Add water a little at a time and knead to a firm dough. Cover the dough and let it sit for 15 minutes.
Prepare the filling
Peel and cook the potatoes. Mash the cooked potatoes with a fork and set aside.

Grind the cloves and mix with cinnamon powder. This is the spice mix used for flavoring.

Heat oil in a pan. Crackle the fennel seed.

Then saute the onion and capsicum until soft. Then add the spice mix and black pepper powder.

Add the mashed potato and cooked green peas. Stir and cook for 3-4 minutes.

Divide the dough into 8 balls. With a roller pin, roll each ball into 6-inch diameter circles.

Place a spoon of the vegetable filling in the center of the rolled pastry.

Fold together all the edges and seal and press to the center.

Heat oil in a pan. Deep-fry the stuffed pastry in hot oil until both sides are golden brown. Remove from oil and transfer to a plate.

Serve with your favorite sauce.
Recipe Notes
1: You don't have to use 1/4 cup water. Use just enough to bring everything together to knead.
2: Press the samosas (pastry) to a tissue paper to remove excess oil.
You can use your favorite chutney or even ketchup as a dip for the spicy vegetable samosa. Although these samosas are traditional Indian snack, variations of the spicy snack is made worldwide and is known by different names.
Happy Cooking