We have decided to add some brain booster foods to our daily diet. No planning to start a special diet, just adding some superfood to the existing menu. So stay tuned for more recipes with superfoods. Introducing the first one in the line, the gorgoeus 'Chia seed Citrus Juice' .
The Cooking Light Magazine, November 2016 issue inspired me to include more brain boosting food into our diet. Magazine features an article on brain food and how Paula Wolfert, the culinary legend is fighting Alzheimer's with good food, friends and laughter as her medicine. Waiting for her biography 'Unforgettable: Bold Flavors from Paula Wolfert's Renegade Life' that is to be released in spring 2017.
The first superfood we are including in the diet is chia seed. Chia seed is a miracle superfood that gained much popularity in health community. They are rich in omega-3 fatty acids, dietary fiber, vitamins and minerals. Chia also contains essential fatty acids and anti-oxidants. It is good to be eaten raw, but in order to get most nutrients from the seed, soak them. Instead of just soaking them in plain water, we added them to citrus juice to make the wonderful drink- chia seed citrus juice.
Adding just 2 tablespoon of this gelatinous crunchy seed in the diet will benefit you a lot. The rich antioxidants in Chia seed helps to repair damaged skin and prevent aging to some extent. Omega-3 fatty acid in the seed helps to lower the blood pressure and protect the heart from bad cholesterol. The high dietary fiber makes it a natural blood sugar balancer according to the National Institute of Health. Thus chia seed can control or even halt diabetes. The dietary fiber also make your digestive sytem happy by functioning healthy. Gel forming property of chia seed works as a prebiotic which makes a healthier gut. In a nut shell, this tiny little seed can do wonders for you.
By citrus I mean any citrus fruit- orange, mandarins, cuties, lemon, lime, grapefruit, tangerine…. You can use just one citrus fruit, a few of them or all of them – totally up to you. They are rich in vitamin C, folate and thiamin. The flavonoids in citrus is said to boost the good cholesterol and lower bad cholesterol thus protecting the heart. Moreover, they are so refreshing. I love how they smell.
That said let's start making our superdrink, Chia seed Citrus Juice.
Chia Seed Citrus Juice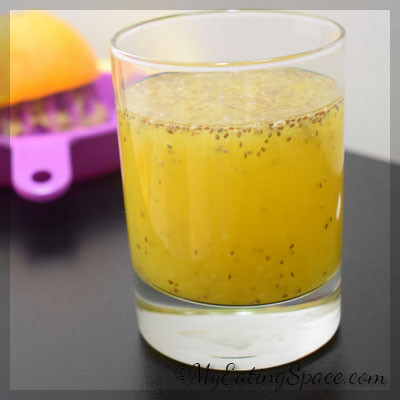 Chia Seed Citrus Juice
A refreshing drink made with citrus fruits. Chia seed makes it a super drink that makes you healthy, feel full and energetic.
Ingredients
2

cups

of Water

Sugar

or any sweetener

1

tsp

Lime zest

finely grated

1

tsp

Orange zest

finely grated

1/2

cup

Orange juice

freshly squeezed

4

tbsp

Lemon juice

freshly squeezed

4

tbsp

Lime juice

freshly squeezed

4

tbsp

Chia seed

black or white
Instructions
Zest the orange and lime before squeezing.

Combine water,sugar, lime zest and orange zest in a blender until the zest has been pulverized.

Transfer to a pitcher or bowl.

Add the orange juice, lemon juice and lime juice. Mix well.

Then add the chia seed and stir well.

Let the juice stand for 2 hours before serving to soak the chia seed.

You can chill the juice at this time if you wish.

Give it a stir before drinking or serving to distribute the seeds evenly.
Recipe Notes
You can use any citrus fruit to make the juice.
Water can be substituted with coconut water.
Chia seed will become gelatinous if soaked for 2 hours.
You can chill the juice while it is soaking.
You can also drink the juice right away, but the chia seeds will be gritty.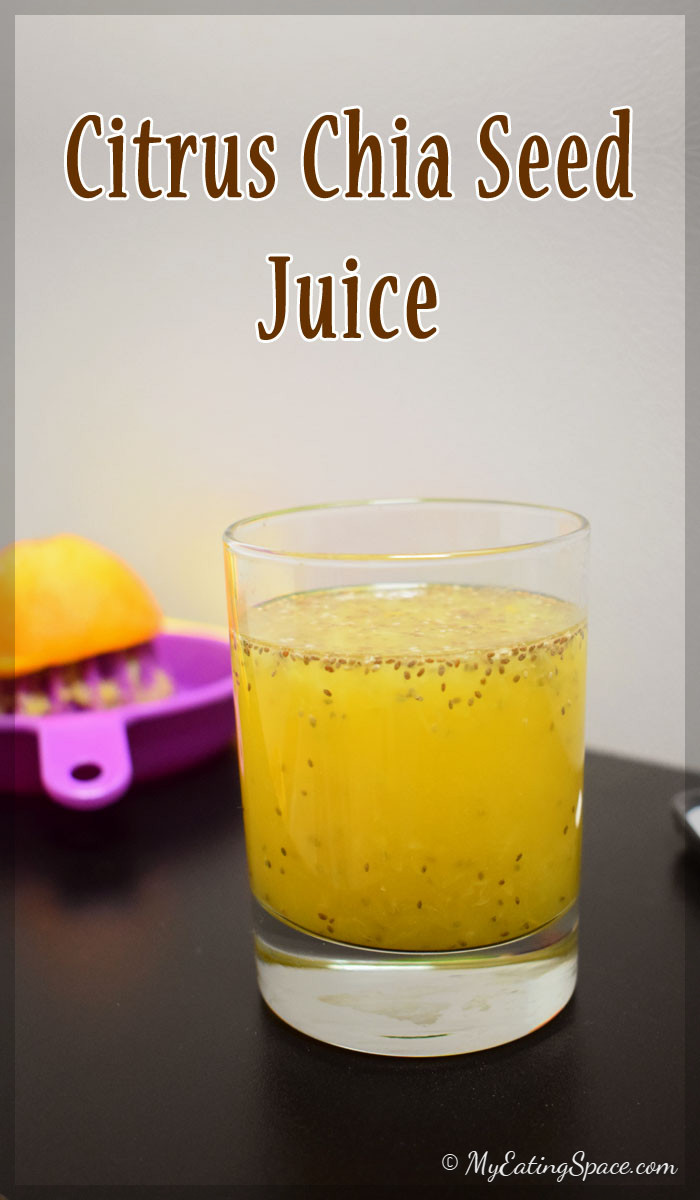 You can make ahead the chia gel and keep it in the refrigerator. Quickly stir the gel into the juice and drink it right away. The chia seeds will swell absorbing the water or juice and form a gel covered seed like the seeds of passion fruit. Although mentioned gelatinous, they are not going to make your juice thick like a pudding. They will still be watery with some thickness. Chia seed citrus juice is good as energy boosters after a tough work out. This miracle health potion could boost your organ functions as well.
Check out other chia and citrus recipes we have:
Happy Cooking