Finger Millet is one of the superfood breakfast served in our home. This is a superfood recipe that is easy to make that too with a very little ingredients. Finger millet is commonly known by different names in different regions like ragi (Telugu, Kannada), panjapullu (Malayalam), kezhvaragu (Tamil), kodo (Nepal) etc.
These small sized brown color grains were once an integral part of Indian diet. But it lost the way over the generations. But now it is making it's way back as a superfood into the modern food especially among those who are health and wellness conscious.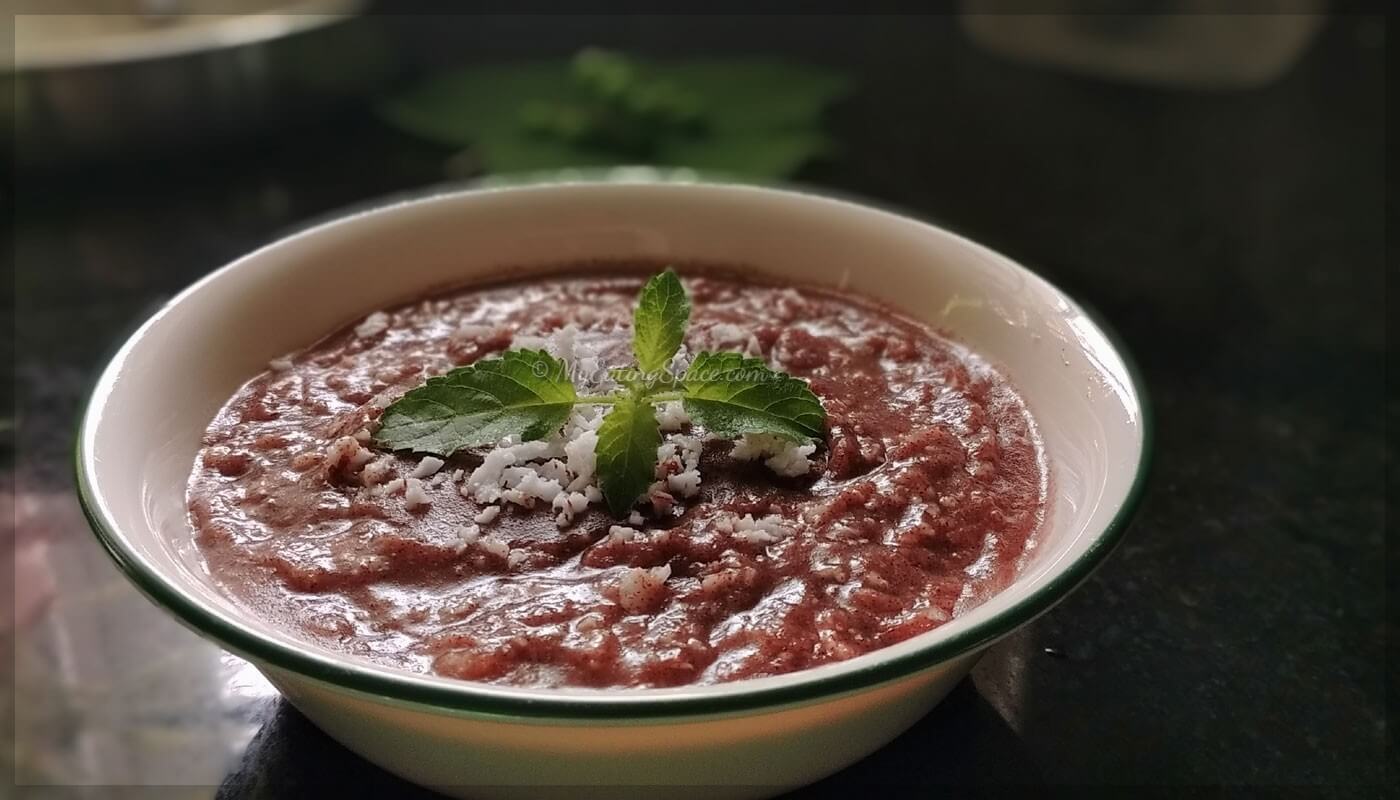 Till today, the ragi porridge is given as the first solid food for new born in many South Indian states because of it's high nutritional values. They are said to be rich in calcium which helps in the bone development of babies. Making the porridge for babies is a different process. But today's recipe is for a higher age group rather than new born.
Finger Millet Coconut Porridge/ Ragi Porridge
Finger Millet Porridge/ Ragi Coconut porridge
A superfood breakfast made with finger millet (ragi) and coconut. An easy to make healthy dish that can be served hot or lukewarm.
Ingredients
3

tbsp

Ragi flour

11/2

cup

Water

2

tsp

Sugar or jaggery

(or any sweetner)

2

tbsp

Grated coconut

a pinch of salt for tatse

1/4

tsp

cumin seed

1 or 2

Tulsi leaves (Basil Leaf)
Instructions
Mix the ragi flour and 1/2 cup water in a saucepan. Mix well without any lumps.

Then add the remaining water, sugar, coconut, and cumin seed and tulsi leaves. Mix well.

Cook on a medium flame until the water starts to boil .Keep whisking continuously with a whisk or spoon.

Lower the flame and keep stirring continuously until the mixture is thick. Cook until the porridge is of the desired consistency.

Remove from heat. Add the salt and mix well.

Serve the porridge hot or warm.
Recipe Notes
The consistency of the porridge differs depending on the type of flour and amount of water. Less water, thick consistency. More water, thin consistency, more like a ragi drink. That depends on your choice.
Stirring the porridge while cooking is the main step. If you stop stirring before the water thickens, the flour will settle in the bottom and will get burned. So keep stirring, just a matter of 5 minutes.
Tulsi (Basil leaf)is added for additional flavor. You can add any spices or herbs you wish. The porridge is delicious even without any flavors.
Diabetic patients can enjoy the dish without  any sweetener.
You can add nuts as well. 
The porridge becomes thicker upon cooling. So it will be better if you have it warm or even hot.
Hope you all enjoy the Finger millet coconut porridge recipe. I will be back with another delicious recipe soon.
Happy Cooking

Related Recipes