Wine making 21 days is back after long time. This time we are going to make the drink with water apple. Water apple may be known in different names like wax apple, red water apple, rose apple, java apple etc. In Kerala, we call it 'Chambakka'.
Water Apple wine is always there in Amma's kitchen. And why she always keeps a bottle of it is the more interesting information. Some foods like lentils causes gastric problems. According to Amma, red water apple is best for any digestive problem. But they are not always in season. And when they are in season, there will be lots of them. So we make the best use of them during the season by making wine and preserving the fruit in salt.
From my experience, the Chambakka wine and brined fruit is more helpful for bloating and other gastric problems compared to the raw fruit. The boozy drink had been a life saver many times. A while back my son suffered a severe stomach pain due to bloating.. We gave him a tablespoon of water apple wine mixed in a glass of water. Within 15 minutes, his pain is gone. (I'm not a doctor and of course cannot recommend this as a remedy.) Like Amma, I also keep a bottle of red water apple wine in my kitchen now.
The recipe does not need yeast or wheat kernels for fermenting. The making process could be tiring, but completely worth the hard work.  So to the recipe that have been made and tested for years at home.
Homemade Water Apple Wine
Water Apple Wine
Homemade water apple wine recipe without yeast or wheat kernels for fermenting.
Ingredients
1

kg

Water apple

(after removing the seeds)

1

Kg

Sugar

2

tbsp

Cloves

1

Cinnamon stick,

divided into small pieces

10

Cardamom
Instructions
Wash the water apple 2-3 times. Cut them and remove the seeds and the black flower part.

Crush the spices except cloves, no need to make it into powder.

In a glass bottle, layer a little of the water apple, then sugar, cloves, cinnamon and cardamom. Continue to layer in the order until all the water apples are finished. Make small layers.

Cover the bottle and keep away from sunlight. Keep for 21 days untouched.

After 21 days, open the bottle mix everything well. Using a clean cotton cloth, squeeze and strain the wine.

Add more sugar if you want the wine sweet. Store in glass bottles.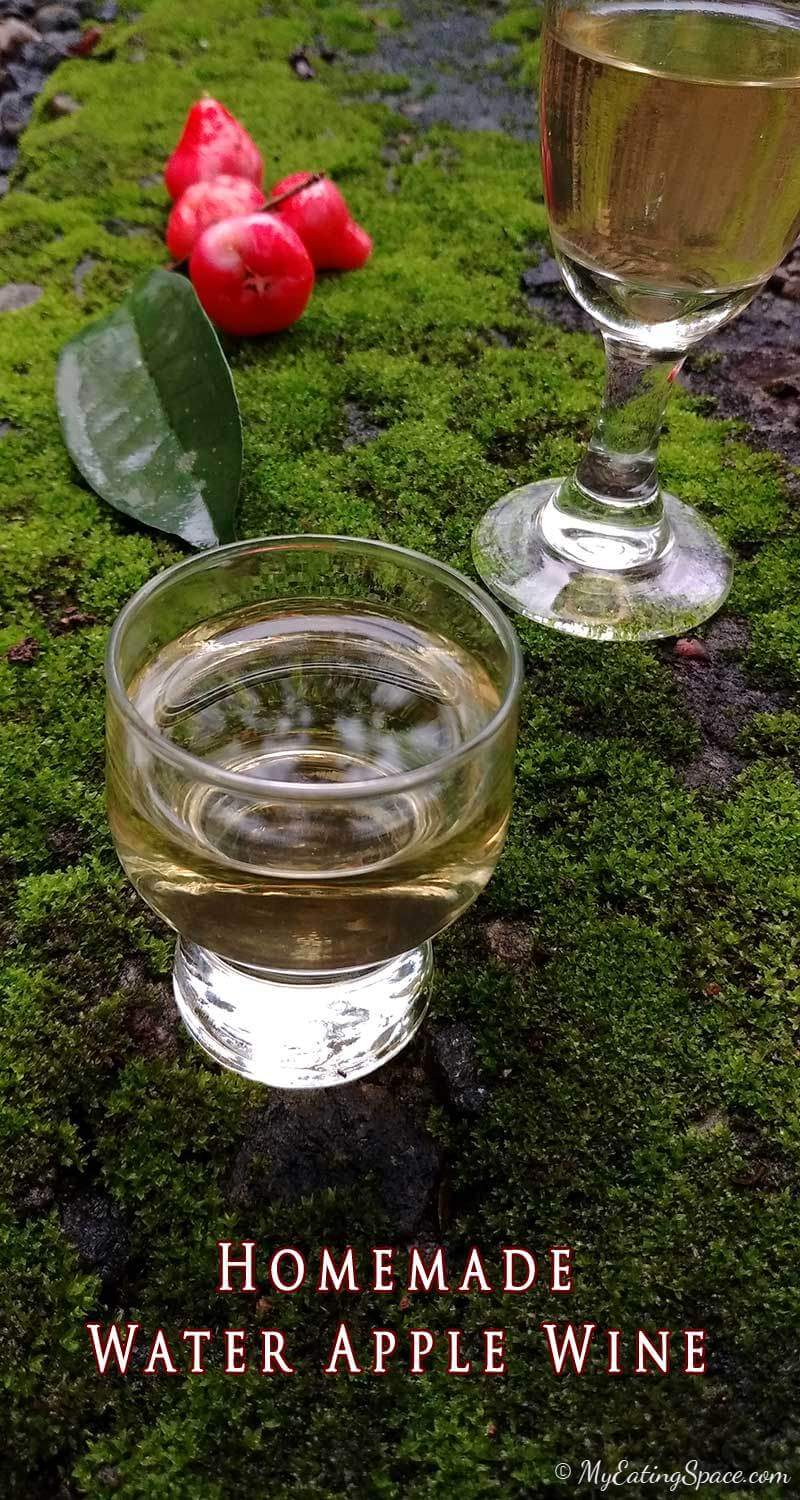 The juicy, bell shaped watery rose apples are usually wasted in plenty during the seasons. Lets make good use of it by preserving them or making the wine. They can also be used fresh by making juice. There are different varieties of the fruit, but usually the ones with sour and sweet taste is used in making the alcoholic drink.
If you have the fruit tree at home, don't let it go waste during the season. Try making the recipe and let me know.
Happy Wine making

Other Wine and Drinks Recipes