Onion Coconut stir fry is my mother-in-law's easy to go recipe. I never thought onion can be a main ingredient in a stir-fry. But, yes, it can….. And is delicious too…..
When we reached home after a long trip, we were all tired to make dinner. Of course, we could have eaten out…. But we usually try to stick to homemade food :). We can prepare rice in a pressure cooker, but what about a side dish or a gravy. Either one was enough for all of us. Then she suggested making the onion coconut stir-fry which doesn't require chopping many ingredients. I was doubtful. But she said, anyway we have to chop the onion for making a curry. Then why not chop only the onion and make a delicious stir-fry. I chopped the onion and she made the curry.
I must say, That was really delicious…..All the mothers will definitely have something useful to share with us. Now one of my easy to go dish is the onion coconut stir-fry or ulli thoran in our native language, Malayalam. I also added green onions which can be optional. You can make this side dish only with the red or white onion. Here is the recipe,
Onion Coconut Stir-fry
Onion Coconut Stir-fry
Onion coconut stir fry is a delicious easy to make side dish which is also a healthy choice. Adding green onions make it more colorful.
Ingredients
1

cup

red onion

finely chopped

1

cup

green onion

finely chopped

3

green chilli

sliced lengthwise

1/4

cup

grated coconut

2

tsp

coconut oil

1/2

tsp

mustard seed

3-4

curry leaves

Salt to taste
Instructions
Heat oil in a frying pan. When hot, crackle the mustard seed.

Then add the chopped red onion and saute until just soft on medium heat.

Now add the sliced green chilli and curry leaves. Stir-cook for 1 minute.

Add the grated coconut to it. Stir and mix well. Cook for a minute.

Now add the chopped green onion. Mix well and cook for 2-3 minutes.

Now remove from heat.

Serve with hot steaming rice.
Recipe Notes
Adding green onion is quite optional. You can use only the red or white onion to make the stir-fry.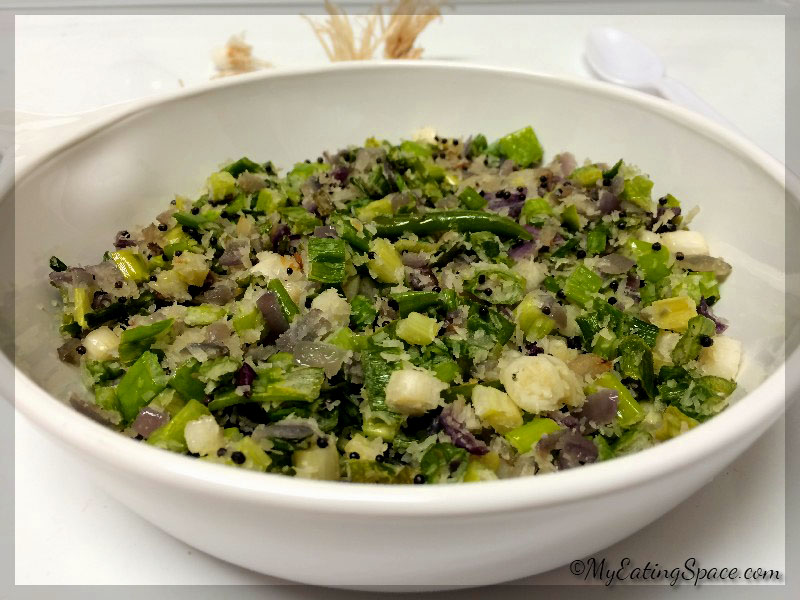 Easy, healthy and delicious, we can't ask more, right?. If you want another stir-fry recipe try the diabetic-friendly Ivy Gourd Coconut Stir-fry.
Happy Cooking