Crispy Apple Chips with lime flavor is my new obsession. I'm not talking about the dry fruit chips made in a dehydrator. It's all about the goodness of oven baked apple chips. I wish I knew this recipe 2 years back. We went for our first apple picking then and ended up with a hill of apples- YES, a small mountain of apples with lots of variety. Apple picking is a wonderful experience. Once you taste a hand picked apple directly from the tree, you will start to dislike the store apples. They may be same, but apples eaten directly from the tree is more crispy, fresh and insanely delicious. We had been eating apples for breakfast, lunch, dinner and snacks then.
The very next year, we found the apple chips in Aldi. There were two flavors, original and cinnamon. That was the first time I tasted chips made with apple. We liked the original flavor more and we bought a lot. Then I thought, why can't we make homemade apple chips. My first time was not a huge success, still that was edible.
Then this year again during the falls, when the apples are in season, I decided to try it again and thus happened this delectable oven baked apple chips with lime flavor. You can use a mandolin slicer to make apple slices. This will make every slices look the same and cook evenly. But if you don't have one (like me), that's ok. I used a sharp knife to slice the apples. It's not necessary that the slices must have same thickness. It will work anyway.
After Baking Apple Chips
When you take the chips out of the oven, it won't be crisp. But it will become crispy upon cooling. The remaining syrup (syrup in which the apple slices are soaked) will have a lime and mild apple flavor. This can be reused as a sweetener in smoothies and juices.
Watch the video on how to make an insanely delicious oven baked apple chips with lime flavor and start making. The recipe follows.
Oven Baked Apple Chips
Oven Baked Apple Chips with Lime Flavor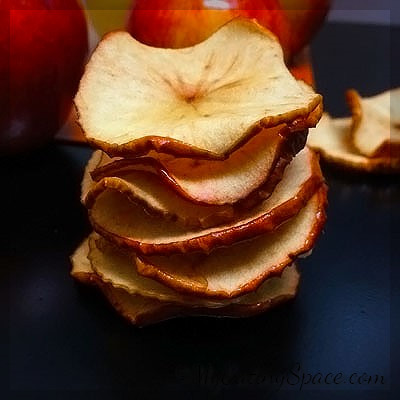 Oven Baked Apple Chips with Lime Flavor
A delectable crunchy treat for an apple maniac. These crispy oven baked apple chips will increase your obsession in every crunchy bite. The lime flavor makes the sweet apple chips more decadent.
Ingredients
1

cup

Water

½

cup

Sugar

⅛

tsp

Lime Zest

or lemon zest

1

tbsp

Lime Juice

or lemon juice

3

Apples

any variety
Instructions
Combine water, sugar and lime zest in a sauce pan.

Bring to a boil. Now reduce the heat to medium.

Simmer for 2-3 minutes.

Add lime juice and mix well.

Remove from heat. Set aside to cool down.

Wash the apples in cold running water.

Using a knife or mandolin slicer, cut the apples into very thin slices. Remove the seeds while slicing the apples.

Place the slices in a deep bowl.

Pour the cooled lime syrup over them.

Cover the bowl with a lid.

Let it sit undisturbed for 8 hours or overnight to infuse the lime flavor into the apple slices.

Preheat the oven to 200 degree F (95 degree C).

Line a pan with parchment paper or use a silicone mat.

Apply some oil if using a parchment paper so that the slices won't stick.

Spread the apple slices on the parchment paper.

Bake for 4 hours for a crispy sweet apple chips. The edges will start to make curls.

Remove from heat. Let it cool down completely.

They will not be crispy until it cools down.

The crunchy sweet oven baked apple chips with lime flavor is ready. Start munching.

Keep the chips in a sealed air tight container.
Recipe Notes
If you want to reduce the infusing time, soak the apple slices for 4 hours and then bake.
Even after baking for 4 hours, you may not feel the apple to be crispy. They will be a little mushy and flexible when hot. But once cooled down completely, they will be crispy.
The remaining sugar syrup will have a mild lime and apple flavor. You don't have to discard the syrup. Use it as a sweetener in smoothies or juice.
Ohhh… by the way, I love the refreshing smell of lemon and orange too. You may see lot of my recipes with lemon, lime or orange juice or zest.
There are more and if I start listing, that's not going to end.
Is homemade apple chips totally worth the time ?. Thumps up from me. Apple chips are a little expensive to buy. Also you can make apple chips with any flavor you like. And as usual, you know what you are eating. After all, it's not that much hard work. The inactive time is more while making this crispy chips.
How long they will stay fresh? I don't know. Our homemade apple chips never lasted more than a day. Yes, we are apple obsessed family 😉 If you are like my family, go make these crunchy apple chips before the apple season is gone….
Happy Cooking