Now a day's, we are getting lots of papaya fruit since there are 4 papaya trees planted around the house. So why not make something different using them. So why not make a ladoo. After all the papaya has a perfect color to make a laddu. You can call it a fruit truffle too.
When I got a lot of papaya, my neighbour asked me to try halwa. I tried but didn't go well with the family. So I gave a small makeover to the halwa and made it into a delicious ladoo. And that was finished in half an hour.
We make pumpkin halwa (mathanga vilayichath) using the same ingredients. For sweetness, we usually use jaggery, but in this recipe sugar is used. The papaya used is a variety called red lady, which has an intense red – orange color when completely ripe. But we can make it with any variety of papaya. The color may be different depending on the type of papaya used.
The fried parboiled red rice (Kerala matta rice) is used to give it a delicious and interesting palate which makes you doubt about the presence of papaya in the ladoo.  By the way no oil used to make the fruit truffle. Now moving to the recipe:
Papaya Ladoo (Laddu) / Papaya Fruit Truffles
Papaya Ladoo / Papaya Fruit Truffles
Papaya ladoo, a delicious and colorful fruit truffle made with papaya, rice and sugar. The recipe is completely oil-free. No artificial colors used.
Course:
Dessert, Snacks, Sweet
Ingredients
1/2

cup

Red Parboiled Rice

or as needed

5-6

Cardamom seeds

4

cups

of Papaya pulp

1/2

cup

Sugar
Instructions
Wash the rice 3 to 4 times. Heat a pan and dry fry the rice with stirring for 10-15 minutes or until they starts to pop up (looks some what like popcorn). Add cardamom to the rice and mix well.

Now remove from heat and let it cool.

When completely cooled, Grind well in a mixer to make a fine flour. Transfer this to a bowl.

Now cook the papaya pulp on medium low heat until the water is evaporated and the pulp is reduced to half.

Add the sugar. Mix and cook to make a thick sticky pulp. Remove from heat and let it cool.

Add the fried rice flour a little at a time with the papaya pulp and mix. Don't make it too dry or too watery. Knead well to incorporate and make a ball.

Make them into small balls. The ladoo (truffles) is ready. Enjoy.
Recipe Notes
The quantity of red rice depends on the water content in the cooked papaya. If the water content is less you need less rice flour and vice versa. You can make the flour in large quantities and store for later.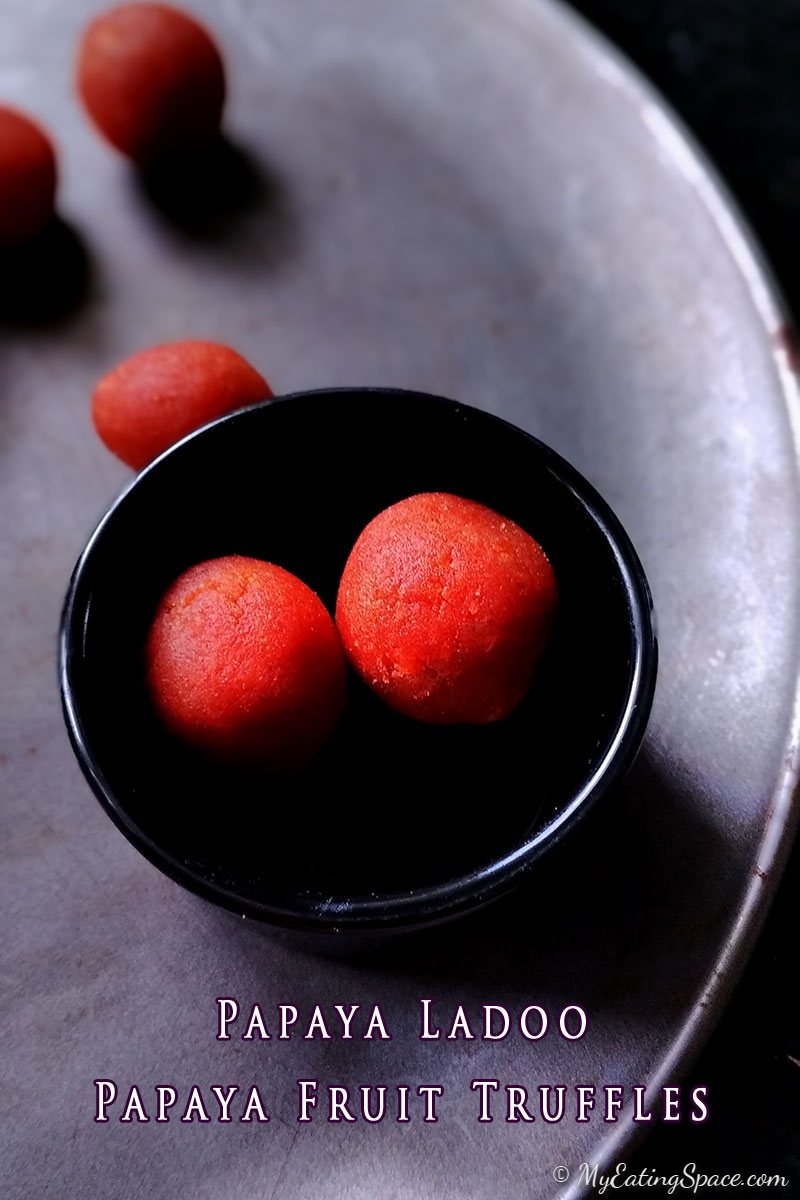 Eating raw papaya fruit does more good. But when you have more fruit and can't eat that much, the only choice left is to preserve them for later or simply make some other delicious dishes with them. The red parboiled rice used is the same one we used to make thamukku.  Do try the papaya ladoo.
Happy Cooking