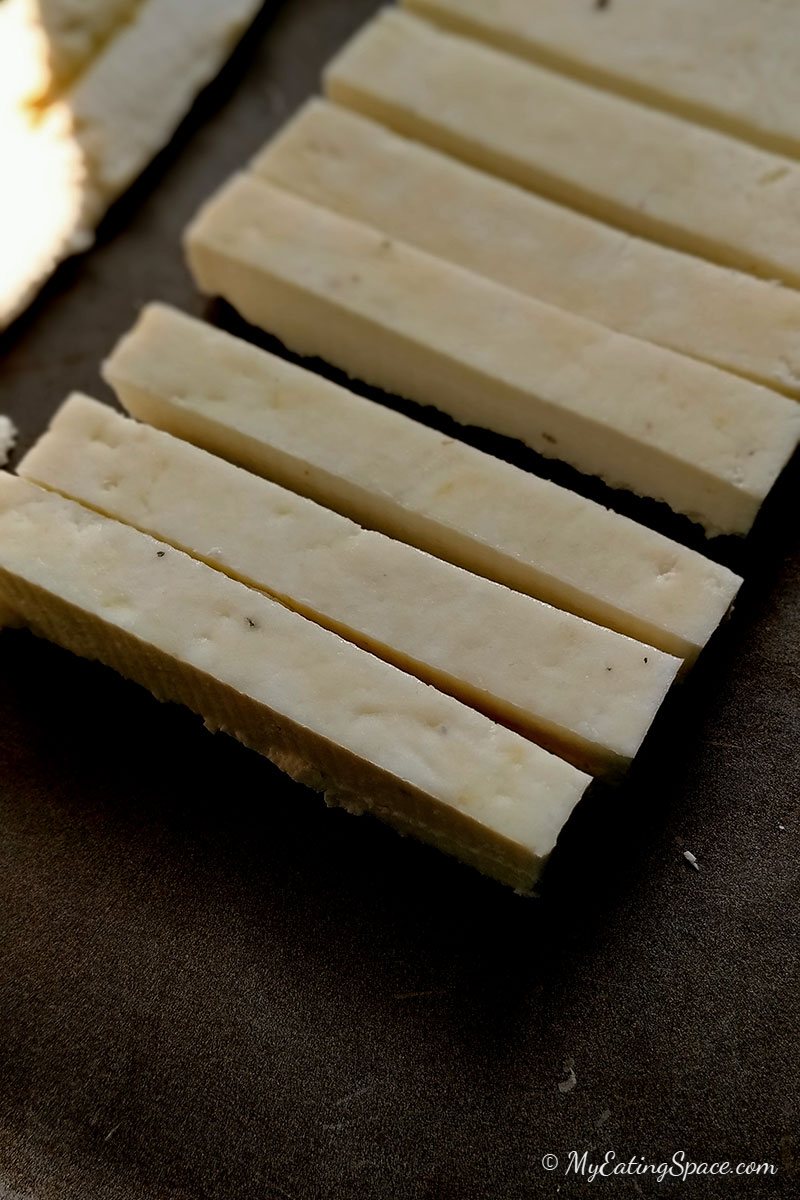 Paneer – the fresh Indian cheese made at home makes a lot difference. As I told in the last recipe post, I was never fond of this cheese. I tried it for the paneer lovers in family. After the experiment of homemade cottage cheese, I also became addicted to this freshly made Indian cottage cheese.
Paneer or the Indian cottage cheese may look like mozzarella cheese but are never the same. Unlike the mozzarella cheese, cottage cheese is non-melting. It is an unaged cheese made by curdling milk. Since it is an acid-set cheese, we can use lemon juice, vinegar or curd (sour yogurt) to make it. Before jumping to the recipe, there are some important things we should know about paneer making.
Paneer
Paneer is a solid fresh cheese made from milk, also known as Indian cottage cheese. There are many stories about the origin of the cheese. Wherever and however be it's origin, paneer is now an inseparable part of Indian cuisine. The distinct characteristics of the cheese which makes it an important part of Indian food culture are
it's soft and chewy
non-melting
unripened or unaged
mild acidic in flavor
rich in protein, fat, calcium,minerals and vitamins
easily made by acid coagulation of milk
Indian Cottage cheese is made by acid coagulation of milk proteins to curd. Studies say that during this process, large clumps of protein are formed in which fat and other dissolved solids get trapped.
Always Make the Paneer Perfect
The steps in making the cheese are :
heating the milk
add acid coagulant to hot milk
removal of whey
pressing the solid curd to remove excess moisture
Homemade version of paneer is great compared to store ones. But making perfect paneer at home depends on several factors like milk, coagulants, heat and moisture content. The quality and quantity of cheese also depends on these factors. Let's have a look at how these factors contribute to paneer making.
Milk

Any milk can be used to make paneer. That includes buffalo milk, cow milk, a mix of both, sheep or goat milk. Quality of cheese depends on the type of milk. Usually buffalo or cow milk is used to make paneer. Buffalo milk contains higher amount of solid fats compared to cow milk which makes it more preferred for paneer. Also, buffalo milk makes a firm and spongy body while cow milk makes a soft and spongy texture.  Anyways, I use cow's milk since it is easily available for me.

The yield of cheese depends on the composition of milk used. Studies say composition of milk changes with season.The milk produced during winter contains less water and gives a high yield and milk we get in rainy season has more water content and less yield.
Heat

To get a good paneer, the milk should be boiled to 85 – 90 degree celcius. Then it should be cooled to 70 degree celcius to add the acid coagulant. The coagulation temperature is said to influence the moisture content, fat and yield of the cheese.

But most of the homemakers do not have a thermometer to measure the exact temperature. I don't have one and what I do is bring the milk to just boil, reduce the heat to lowest and cook with stirring for 2 minutes and then add the coagulant. This may not give 100% yield, but I was never disappointed. After all, it's homemade paneer.

Coagulant

Citric acid is used as acid coagulant in Commercial paneer making. At home, we can use lemon (or lime) juice, vinegar, fermented milk products like (yogurt or sour curd, buttermilk) and sour/ cultured whey. Low acid strength results in a soft cheese with smooth texture. High acid strength makes the cheese hard and firm which is desirable. Citric acid has the high acid strength and hence is used commercially.

I have made paneer using lemon juice, orange juice, vinegar and sour curd. Among them, lemon juice gave the most delicious flavored cheese with good quanity. When I tried same quantity of orange juice as coagulant, curdling did not happen completely. Then I had to add a little vinegar again for curdling which again gave me a mild flavored cheese. When vinegar alone is used as coagulant, the cheese texture was good, but was a little dry compared to the one with lemon juice. Again that never felt like a problem when it comes to homemade. Sour curd as coagulant didn't go well for me. The cheese was very smooth texture and soft body. This is because of the low acid strength of curd.

Moisture

Moisture content of paneer is another important factor. If the moisture content is low, the cheese will be too hard.  But homemade paneer usually don't face this problem. High moisture content results in a very soft paneer. Delay in straining or low coagulation temperature may result in high moisture content. The allowed moisture content for paneer is said to be a maximum of 60% in commercial productions. Paneer is an easily perishable product. The freshness remains intact only for 3-4 days. The high moisture content of the cheese in a humid condition for long time results in a speedy mold growth also.

Pressure

Applying the right pressure, helps in maintaining the exact moisture content in paneer. This helps in a perfect texture, body and shape of paneer. If the applied pressure is more, moisture content may be less and makes the body too hard. If the pressure applied is not enough, it may contain more water content which makes the cheese soft.
So these are some of the most important things to be taken care of while making Indian cottage cheese. Don't get confused reading all this and don't think it's difficult process. I mentioned all these here so that even it went wrong, you can try to figure out what the mistake is. This is one of the easiest cheese you can make at home. Mistakes can happen when you make it for the first time or second time, but not every time. Or you may be lucky to make it right for the first time.
Now let us see the cheese making process.
Homemade Paneer – Indian Cottage Cheese
How to make Paneer at Home - Indian Cottage Cheese
Ingredients
2

litre

Full Fat Milk

2-3

tbsp

Lemon Juice or Vinegar
Instructions
Squeeze the lemon juice, remove the seeds and keep aside

Place a colander or strainer over a large vessel so that you can collect the whey (liquid left over after milk curdling). Line the strainer with a muslin or cheese cloth.

In a large vessel, bring the milk to a boil on medium heat with occasional stirring.

Once the milk comes to boil, reduce the heat to low. Add lemon juice or vinegar to the boiling milk with stirring. Stir until the milk curds completely. If you don't see the curdling, add more lemon juice or vinegar. Switch off the heat. Let it sit for 3-5 minutes.

Strain the curdled milk through the cheese cloth. Remove the vessel with whey and keep aside. Wash the milk curds in cold water to remove the lemon or vinegar flavor.

Gather and twist the cloth to form a ball. Squeeze the excess water from the cheese.

Place the cheese cloth with paneer on the colander. Place a 2 kg weight on top of this to remove excess moisture and set the paneer. Let it rest for 2 to 3 hours.

After 3 hours, remove the weight. Unwrap the cloth. Cut them into small cubes to use.

If you are not going to use it then, You can wrap the paneer block with a plastic wrap or make it into cubes and refrigerate for 3-4 days. Use it within 4 days.
Forgot to mention the importance of whey above. Please don't throw away this left over protein packed liquid. You can make good use of it by adding it to bread, chapathi, gravy or soups.
So this how you make Indian cottage cheese at home. You can also flavor the cheese by adding any herbs like oregano, parsley, basil etc. The above one is flavored with oregano. These small, rubbery, tasteless cheese cubes makes delicious mouth watering dishes when paired with the Indian spicy gravy. There are a lots of  authentic Indian recipes that use Paneer.
Do try the Paneer Biryani recipe from the blog.
Happy Cooking

Other Recipes with Milk: