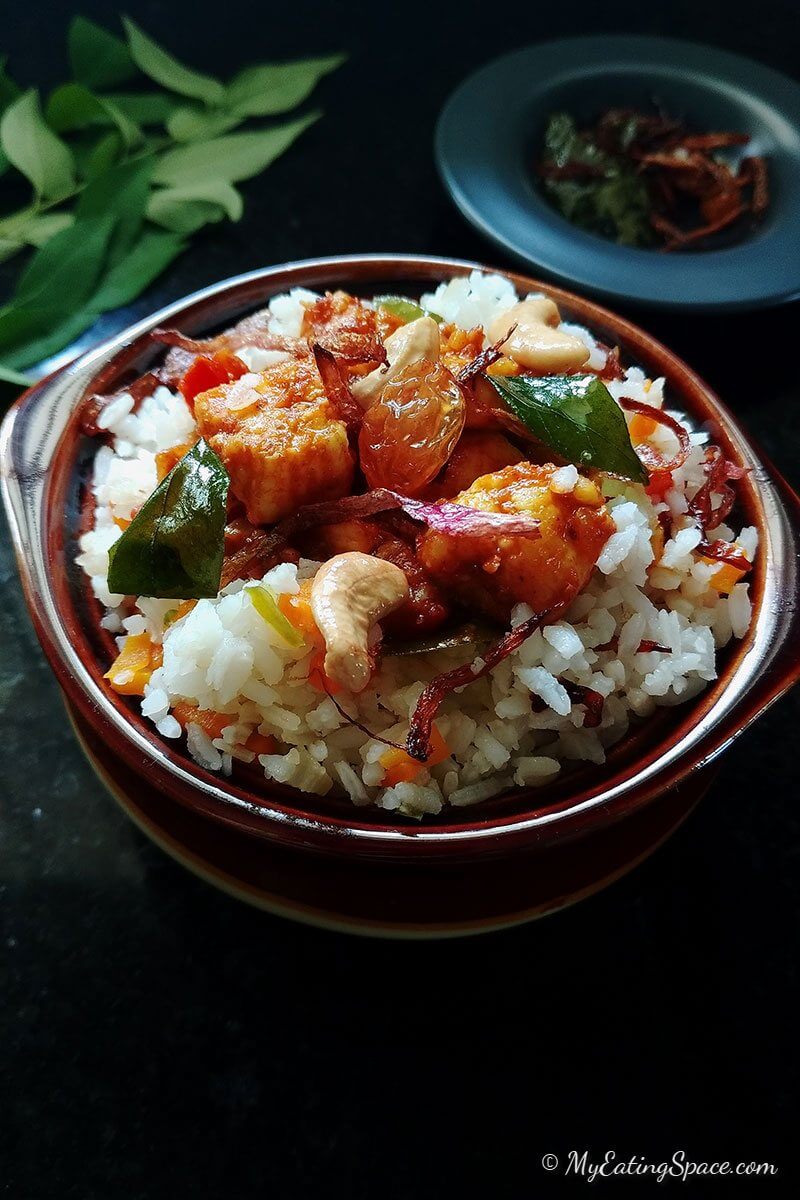 Paneer Biryani is the new favorite of the family. This will be one of the easiest vegetable biriyani you will make. In this biryani, I used homemade paneer and this is the first paneer recipe on the blog.  This is an incredibly easy flavorful biryani recipe and you will love this if you are a faithful biryani lover.
I was not a paneer lover until this recipe. The two boys in the family are huge Biryani lovers. They love paneer too. So I decided to try paneer biryani for them since we were on the lent before Easter and was not supposed to eat any non-vegetarian. Otherwise we used to make Beef Biryani or Chicken Biryani usually. And on the veg side we often choose Gobi Manjurian with Vegetable Pulav. Even though I don't like paneer, I decided to give it a try for the foodie boys  and that came out really delicious.
And this Easter, although the lent was over, we were not able to go out due to covid-19 pandemic lock down. We chose to go for meatless Easter in 2020. We made Paneer Biryani with fresh homemade paneer that too with orange flavor. Let's see the paneer biriyani recipe we made this Easter.
Paneer Biryani
Paneer Biryani
Ingredients
For Paneer Gravy
2

Dry Red Chilly

1/4

tbsp

Coriander seed

2

tsp

Fennel seed

1

tsp

Black Peppercorns

1/2

tsp

Fenugreek seeds

(methi seed)

4

Cloves

1/2

inch

Cinnamon piece

5

Garlic cloves,

peeled

1

tbsp

Ginger

, chopped

2

Tomatoes

2

sprigs

of Curry leaf

1

tsp

Orange zest

2

tbsp

Ghee or Oil

400

grams

Paneer,

Cubed

1

Onion,

finely chopped

1/2

tsp

Turmeric powder

1/2

tsp

Red chilly powder

1

tbsp

Curd

1/2

cup

Hot Water

Salt to taste
For Biryani
2

cups

Jeera Rice

(or Basmathi Rice)

6-7

cloves

2

1 inch Cinnamon pieces

1

tbsp

Fennel seed

2

Cardamom

Crushed

8

cups

of Water

Salt

as needed

2

tbsp

Oil or Ghee

2

tbsp

Cashew

1

tbsp

Raisins

1

Onion,

thinly sliced

2

tbsp

Ginger-Garlic paste

Finely Chopped

1

Onion,

finely chopped

1

Carrot,

finely chopped

1/2

cup

Capsicum,

finely chopped

1/2

cup

Green Peas

Salt as needed

1/4

cup

Hot Water
Instructions
Paneer Gravy
Dry Roast the red chilly, coriander seed, fennel seed, black pepper, fenugreek, cloves and cinnamon for 1- 2 minutes or until you can smell the fragrance of the spices . Transfer it to a grinder.

Add garlic, ginger, tomatoes, orange zest and a sprig of curry leaf into this. Grind the mixture to a smooth paste. Keep aside.

Heat oil or ghee in a pan. Fry the paneer cubes by flipping the sides until all sides are golden brown. Then remove the cubes from oil. Keep aside.

To the same oil, add the chopped onions. Cook until translucent. Add the turmeric powder and red chilly powder. Cook on low flame for a few second.

Add the spicy tomato paste into the pan. Stir cook on low flame for a minute. Then add curd and mix well.

Now add hot water and salt. Mix well and cook on medium heat.until the gravy is thick but not dry. Add the roasted paneer cubes into the gravy. Mix well to cover all the paneer in gravy.

Switch off the flame and add some fresh curry leaves into the curry. Cover and keep aside.

Now the paneer gravy is ready.
For Vegetable Biryani
Wash the rice in cold water. Add water to a large vessel. Add the rice, salt, cloves, cinnamon, fennel seed and cardamom. Mix well. Cook until the rice is cooked.

Strain the rice and keep aside.

Heat oil or ghee in a pan. Fry the cashews and raisins. Strain from oil and keep aside.

In the same oil, stir fry the thin sliced onions until crisp and golden brown. Do this on medium-low heat or the onions will burn. Strain the fried onions and keep aside.

To the same oil, add ginger-garlic paste and cook for a minute in low flame. Add the chopped onion, carrot, capsicum, green peas and salt as needed. Stir cook on medium heat for 2 minutes.

Now reduce the heat to low. Add half of the cooked rice.Then add half of the fried cashews, raisins and fried onions. Mix gently. Repeat the process with remaining rice, cashew, raisin and onion. Mix to spread the veggies equally.

Mix the hot water with a pinch of salt. Add this to the biryani. Cover and cook on low heat for 4-5 minutes.

The biryani is ready. You can serve paneer and rice separately or by mixing. Serve hot and enjoy.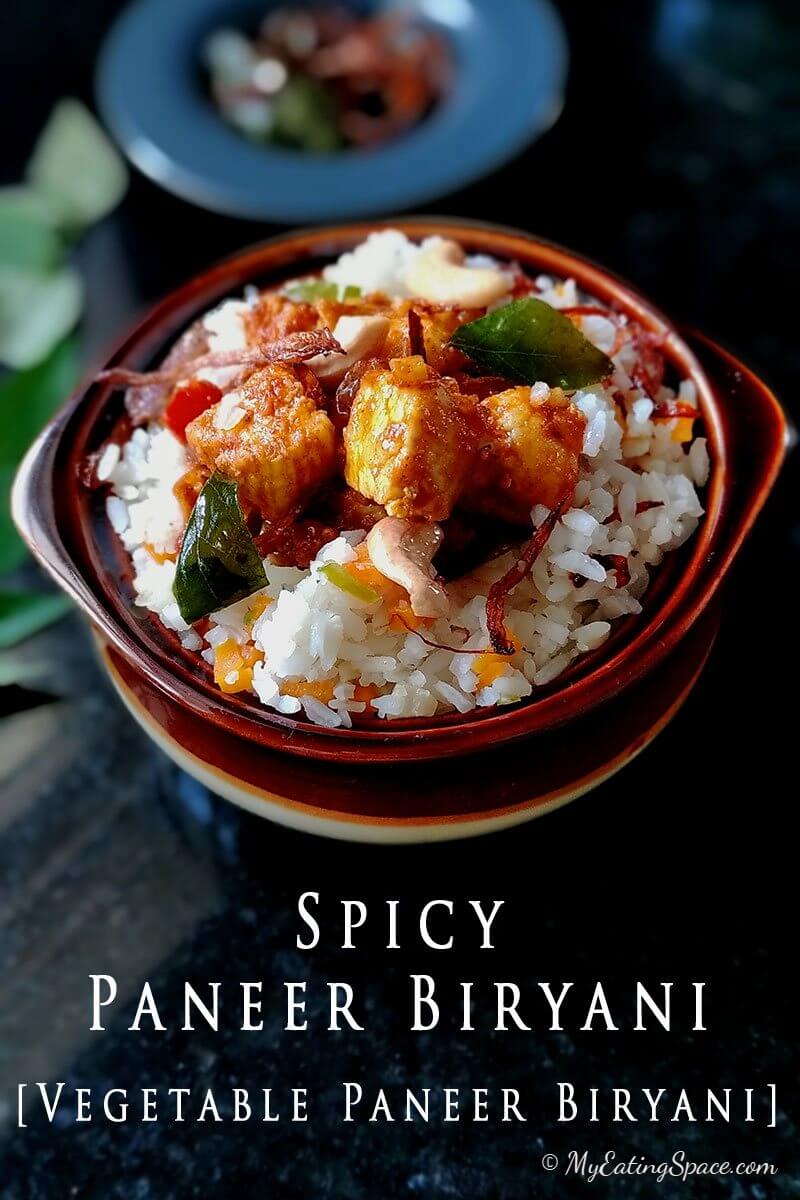 I used homemade paneer for the biryani. But store bought paneers are equally good. This is a complete meal and ideal for all espescially vegetarians.
Happy Cooking

Other Rice Recipes​