The best and delicious method of cooking corn on the cob is butter bath. You may  know many ways to cook the corn on the cob. But butter bath corn is another level recipe. Just thinking about cooking the ears of corn immersed in milk and butter itself is luscious.
Steamed corn cobs are famous among the street foods of India and they are delicious with and without seasoning. But we are making a more impressive version of the corns with the butter bath and seasonings. And it will take a maximum of 10 minutes to prepare it.
The milk-butter bath gives it a sweet flavor and tender texture. The seasoning can be of your choice. Some options from my side are Italian seasoning, lemon, mint and basil, parsley -paprika, or with Indian masala powder. The options are endless and you can experiment with your imagination when it comes to flavoring.
The butter bathed corn is supposed to be served hot. The corn when taken out from the bath will dry out fast. So it is better to take it hot.
Butter Bath Corn on the Cob
Butter Bath Corn On the Cob
A more delicious, flavorful and soft corn on the cob recipe that can be prepared in 10 minutes.
Ingredients
2

cups

Water

2

Ears of Corn, (silk and the husk removed)

1

cup

Milk

3-4

tbsp

Butter

1

tsp

Chicken spice powder (masala powder)

Salt to taste
Instructions
Wash the corn ears and keep aside.

Bring water to a boil in a large vessel.

Add milk and butter and corn to the boiling water.

Simmer and cook for 8-10 minutes.

Switch off the heat. Carefully remove the corn from the butter bath using tongs.

Spread the corn with some salt and the masala powder or any seasoning of choice.
Recipe Notes
The corn will be cooked perfectly to soft and tender within 8-10 minutes.
Always serve the boiled corn ears hot to enjoy the real flavor.
Tastes great with and without additional seasonings.
The seasonings can be of your choice.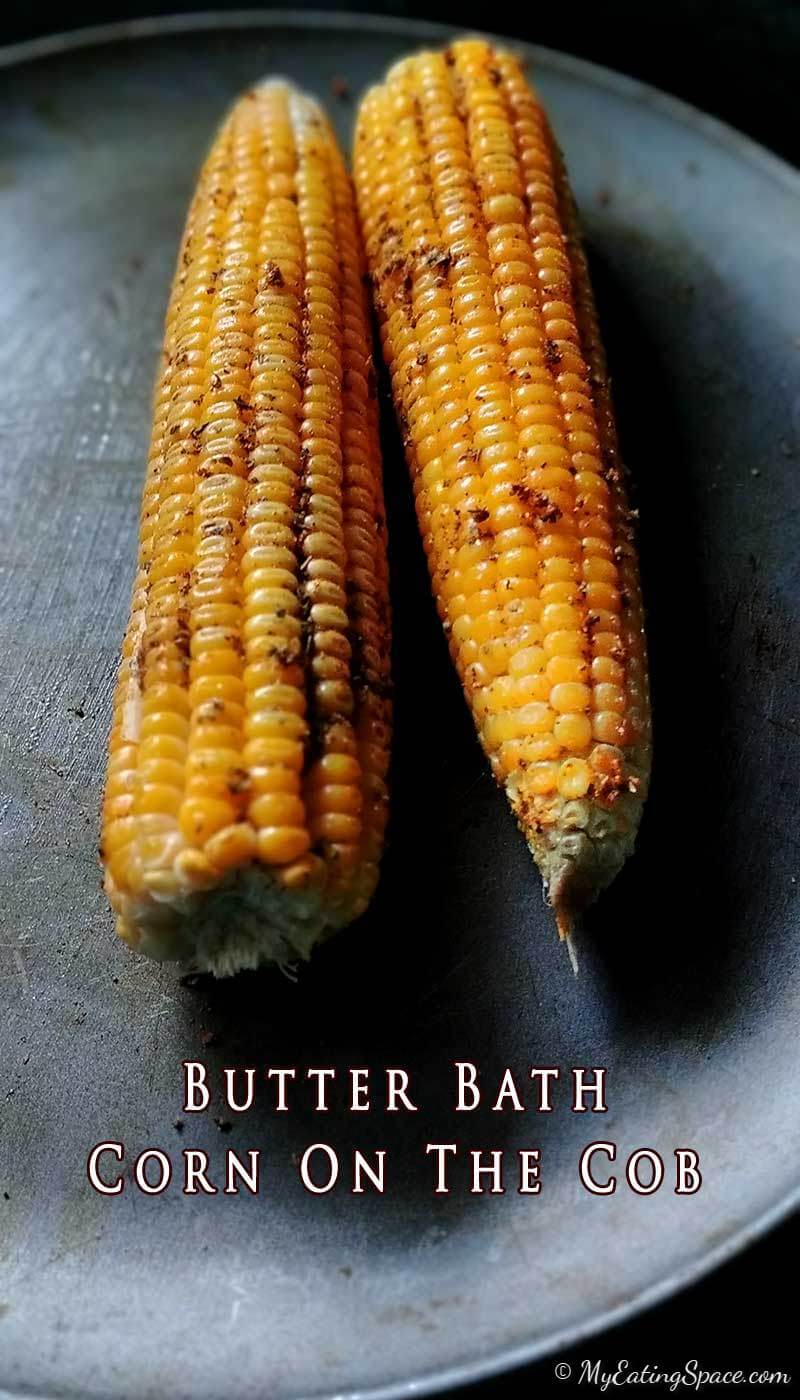 Once you make the butter bath corn ears, this will always be in your menu. In whatever way you make, the dish always come great. Experiment with the flavors and I promise this is worth trying.
Happy Cooking

Other Recipes (Butter)