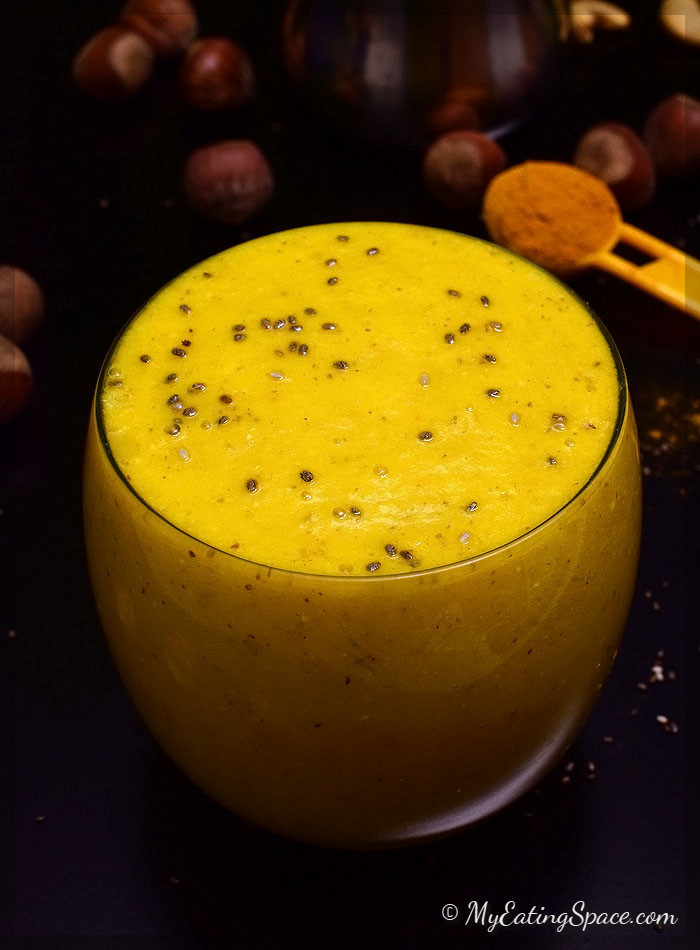 Turmeric has been my best companion in spices from the time I started cooking. Every dish in Kerala will definitely have a small amount of turmeric in it. They look exactly same like ginger from outside, but once you peel it, they are bright yellow in color. We even have orange-yellow shaded turmeric grown in our backyard. Although used as a spice in many curries, I was a little skeptical of using it in drinks. This turmeric anti-inflammatory drink recipe from Cooking Light cleared all my doubts. But as their title said, the drink was not at all gritty. I made minute changes in the recipe as well.
Turmeric has been there as a staple ingredient in Indian culinary culture always. But suddenly it's getting a lot of attention as the research says the active compound in turmeric – curcumin –  has great anti-inflammatory properties. Think like oranges for vitamin C and turmeric for curcumin. The health benefits of turmeric are endless. So we made a fruity nutty turmeric anti-inflammatory drink that can be enjoyed like a healthy smoothie.
 Long before it became a research topic or a popular supplement, turmeric has been used in traditional Indian medicine, Ayurveda. I came to know about the endless benefits of curcumin while doing my master's in Chemistry. I choose my project topic to be curcumin and as part of it gathered a lot of information related to it. Unfortunately I couldn't do the project as my college laboratory didn't have the proper instruments for supporting the topic.
But I was fortunate  to get introduced to an entirely different healthy side of curcumin and turmeric, the spice I was addicted to and has been using for years. Taking all those information into consideration, this turmeric anti-inflammatory drink will be a nutritious addition to my food cravings. I hope this smoothie like drink will become your favorite too.
Fruit Turmeric Anti-inflammatory Drink
Fruit Turmeric Anti-inflammatory Drink
A bright colored and yummy turmeric anti-inflammatory drink made with fruits and nuts. Add any fruits you like and make this medicinal drink more enjoyed.
Ingredients
1

cup

ripe Mangoes

peeled and diced

7

Dates

pitted

¼

cup

toasted Hazelnut

chopped

1

cup

fresh Orange juice

with or without pulp

½

cup

Plain Yogurt

½

tsp

Turmeric powder

Pinch of Salt

1

tbsp

Chia seed
Instructions
Place the mangoes, orange juice, dates and hazelnuts in a blender. Process until smooth and well combined.

Add yogurt, turmeric powder and salt into the blender. Blend again to a smooth and well mixed drink.

Divide the smoothie into 2 glasses. Sprinkle with chia seed and mix well.

Enjoy a nutritious anti-inflammatory drink.
Recipe Notes
Sweetener is optional. If using, any sweetener can be added.
Add ice cubes during the initial blending for a chilled drink.
If using fresh orange, make sure to remove the rind and the white membrane covering the pulp to avoid a bitter tasting drink.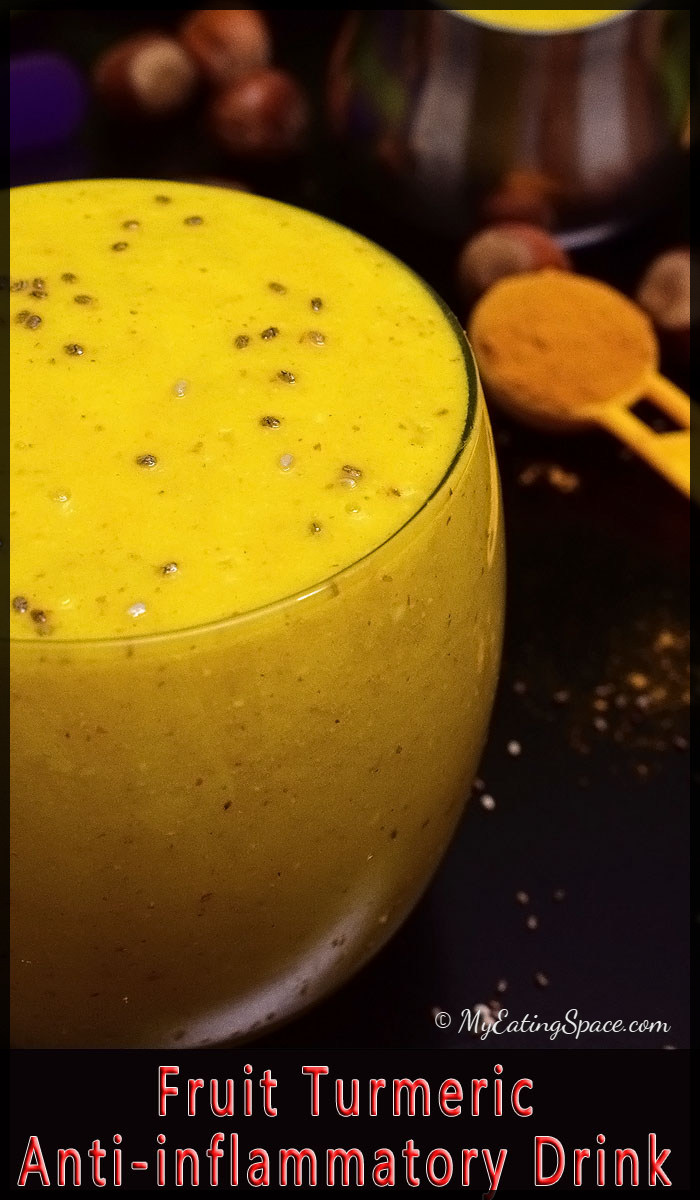 If the mangoes, dates and oranges are sweet and if you don't feel like adding a sweetener, don't use it. But if you need one, add whatever you like. You can add sugar, honey, maple syrup, Stevia extract, agave nectar or anything you like. The turmeric is also now shown to slow down the risk of dementia. Of course, they can be called a brain food. Seems like, turmeric is a pharmacy in itself.
Some other recipes using turmeric:
   Sauteed Beet green and Kale
   Pulissery / Spiced Buttermilk with Coconut
   Spicy Kerala Style Beef Curry
  Baked Fish Biryani – Dum Biryani
Happy Cooking