Stir-fries are the easiest side dishes you can ever make. They are my best go-to sides on busy days. The brain needs a very little or no work at all, thinking of what should be made. Just change the main ingredient, the vegetable, in the previous day's stir-fry recipe and you are good to go. Every veggie has it's own taste and so the stir-fries will also taste different even though all other ingredients are same. So today we are sharing the recipe for tomatillo broccoli stir-fry with coconut.
I know, it's been mentioned in earlier posts. Just in case, if you are new here, the stir-fries made with coconut are called 'thoran' in Kerala (that's my native). I had already shared the recipe without coconut. Today's stir-fry recipe is a combination of tomatillo, broccoli and coconut.
My husband is addicted to broccoli that even if I make very little or too much of it, he will finish in seconds. Now the little one also do the same. Like father, like son 🙂 Thank God, both of them are broccoli addicts. What could a mom wish more for? My son loves broccoli !! yayyyy….
Broccoli is rich in vitamin C with anti-inflammatory property. Over-cooking destroys the real flavor of broccoli stir-fry which I had done many times. Just 2-3 minutes on high heat is more than enough for broccoli to get cooked. The broccoli stem is also edible. So don't ever miss out on this wonderful veggie from cabbage family.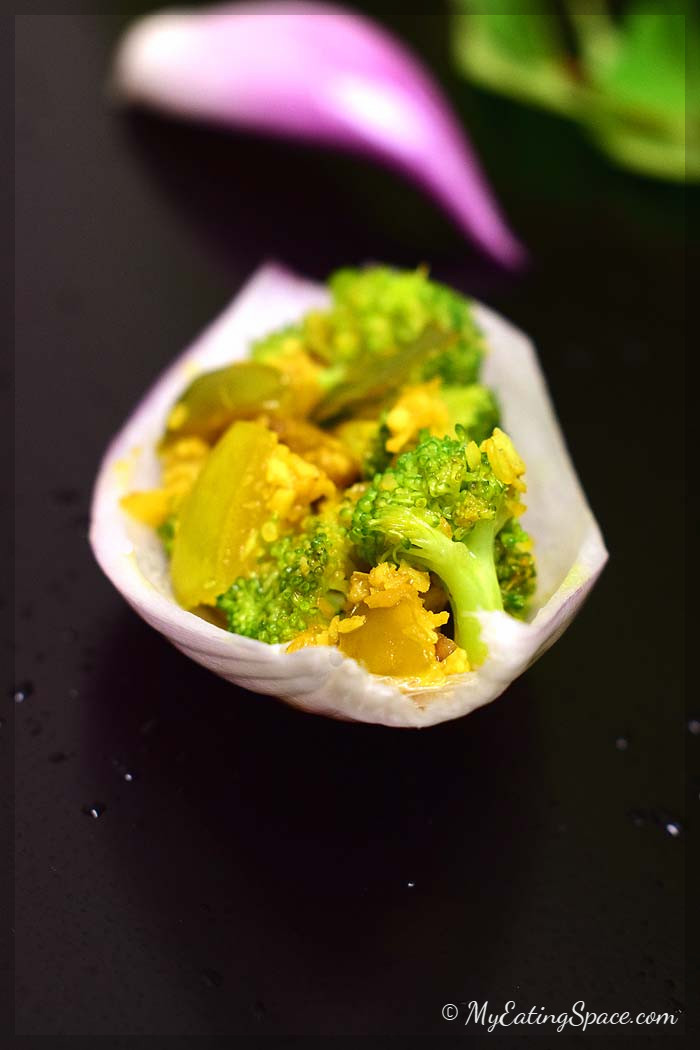 Let's move on to another main ingredient in the stir-fry, Tomatillo also known as Mexican husk tomato. They are natives to Mexico and are called 'tomate verde' meaning green tomato. Tomatillos are a good source of dietary fiber and vitamin C. They are very tart compared to red tomatoes. So use very little to meet your taste. I used just one tomatillo to make the tomatillo broccoli stir-fry. The husks covering the tomatillo are inedible. Remove them before using.
Let's dig in the recipe now;
Tomatillo Coconut Broccoli Stir-fry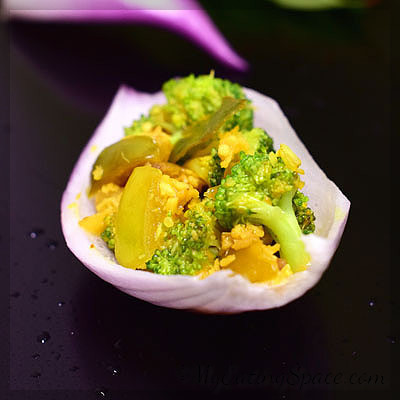 Tomatillo Coconut Broccoli Stir-fry
Another broccoli stir-fry recipe with tomatillo and coconut. They taste great. Let's make some healthy choices on sides that are highly flexible.
Ingredients
1

Tomatillo

chopped

1

lb

Broccoli

including stem

1

tbsp

Cooking oil

3

Garlic cloves

finely chopped

½

cup

Onion

chopped

2

Green chili

Sliced

3-4

Curry leaves

optional

½

tsp

Turmeric powder

¼

cup

fresh shredded Coconut

Salt to taste
Instructions
Separate the broccoli florets. Chop the stem part also. Wash them in cold water.

Heat oil in a pan.

Saute garlic and onion on medium heat until onions are translucent.

Stir in the green chili, curry leaves and turmeric powder. Cook for 1 minute.

Add coconut and cook on medium heat until the raw taste is gone (~1 minute).

Now add the tomatillo, broccoli florets and stem. Add salt to taste.

Stir well and cook for 2-3 minutes on medium-high heat.

Remove from heat. Serve hot.
Recipe Notes
The broccoli flavor and nutrition is destroyed when over-cooked.
Tomatillo is very tart. Use as per your taste.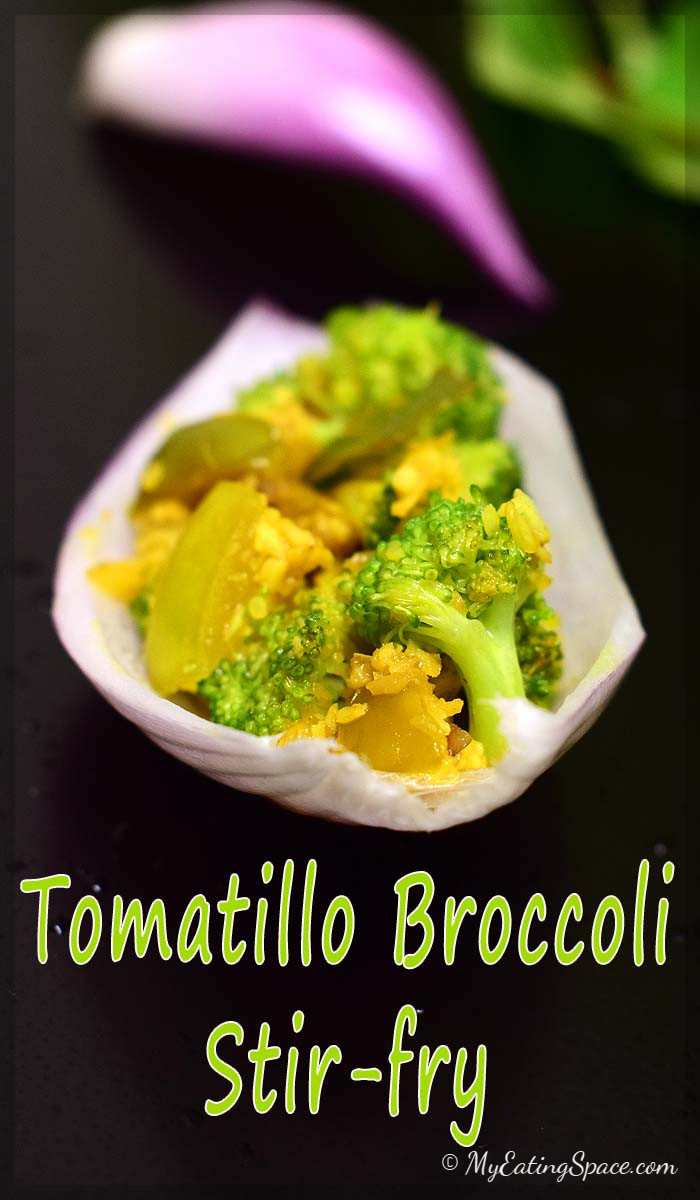 Try our other recipes with coconut too…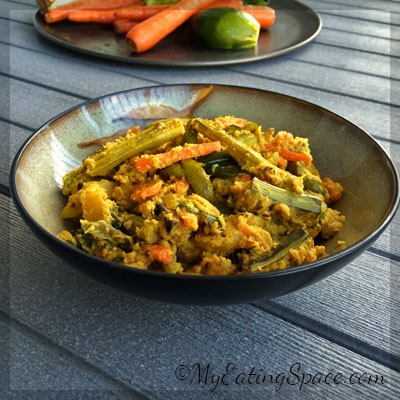 Mixed Vegetables with Coconut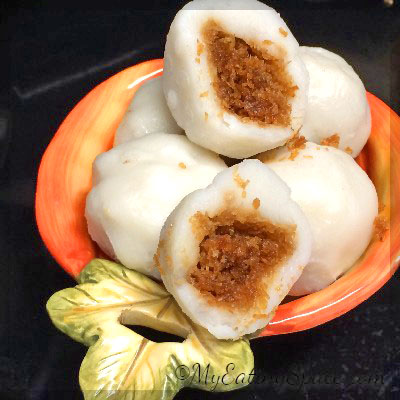 Gluten-free Coconut Stuffed Dumplings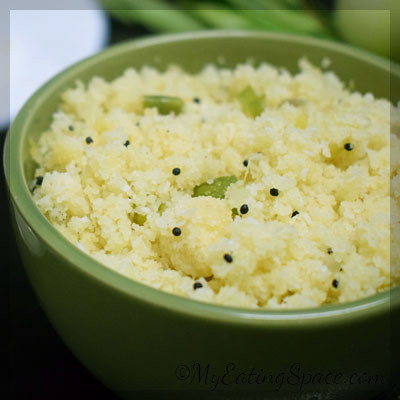 Easy Semolina Upma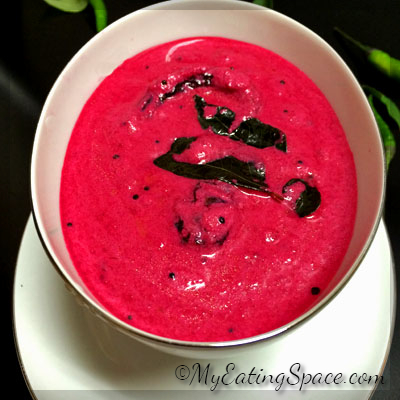 Beetroot Sauce
Happy Cooking