A 4 ingredient vegan avocado smoothie that everyone can enjoy!!! All of us love to have a nutritious and refreshing breakfast everyday. But we are very busy that we don't have enough time to make one and usually end up eating bread toasted with butter, milk and cereals – everyday for breakfast. I mean you can have them for breakfast if you like that, but everyday ? I can't even imagine chewing on those bread toast everyday. And here comes the solution. Make smoothies with any fruits and veggies you like.
The variations and possibilities are endless when it comes to smoothies and juices. Now that avocados are back in season, we got a lot of them fresh from Aldi  for a very low price. And guess what…. we are making different vegan avocado smoothies everyday and love it. We don't feel like having drinking the same flavor any more since we are adding different fruits or veggies with avocados each day. This also help us meet our daily serving requirement of fruits and vegetables. We can make a rainbow of smoothies with all the colorful ingredients nature has bestowed upon.
For this avocado smoothie, we chose tomatoes and orange, two fruits with many nutritious benefits. This vegan avocado smoothie makes a wholesome breakfast, a replacement for your evening tea (coffee) or even a healthy and creamy dessert. Unlike the other smoothies, avocado smoothies make us feel full until lunch time because of the healthy fat in it.
So let's make good, healthy choices when it comes to food. Swap your carbonated drinks and artificial juices with fresh and homemade smoothies and juices at least once a day. This will make a huge difference in your healthy living dream. Now let's make the smoothie;
Tomato Orange Vegan Avocado Smoothie
Tomato Orange Vegan Avocado Smoothie
A delicious, creamy and nutritious avocado smoothie that can be your breakfast, lunch, snack, dinner or dessert. The smoothie is vegan and gluten-free.

Ingredients
1

Avocado

peeled and pitted

1

Tomato

diced

5

Oranges

1/2

cup

Water

Sweetener

as needed
Instructions
Peel the oranges, remove the white membrane surrounding the pulp and seeds (if any) to avoid a bitter tasting smoothie.

Place all ingredients in the blender. Blend until smooth and creamy.

Pour them into serving glass. Enjoy.
Recipe Notes
Use any sweeteners like honey, sugar, maple syrup, agave nectar, molasses, jaggery syrup, stevia. Choice is yours.
Any variety of Orange can be used.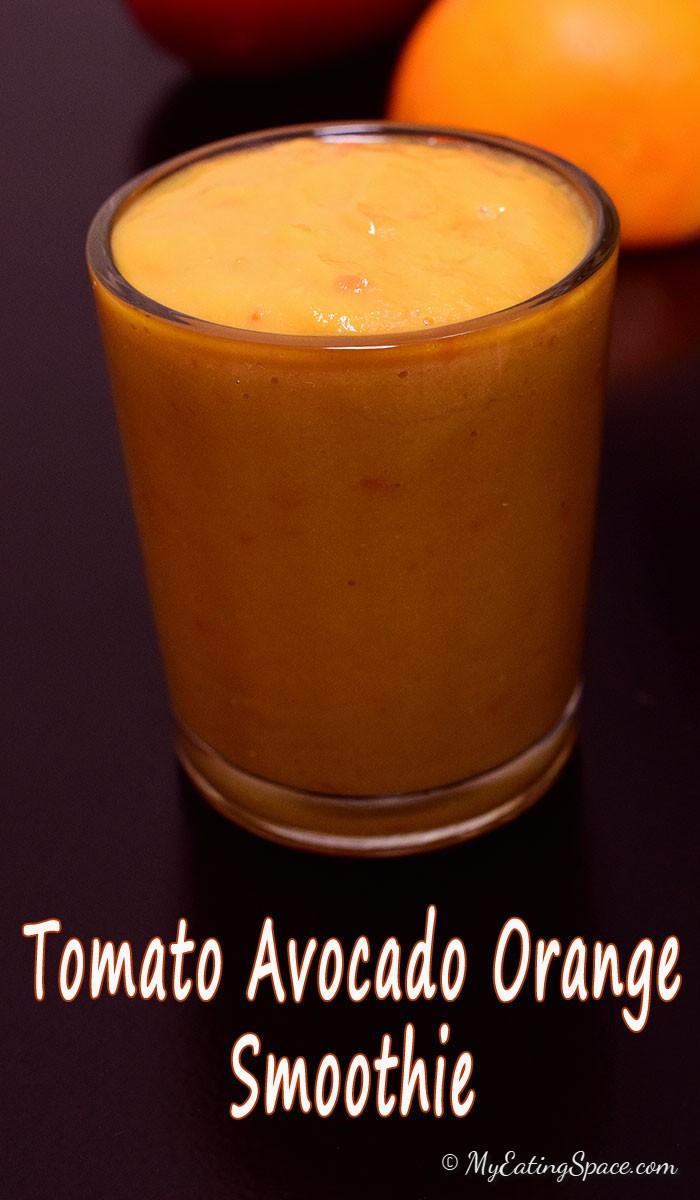 Other must try vegan avocado smoothies;
Happy Cooking