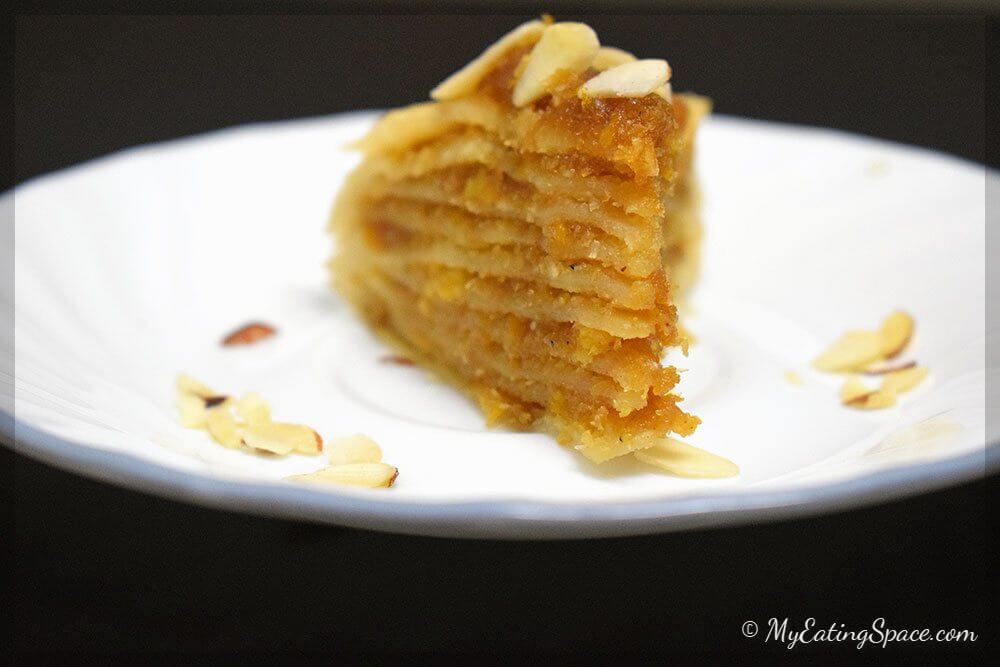 We are completing our 100th recipe today with this post. This milestone is definitely worth a treat. And vegan crepe cake is the delicious recipe I am sharing with you today for being with me along my journey. I enjoyed each and every moment of the food blogger journey and hope to continue with the same enthusiasm I had when I started this blog 1 year back. Since I'm a mom of a growing toddler who wants my time and care, I can't post new recipes as often as I would like to. But I promise to share my healthy recipes with you all whenever I can. So stay tuned and a big Thank You from the bottom of my heart ♥
Many of you may have missed or will be missing the classic crepe cake recipe since being vegan. But no worries from now. We are going to make the simple and gorgeous vegan crepe cake today with the ingredients most kitchen will always have. If you don't have the ingredients right there in the pantry, it is completely worth buying and stocking. Because this is cake is a treat in itself.
This vegan crepe cake is a small makeover of one of the most popular snacks from my childhood, the pancakes amma used to make.We used to call it as pancake rolls. Here we are making it as a crepe cake with egg-free, dairy-free crepes. The layer between the crepes are made with jaggery sweetened coconut and plantain. They are flavored with spices and lemon zest.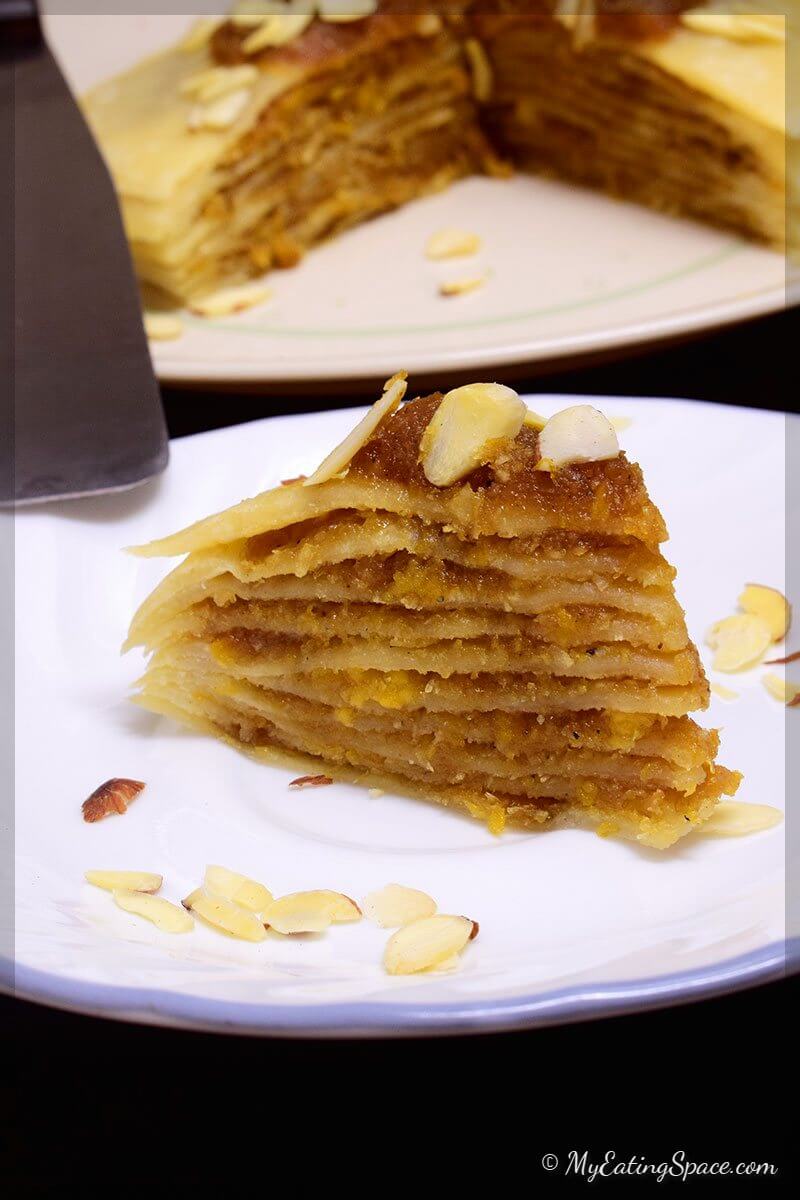 The no-bake vegan crepe cake can be made in 30 minutes. You can make this as a snack, breakfast or as dessert for special occasions. The cake contains almost no fat and refined sugar. The sweetener used is jaggery syrup (recipe here) made from solid jaggery, the unrefined and non-distilled sugar. The crepe batter need just 3 simple ingredients – flour, water and salt. So let's start making the easy, no-bake vegan crepe cake – no egg, butter and milk. Make as many layers as you want and enjoy. Watch our video recipe to see how easily you can make it.
Vegan Crepe Cake
Vegan Crepe Cake with Coconut and Plantain
A no-bake vegan crepe cake also called pancake made within 30 minutes. This cake is a treat in itself. Egg-free, dairy-free dessert to keep.
Course:
Breakfast, Dessert, Snacks
Ingredients
For coconut-plantain filling
⅓

cup

Jaggery Syrup

( recipe link in instructions )

½

cup

shredded Coconut,

unsweetened

⅔

cup

Ripe Plantain,

peeled and chopped

1½

tsp

Lemon Zest,

finely grated

6

Cardamom,

powdered

⅛

tsp

Clove powder,

or 1 clove finely powdered

1

tbsp

almond,

sliced or slivered
For Crepes
2

cups

All purpose flour,

unbleached

2

cups

Water

Salt to taste
Instructions
Preparation of coconut plantain filling
See the recipe for jaggery syrup here.

Mix together jaggery syrup, coconut, plantain and lemon zest in a pan. Cook on medium heat until the mixture is well combined and syrup is absorbed.

Mash the plantains with the back of a spoon or spatula.

Switch off the heat. Add powdered clove and cardamom. Mix well to combine

The filling is ready. Keep aside to cool.
Preparation of Crepes
Combine together the flour, water and salt in a bowl to make a thick batter without lumps.

Heat a griddle or non-stick pan on medium heat.

Pour a ladle of batter on the hot griddle. Spread the batter to make a thin round shaped crepe with the back of the ladle.

Cook for 1 minute or until the crepes are cooked. Flip the crepe and cook again for 30 seconds.

Transfer the crepe to a plate. Continue making crepes with the remaining batter.
Assembling the crepe cake
Place one crepe in the plate. Spread almost 2 tbsp coconut plantain filling on the top.

Then place another crepe on top of the filling. Again spread the filling. Continue this process of layering until all crepes are used.

Finally spread a little filling in the top crepe. Garnish with almonds.
Recipe Notes
Apply oil if using an iron griddle to prevent the crepes from sticking.
Orange zest can also be used instead of lemon zest.
Plantains are optional. You can also make the filling without it if not available. But make sure to replace it with more coconut to have enough filling.
Other Jaggery recipes from My Eating Space:
Once again, Thank you all for Being with me in my blogger journey.
Happy Cooking