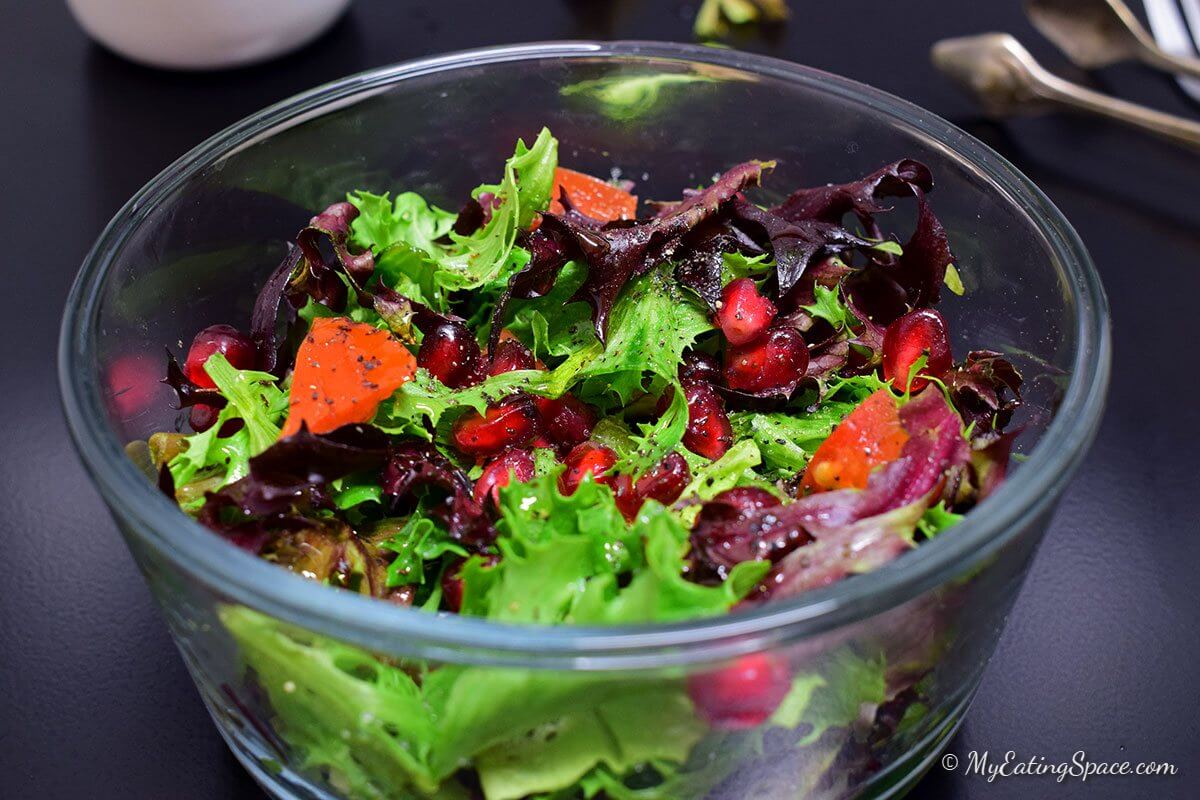 Finally spring is here ♥ ♥ . Spring brings the best and a variety of fresh produce with it. The best way to enjoy the spring produce in the fresh form is lettuce salads. And this green salad is my favorite choice. I said green salad, but exactly it is a combination of four variety lettuces makes this salad taste great.
The most common lettuce used in salads are the Icebergs. But this time I decided to try other varieties of lettuce. And then I found a pack of Artisan lettuces from T&A (Tanimura & Antle) in Aldi. Aldi is the best when it comes to high quality seasonal produce with reasonable price. The pack contains small four whole mature heads of three different lettuce varieties – both green and red – sweet and crisp Gem, mild and nutty Oak, sharp and zesty Tango. This pack is the best combination of leaves for a perfect green salad.
All of them with different flavors make the green salad unique and delightful. I tried each of them in salads, burger and sandwich instead of the regular iceberg lettuce. They were not just good but the best ones I have ever tried.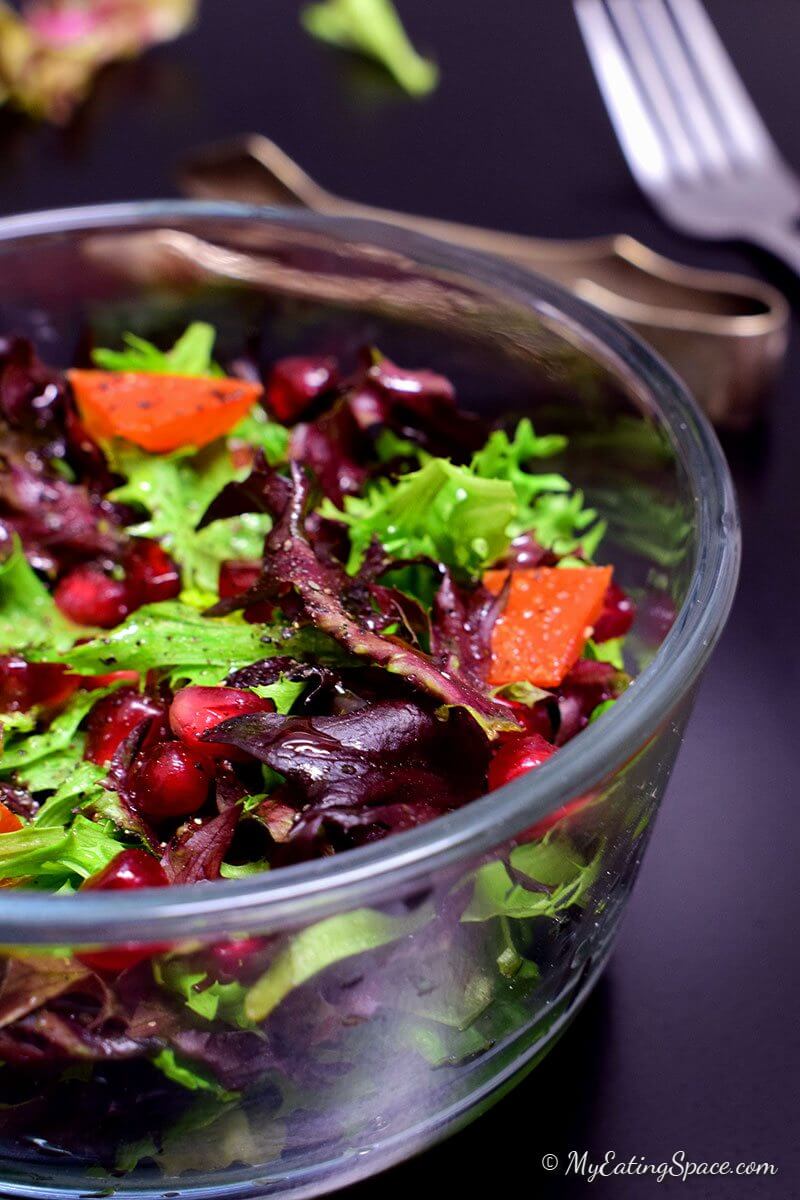 The lettuces are field packed to maintain freshness. For that reason they will have some dirt and soil on them which didn't bother me at all. When I opened the package, the earthy soil smell made me feel like I just plucked it straight from the garden. Not a big deal to wash it prior to serving in cold running water. Also they stayed fresh in my refrigerator for many days.
For an additional flavor and sweetness, I also used pomegranate in the green salad. A complete plant-based (vegan) salad makes any meal feel like spring. They are very low in calories and is good for any diet. Adding more greens to your diet makes your brain younger and work longer. This can be the one of the best brain foods and can be included in MIND diet.
Let's look at the salad recipe now.
Artisan Lettuce Green Salad
Green Salad with Pomegranate
Artisan lettuce salad makes a unique spring flavor. 4 types of lettuce mixed with tomato and pomegranate makes an excellent spring salad. Pure vegan recipe.
Ingredients
1/2

head each

of 2 variety of Green Artisan Lettuce,

leaves torn

1/2

head each

of 2 variety of Red Artisan Lettuce,

leaves torn

1/2

cup

Pomegranate seeds

1

small

Tomato,

diced

2

tbsp

Extra Virgin Olive Oil

1

tsp

Apple cider vinegar

(or any vinegar)

1/2

tsp

Black Pepper Powder

Salt to taste
Instructions
Mix olive oil, vinegar, pepper and salt in a large bowl. Whisk to combine. The vinaigrette is ready. Keep aside.

Toss the lettuce leaves, pomegranate and tomato together.

Dress with the vinaigrette.
Recipe Notes
Try the different lettuce individually or mix the lettuce flavors you like. With four different heads in a clamshell, experiment to your favorite salad.
Wash the leaves before tossing. They contain dirt since field-packed for freshness.
Adjust the seasonings to your taste.
You can also use lemon juice instead of vinegar.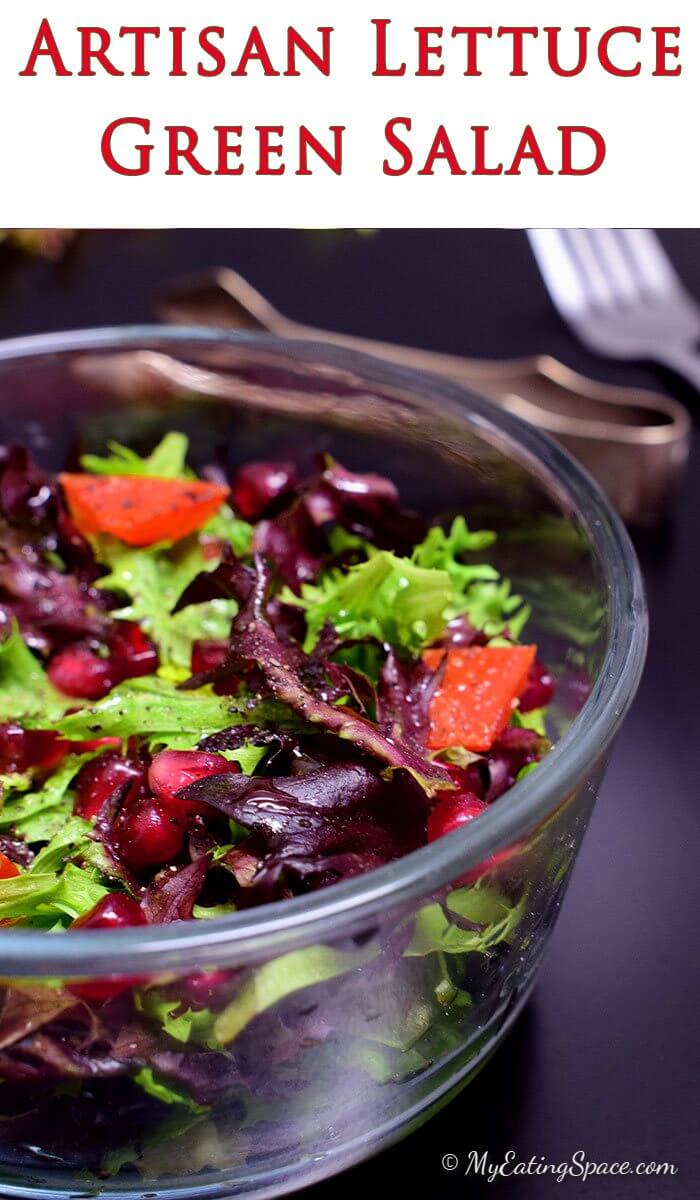 Happy Cooking

Related Recipes