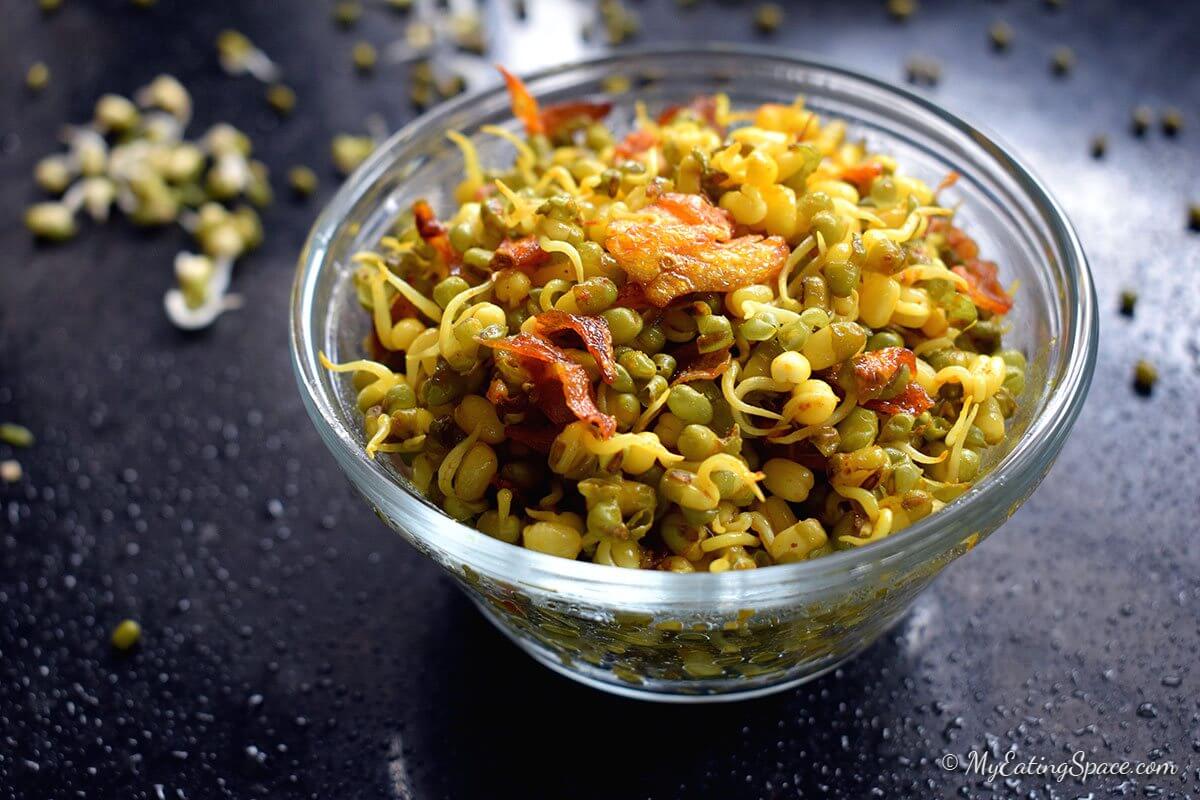 Sprouts salad – the most nutritious food choice one can make. Sprouts, the germinating seeds, are the best foods with low calories. Today I am sharing a tasty and healthy Indian style sprout salad made with green gram (mung bean).
Green gram aka mung bean is a protein rich lentil that makes you feel full and at the same time keeps your belly light and comfortable. They are the wholesome source of plant protein you can add to your vegan diet. Green gram in the form of sprouts salad makes it more easier to digest and absorbed by our body.
You can eat a raw sprouts salad if you can. Anyway I can't take it raw and so I sauteed the green gram sprouts. To make the sprouts, you will have to soak the beans in water for at least 8 hours. So wash and soak the beans in the morning. By evening drain and keep the beans in a bowl to germinate. The next morning you can see the white sprouts coming out from those small green gems. I like to have it with Congee rice porridge and mango pickle.
Green Gram Sprouts Salad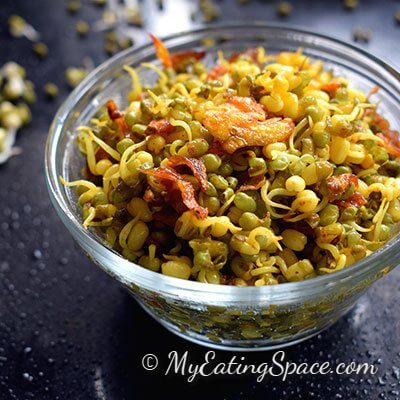 Sprouts Salad / Sauteed Green Gram Sprout
A protein-rich sprouts salad that can be enjoyed as breakfast, snacks, side dish or even as a main meal. This salad make you feel full yet comfortable.
Course:
Breakfast, Brunch, Salad, Side Dish
Ingredients
¼

cup

Green Gram (Mung Beans),

dried

1

cup

Water

1

tbsp

Olive oil

3

Garlic cloves,

crushed

¼

cup

Shallot,

sliced

1

sprig of Curry leaf

½

tsp

Turmeric powder

½

tsp

Ground Cayenne Pepper ( or red chili powder)

Salt to taste
Instructions
Wash the dry green gram 2-3 times. Soak in water for 8 hours.

Then drain the water. Cover the beans with a damp cloth and let it sit overnight. By morning, the beans would have sprouted.

Heat the olive oil in a pan. Saute the crushed garlic until it starts to golden brown.

Now add shallot and saute until translucent.

Stir in curry leaves, turmeric powder and ground cayenne pepper. Cook for 10 seconds.

Finally add the bean sprout and salt to taste. Mix well and cook for 1-2 minutes on medium-high heat.

Remove from heat. Enjoy the warm salad.
Recipe Notes
If you enjoy raw sprouts, avoid the final cooking. You can mix the sprouts and enjoy it.
The sprouting time can change depending on the type and quality of the beans. Be patient until the sprouts appear.
Happy Cooking

Related recipes